Last week, Katie Swingle spoke to the Florida Legislature about expanding access to Personal Learning Scholarship Accounts for special needs students.
She described her struggles, and recent success, looking for ways to meet the educational needs of her seven-year-old son, who has autism. Her remarks are noteworthy because – unlike so much testimony in Tallahassee – they came from the heart, and also because they highlight the different education options that parents of students with special needs often must try to navigate.
Step Up For Students, which co-hosts this blog and employs the author of this post, is one of two organizations currently administering the scholarship accounts. These are her words, lightly edited for length and clarity.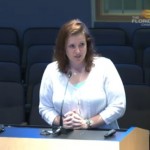 We moved to Florida when (my son) was four, and we did an IEP in Lee County, where we were living. I was very excited about it. I'm a big public-school proponent.
I knew about McKay (Scholarships, which help special needs students attend private schools). So I went ahead and we did pre-K, just in case we needed the McKay scholarship funds, but that wasn't my plan.
I really would rather have kept him in public school.
We started with Kindergarten, and within a week I knew we were in trouble. It wasn't the school's fault. I never will blame the school. Lee County was amazing, and they did everything they could to help me. My child is unique. It just was going to be impossible.
So I had to pull him out of kindergarten, which therefore made me ineligible for McKay (which requires prior public school attendance). I home-schooled him for kindergarten, and in the meantime my husband got a new job in Tallahassee, so we moved up here.
I didn't know what I was going to do, and I found Woodland Hall Academy. In the meantime, he had just been diagnosed with severe dyslexia. I was excited to find Woodland Hall because they also have a specialty in dyslexia.
Twenty-eight thousand dollars a year in tuition and tutoring and therapy. Speech therapy, occupational therapy, ABA therapy, which some of you may know is applied behavior analysis, which has been found to be the most helpful in serving children with autism. It's expensive.
My husband is an attorney, although he's rather new into the position. It was a mid-life change, so we're not made of money. I had to stop working to stay home with (my son so I could take him to his therapies). My husband teaches flight instruction on the weekends to help pay, but $28,000 a year is $28,000 a year.
Each semester was going to be: 'OK, how are we going to do this?'
We got our money saved up for August, and then I found out about the PLSA, and we applied, and he fit all the criteria, and our pediatrician was very helpful in signing off for us, and he was able to attend for a second semester.
I cannot even begin to tell you – in one semester, we started in August – the changes. I have a child who went from, at 18 months, being told he wouldn't be able to talk, to a child who can now write in cursive. …
We wouldn't have been able to do the second semester without the PLSA … When you get these bills, it's frightening. It's frightening. You just want to see your child succeed, and you just want to see them do well, and be happy, and I see that. …
I think I'm going to be able to send my son to public school at some point. I don't think he's going to be as doomed as we thought he was going to be, and that makes me so happy. I don't know when, but … I know he's not going to be in special needs, like I thought he was going to be, until God knows when. We will probably be out of the PLSA system, I suspect within the next five years, because I'm at a place where he's getting the help he needs …
I want the rest of the country to watch this, because the rest of the country should be watching.
See also: This video captured by the Foundation for Florida's Future.