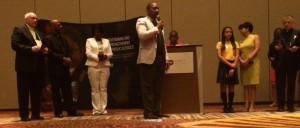 An effort to spur a renaissance in urban Catholic education is set to expand its presence in Florida, joining forces with four schools in the Diocese of Orlando and nearly doubling its number of participating schools.
The Notre Dame ACE Academies are developing a new model of Catholic schools that work with the university to strengthen their instruction and management.
The goal is to develop schools with impressive academic results that can attract new students — including those whose families might have thought a Catholic education was beyond their means — and push them toward the twin goals of "college" and "heaven."
At a conference of Catholic educators this week in Orlando, Rodney Pierre-Antoine, the director of the ACE Academies, announced plans to add four Central Florida schools to its network:
Lourdes Academy in Daytona Beach
Basilica School of St. Paul in Daytona Beach
Holy Redeemer Catholic School in Kissimmee
St. Andrew Catholic School in Orlando
The ACE (short for Alliance for Catholic Education) Academies began five years ago, and currently include five schools — three in Tuscon, Ariz. and two in the Tampa Bay region.
The goal is to create "proof points of excellence" that can be replicated around the country, Pierre-Antoine said. The academies chose the Orlando area in part because they had buy-in from Bishop John Noonan and other local church leaders.
Since ACE Academies are open to low-income students and emphasize closing achievement gaps, it also helped that Florida is home to one of the country's largest private school choice programs. The tax credit scholarship program currently serves nearly 70,000 children, and is administered by Step Up For Students, which co-hosts this blog and employs the author of this post.
Henry Fortier, the diocese's superintendent of schools, hailed the move when it was announced Tuesday during a reception at the National Catholic Educational Association's annual convention.
"To me, it's a beautiful marriage between the Diocese of Orlando and Notre Dame, so that we can continue to advance our schools in areas that need the resources, that need the support, because all of our children deserve the best," he said.
The announcement had Latrina Peters-Gipson, St. Andrew's new principal, using words like "growth" and "expand" to describe her school's future. She was also looking forward to the mentoring the ACE program would provide to teachers.
"It's going to allow the students there an opportunity they may not have thought possible," she said.