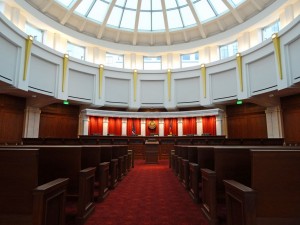 A one-of-a-kind publicly funded school voucher program suffered a legal blow this morning, as a plurality on a divided Colorado Supreme Court ruled it violated a state ban on aid for religious institutions.
But the case may not be over, and could have implications beyond a single school district south of Denver. Supporters of the Douglas County voucher program say they are weighing an appeal to the U.S. Supreme Court. Such a move could bring new legal scrutiny to Colorado's so-called "Blaine Amendment."
Similar constitutional provisions bar taxpayer money from supporting churches or other "sectarian" institutions, including religious schools, in more than 30 other states. They have often been at the center of legal battles over private school choice.
"Ultimately, we believe this will pave the way for all U.S. students to be free of the yolk of the Blaine Amendment and exercise their free choice in educational opportunities," Keven Larsen, the president of the Douglas County School Board, said during a news conference responding to the ruling.
The county's program, unique because it is administered by a local school district, will remain closed to parents for now.
Groups — including the American Civil Liberties Union, Americans for Separation of Church and State, and a local organization known as Taxpayers for Public Education —had also challenged the program on other grounds, which courts rejected.
An appeals court had upheld the program, finding it was "neutral toward religion." That requirement was set by the U.S. Supreme Court, when it ruled in 2002 that vouchers did not violate the Establishment Clause of the U.S. Constitution.
The state Supreme Court agreed with that reasoning, but found the program violated Article IX Section 7 of the Colorado constitution, which is far more sweeping:
Aid to private schools, churches, sectarian purpose, forbidden. Neither the general assembly, nor any county, city, town, township, school district or other public corporation, shall ever make any appropriation, or pay from any public fund or moneys whatever, anything in aid of any church or sectarian society, or for any sectarian purpose, or to help support or sustain any school, academy, seminary, college, university or other literary or scientific institution, controlled by any church or sectarian denomination whatsoever; nor shall any grant or donation of land, money or other personal property, ever be made by the state, or any such public corporation to any church, or for any sectarian purpose.
Voucher supporters contend states cannot exclude religious schools from voucher programs — which must be religiously neutral.
"By singling out religious educational options and denying parents the opportunity to choose them, the Colorado Supreme Court's decision violates the federal Constitution's prohibition on discrimination against religion," Michael Bindas, a senior attorney with the Institute for Justice, which helped three families defend the Choice Scholarship Program, said in a news release.
Blaine amendments have been cited in other school choice cases, including lawsuits challenging tax credit scholarship programs in Florida and New Hampshire. Unlike voucher programs, however, courts have held those programs are funded with private money, which offers an extra layer of legal protection.  No tax credit scholarship program has ever been struck down by a supreme court.
The Douglas County program allowed 500 students within the county to take up to 75 percent of state per-pupil funding (about $4,575 when the program began four years ago) to attend the Choice Scholarship Charter School operated by the county. The charter school, which employs no teachers and owns no buildings, contracted out educational services to an approved private school chosen by the student or parent.
Voucher students were required to take state assessments and could also obtain waivers to abstain from prayer in school. Private schools were required to follow Federal nondiscrimination guidelines and did not have to operate within the district's boundary.
During today's press conference, school board members said they were committed to providing students with as many options as possible while the voucher program remained stalled by the court challenge. It's not clear whether, or when, the  federal Supreme Court might accept a petition to hear the case.