Over the past five years, the number of Hispanic students in Florida's public schools has swelled by more than 150,000. Those students appear to be disproportionately moving to charter schools, where the Hispanic enrollment has grown by nearly 50,000, more than doubling since 2010.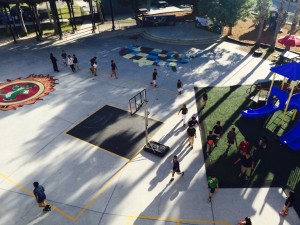 Hispanics now represent the single-largest ethnic group in Florida's charter schools, accounting for 39 percent of their students during the 2014-15 school year.
In Miami-Dade County, the state's largest school district, 79 percent of charter-school students are Hispanic, compared to roughly 68 percent of all public-school students. The trend holds in Osceola County, the state's other majority-Hispanic school district, and also in Broward, the second-largest district in the state.
Hispanics in Florida are far from a monolithic group. Julio Fuentes, the president of the of the Hispanic Council for Reform and Educational Options, said the label masks diverse cultures — from predominantly Cuban-American Miami-Dade to heavily Puerto Rican areas in Central Florida.
"Probably the one issue that brings us the closest together is education," Fuentes said. In multiple surveys, by his group and others, "the common denominator among the Latino community is access to a quality education." That, he added, may help explain why parents are more likely to seek out different schools — including charters — for their children. (Fuentes also sits on the board of Step Up For Students, which co-hosts this blog and employs the author of this post).
For Andrea Velez, the decision to enroll her daughter in a charter school began with the desire to find a school that would challenge her academically. Private school was not an option.
She ultimately settled on Choices in Learning in Seminole County. She said she was impressed by its use of the Success for All reading curriculum and "cooperative" approach to learning.
"Ultimately what it really came down to was, where was I going to send my daughter that she could thrive?" Velez said. "I wanted her to have the best opportunity that I could provide her with."
Now her daughter has moved on to middle school, and Velez has chosen district-run magnet program focused on engineering, where she can pursue her interest in science.
Last school year, more than 30 percent of Florida's public-school students were Hispanic, up from roughly 26 percent five years before. In most Florida school districts, diversity of school administrators does not match that of the student body. State Department of Education data show only about 11 percent of school principals and 14 percent of assistant principals were Hispanic in 2014-15.
The Passport School is one of the oldest charters in Central Florida. More than four in five of its students qualify for free- and reduced-price lunches, and more than four in five are minorities.
Osvaldo Garcia, its principal, said the school has barely had to advertise since moving to its current east Orlando location.
Word of mouth has spread through the heavily Hispanic neighborhood east of Orlando, where parents are drawn by more than the school's academic record. (It's currently rated a B by the state.)
Garcia said parents feel comfortable sending their children to a school with a Hispanic principal. The school's size also helps its appeal. It's small enough that parents can talk one-on-one with the principal about their children's needs in the classroom and beyond — something that wouldn't be feasible in a larger school.
"We still strongly believe that it takes a village, and it's not just a saying," he said.
Garcia said parents often need help navigating not only their educational options, but other social services for their families. The City of Orlando operates the Hispanic Office of Local Assistance, which helps parents navigate among various providers.
Wendy Rivera, the president of the Multicultural Education Alliance, said parents in many places are still unaware charter schools are an option.
"We need to ensure that the information is shared, and penetrating every corner of the Hispanic community," she said. "We still see parents that are not aware of these opportunities."
The table below breaks down the five school districts with the highest percentage of Hispanic students enrolled in charters.
| | | | |
| --- | --- | --- | --- |
| District | Number Hispanic charter school students | Percentages of charter students who are Hispanic | Percentage all public-school students who are Hispanic |
| Miami-Dade | 44,032 | 79.2% | 68.3% |
| Osceola | 4,880 | 61.8% | 57.5% |
| Broward | 14,751 | 35.9% | 30.6% |
| Collier | 661 | 35.0% | 47.6% |
| Orange | 3,917 | 34.0% | 36.9% |
| Lee | 4,022 | 33.0% | 36.8% |
| FLORIDA | 97,463 | 38.7% | 30.7% |