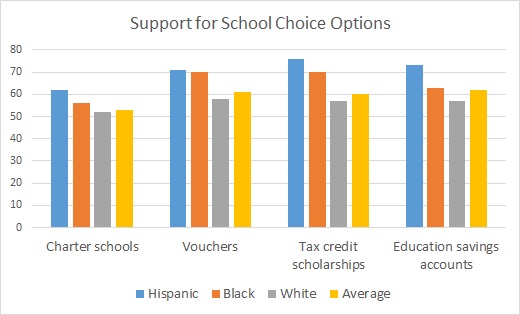 Hispanics strongly support privately operated school choice options, at rates higher than the national average for all groups, according to the results of a new national survey released today.
Hispanic backing for school choice programs exceeds the national average for charter schools, vouchers, tax credit scholarships and education savings accounts, found the survey, which was funded and sponsored by the pro-school-choice Friedman Foundation.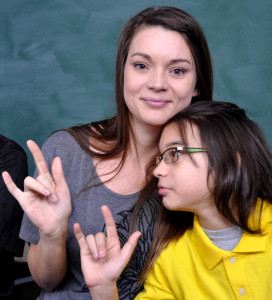 Sixty-two percent of Hispanic respondents favor charter schools, compared to 56 percent of African-Americans and 52 percent of whites. Seventy-one percent favor vouchers. Seventy-three percent favor education savings accounts.
Hispanic support was strongest for tax credit scholarships, with 76 percent in favor and 16 percent opposed. The national split was 60 percent in favor and 29 percent opposed.
The findings are another example of the disconnect between popular support for choice programs and the political divisions that dog them. Other surveys have also found particularly strong support for choice programs in minority communities, even as those communities are disproportionately represented by Democratic lawmakers who are more likely than Republicans to oppose them.
The latest Friedman survey is an offshoot of the foundation's annual Schooling in America survey, which we wrote about here when it was released in June. The Hispanic portion has a margin of error of 4.2 percentage points.
Strong Hispanic support for choice is clear in Florida, which has the nation's largest tax credit scholarship program and one of its biggest charter school sectors. (The scholarship program is administered by nonprofits such as Step Up For Students, which hosts this blog and employs the author of this post.)
About 30,000 of the 78,000 students using tax credit scholarships in Florida this year are Hispanic. Meanwhile, Hispanic students are now the largest ethnic group in Florida charter schools, making up 38 percent of students in that sector in 2013-14, compared to 29 percent in district schools, redefinED reported in July.
When asked what type of school they preferred for their children, 46 percent of Hispanic respondents in the Friedman survey said private, while 32 percent said regular public schools, 12 percent said charter schools and 9 percent said homeschooling. The foundation report notes 92 percent of Hispanic students in K-12 nationwide are in district schools, while 3.5 percent are in private.