The latest release of national test results puts Miami-Dade County Public Schools among the best urban districts the country for low-income students.
This week's release of the Nation's Report Card brought its share of bad news. Amid the falling or stagnant test scores, there were a few apparent bright spots. Chicago was one. Washington, D.C., long the toast of education reformers around the country, was another.
And then there was Miami-Dade. The nation's fourth-largest school district was among the handful of urban districts where both eighth-graders and fourth-graders either raised their scores on the National Assessment of Educational Progress, or at least held mostly steady, in both reading and math.
Like Florida as a whole, its solid results look even better after accounting for student demographics.
Few districts rival the performance of Miami-Dade's low-income readers. Of 22 urban areas included in this year's Trial Urban District Assessment, only Boston comes close.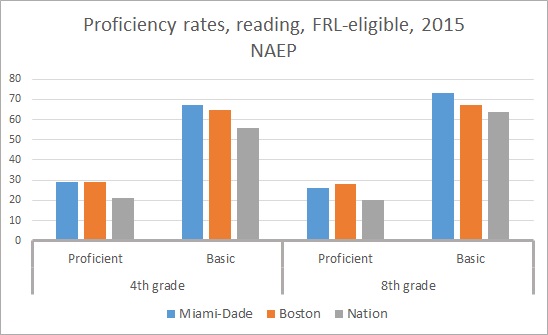 In fourth-grade reading, where Florida students have long excelled, Miami-Dade's students from low-income families have made steady progress.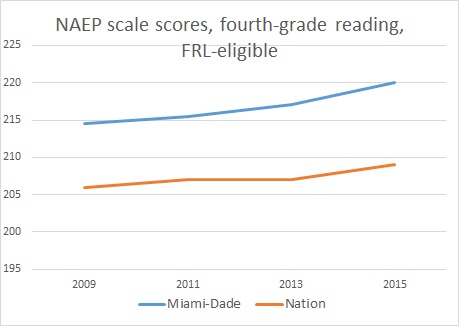 In eighth grade, they made big gains this year.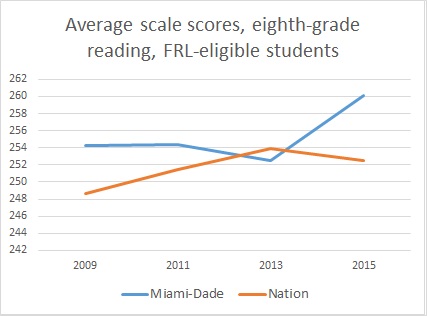 Miami-Dade students also made a significant jump in low-income students' fourth-grade math scores. Their national peers lost ground.
In eighth-grade math, long a problem subject for Florida, the district's performance largely tracks the national average.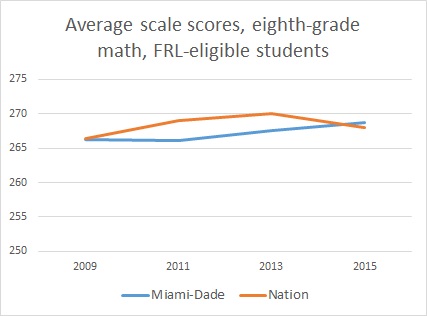 Nationally, the picture for low-income students remains bleak. While they vary slightly by grade and subject, roughly one in five students who qualifies for free- or reduced-price lunch scored proficient or better on this year's NAEP assessments.
Two other Florida urban districts were included in this year's assessments. Duval County made a strong showing in its first year participating, while Hillsborough slid backwards in a few areas. Of the three Florida districts, only Miami-Dade exceeded the national proficiency rate in all four areas for low-income students.
Short-term fluctuations in NAEP scores need to be interpreted with caution. Even long-term trends, which show Miami-Dade is making steady progress over time, can't be attributed to particular policies.
Depending on their pet cause, advocates could point to any number of speculative explanations for Miami-Dade's results. It's riding a "tsunami" of school choice that's washed over district, charter and private schools. It's emphasized bilingual instruction. By the standards of most urban school leaders, its award-winning superintendent has had an unusually long and stable tenure.
Whether some of these factors, or all of them, or none of them help explain these results, it's clear good things are happening in Miami-Dade Public Schools — things that should be studied more closely, and perhaps copied elsewhere.