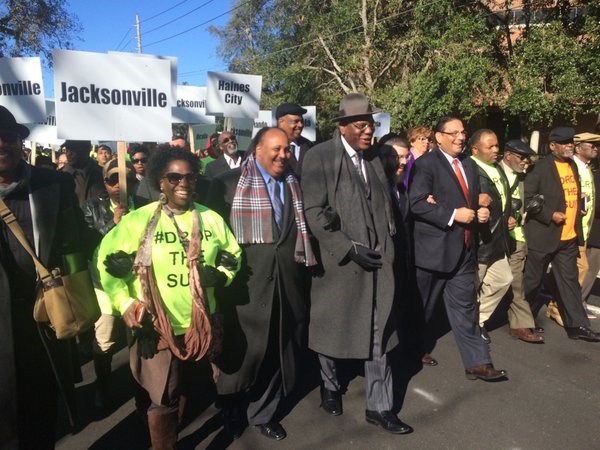 Thousands of parents, children, educators and activists rallied near Florida's State Capitol Building this morning. Their message: Support the nation's largest private school choice program, which helps more than 78,000 low-income students afford private school tuition, and end the lawsuit challenging its constitutionality.
Martin Luther King, III addressed a throng of more than 10,000 people on Duval Street behind the State Capitol Building.
"I just find it interesting that in our country we have the gall to debate about how our most precious resource — our children — are treated," he said.
"My dad, I don't really know if I can actually speak to what he would speak today, but I can say is that he would always  stand up for justice," he added. "This is about justice."
Before the rally began, cheers rang out as hundreds of buses pulled in to Tallahassee's Donald L. Tucker Civic Center.
"What do we want?" asked students and teachers from New Life Academy in Fort Myers. "Choices!"
For some parents at the small Christian school, choices meant access to a school where educators recognized their potential. Principal Denise Johnson said she started the school three years ago, with nine students and basically no revenue.
The scholarships helped her school grow to 51 students, as it attracted parents like Loida Gonzalez. She said she started looking for options after her daughter, Jenny Gomez, was told in second grade that she didn't know how to read. Jenny's teachers grouped her with special-education students, and told her she had attention deficit disorder.
Gonzalez knew her daughter was capable of more, but the school she attended "didn't take the time to bring in the extra help." That's when she discovered New Life, where her daughter could receive the one-on-one instruction she needed.
"The first year, she started to do the same things with other children that they told her she would never do," Gonzalez said of her daughter — things like reading on her own, and socializing with her classmates. Now a fifth-grader, "she's a normal child."
Gonzales said, her first-grade son, Carlos Gomez, also uses a scholarship to attend the school. He, too, is exceeding the limits other adults had placed on his potential. That, she said, helped make the six-hour drive from Southwest Florida worthwhile.
The Florida Education Association, one of the main groups behind the lawsuit, responded to the rally with a statement saying it did not plan to back down.
"For more than a year, voucher groups have been demanding FEA drop a lawsuit challenging the constitutionality of the tax-credit vouchers. What are they so afraid of going to the courts to ensure this voucher scheme is legal?" Joanne McCall, the union's president, asked. "Let's let the courts decide this once and for all. We're not dropping our legal challenge."
About 30 percent of children who use the scholarships are black and about 38 percent are Hispanic. Studies have consistently found they struggled in the public schools they left behind, and on average, they now learn at about the same place as their peers from all backgrounds. Step Up For Students, which hosts this blog, helps administer Florida's tax credit scholarships.
"The tax credit scholarship, which is now 15 years old, is an equalizer," said Bishop Victor Curry, a Miami pastor who emceed the rally and has been
recognized by the teachers union
 as an advocate for public education.
The union and other groups filed the lawsuit challenging the program in 2014. Last year, it was thrown out by a Tallahassee judge, but that ruling has since been appealed.
Students should have a wide range of options, public and private, Curry said, adding that the "misguided" lawsuit was thrown out of lower court in part because plaintiffs could not show the program harms public schools.
"Given all this choice that Florida is providing, why would the union challenge the program that helps disadvantaged children?" he asked. "Maybe they think we're an easy target."