Florida needs to overhaul the way it funds school facilities, and make the system fairer for charter schools, the incoming Speaker of the House said Wednesday.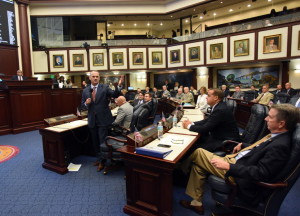 During questions on the state budget, the chamber plunged into a perennial debate over state funding for public school buildings. Democrats like Dwight Dudley, D-St. Petersburg, seized on a recent Associated Press investigation that found charter schools had received tens of millions of dollars in construction funding, but later shut down.
If the state was going to set aside $90 million for charter schools, Dudley asked, would there be any "clawback" provisions or "anything to assure taxpayers" that money for school facilities "will be protected and secure" if charters eventually close?
Rep. Richard Corcoran, R-Land O'Lakes, who chairs the Appropriations Committee and is set to become Speaker after this fall's elections, tried to put the issue in perspective. School districts, he said, raise nearly $2.2 billion a year in local property tax revenue, plus hundreds of millions more in local sales taxes and impact fees. Charter schools, for the most part, do not share in that money, so they rely on funding in the state budget that has eroded over time.
The current system, Corcoran said, is not sustainable.
"The system needs reform," he said. Lawmakers will be back year after year "to have this same discussion, unless we're willing to dig in and figure out a way to create equity," he said. The state spends the same amount of money per student on operational costs in both charter and district-run schools, and nobody questions that, because, "we have a system, we have a formula, and we have equity, and that's what we need to do in the capital expenditures."
Some lawmakers said charter and traditional public schools don't always operate under the same conditions. Rep. David Richardson, D-Miami Beach, said charter schools often lease privately owned buildings. Such arrangements, sometimes stem from the need to finance new school buildings without guaranteed funding up front, are far less common in district-run schools.
"We, the public already own that," Richardson said of district-owned school facilities. "We don't have to go and do any clawback, because it's already there."
Corcoran said lawmakers should consider those issues — and the fact that capital outlay budgets in school districts are also tight— when they debate a systemic overhaul. But he said that in recent years, the number of charter schools that received state facilities funding and later closed has shrunk. To receive state funding, a charter school now needs clean financial audits, high academic ratings, and at least three years of operation under its belt. That, he said, means state facilities funding generally goes to "very well-established, well-functioning charter schools."