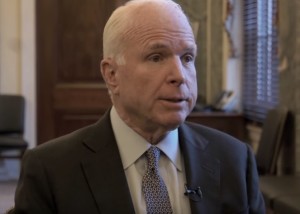 Parents on Indian reservations would be able to control the funding the federal government spends educating their children, and use it for educational options of their choice, under legislation filed in Congress this week.
The bill, by U.S. Sen. John McCain, R-Ariz., would allow parents to receive 90 percent of the funding that would have otherwise been spent educating their children in schools run by the federal Bureau of Indian Affairs.
The money would be channeled through existing state education savings account programs, allowing parents to pay for private school tuition, textbooks, or other education-related expenses.
In a statement, McCain said the schools the bureau runs for Native American children are costly for taxpayers, but often underperform academically.
"I believe that encouraging private schools to compete with BIE schools can improve K-12 education, even in the most remote parts of Indian Country," he said.
He added that the federal government could invest the remaining 10 percent of funding not deposited in parents' accounts to improve bureau-run schools for children who keep attending them.
The bill could have a huge impact in McCain's home state of Arizona, which has a large native population and the oldest education savings account program in the nation.
Florida, Nevada and Mississippi also have bureau-run schools and state-run education savings account programs in place. The bill may also help spur school choice legislation in Oklahoma, where a bill creating education savings accounts recently stalled in the state Legislature.
Florida's education savings accounts are known as Gardiner Scholarships, and are currently available only to children with specific special needs. The program is administered by nonprofit organizations like Step Up For Students, which hosts this blog.