FORT PIERCE, Fla. – Two years ago, St. Andrew's Episcopal Academy was struggling. It lost one head of school, then another. Enrollment fell to nearly 100 students. Its leaders were weighing a split with its affiliated church.
Things began to change in the spring of 2014, when the school's board turned to Trina Angelone — a former St. Lucie County Public Schools administrator whose resume also included stints at virtual education startups.
With the help of some outside consultants, the school crafted a revival plan. The next school year, it started accepting tax credit scholarships, giving low-income students a new way to afford tuition. It began rolling out a blended learning program. It added the high school grades, housing students in a converted law office next door. (The first floor now doubles as a cyber cafe). It expanded its course offerings with the help of the Virtual School of Excllence, a separate venture Angelone also leads.
Most strikingly, though, it redefined its curriculum, turning the surrounding town of Fort Pierce, Fla. and the Indian River Lagoon — a tidal estuary just outside the gates of its waterfront campus — into an extended classroom.
Students interested in culinary arts can learn about baking with the Cake Lady. Varsity Sports, a screen-printing shop, offers vo-tech internships. Gerald O'Sullivan, a local artist who also teaches college classes, invites students into his gallery to learn to paint.
Above all, at a school that overlooks one of the most diverse marine ecosystems in North America, Angelone said: "What you have going for you is water." Students can learn to Scuba dive, sail on the Indian River Lagoon, or help university researchers catalog invasive species on nearby spoil islands.
Now, in the second school year since the overhaul, enrollment at St. Andrew's has tripled. Scholarships account for about a third of total enrollment. (Step Up For Students, which hosts this blog, helps administer the scholarship program.)
Along the way, the school abandoned plans to raise tuition as a way to boost revenue, or to build a giant new campus in the fast-growing western reaches of St. Lucie County, Michelle Lineal, who chairs its board of trustees, said in an interview.
"We really wanted to have a school that was all-inclusive, and raising tuition and asking parents to donate a tremendous amount of money" didn't fit that vision, she said.
The reviews from students speak for themselves.
"It's just amazing how the school has transformed into something great," said eighth-grader Daniel Krogh, who was walking back to the main campus after an art lesson at The Co-Op Gallery down the street.
Whether they were receiving scholarships or paying full tuition, parents needed to be convinced to send their kids to St. Andrews. "Blended learning" can be a fuzzy bit of education jargon that connotes cost-cutting and students staring blankly into computer screens. That's not something most parents would pay for. But Angelone said her goal is to deliver just the opposite.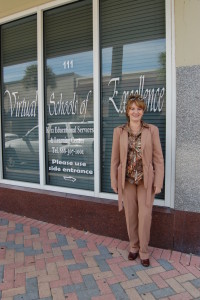 The digital curriculum makes the richer, community-based approach to education easier to pull off, and accommodates a new level of spontaneity, she said. When a manatee swims by, a science class can step outside and talk ecology. When there's a jazz festival in town, Spanish classes can head down the street for a impromptu lesson on Latin music. If a big case is about to be decided, students interested in the law can walk a couple blocks to the St. Lucie County Courthouse.
"It actually ends up being much more engaging for the kids, and less time-constrained than sitting with an old-fashioned textbook," Angelone said. Older students get feedback from teachers, in-person or around the clock online, as they finish assignments on their own time. More learning happens when "teachers and students extend the classroom beyond the normal school day," she added.
Gerrie Biegner is the mother of a fourth-grader for whom tuition likely would have been out of reach had the school not begun accepting scholarships. While not an Episcopalian herself, she said she values the school's emphasis on charity and treating others as one likes to be treated. She said its deeper integration with the surrounding town helps reinforce those concepts.
"I see the full circle of everybody helping each other, and enriching the community," she said. "Professional scientists, a professional artist, a professional baker, give you a new appreciation of things."
Biegner said she expects there to be growing pains as the school embraces digital learning. If her daughter remains at St. Andrews when she grows older, she'll have to manage a college-like course schedule and complete assignments on her own time. Some high school students arrange block schedules in which they leave the campus on alternating days to take classes at Indian River State College, or free up their Fridays to work on research projects — flexibility the school's blended learning approach helps makes possible.
For students who aren't self-motivated learners, Biegner said, that could be a challenge. But the prospect of completing up to two years of college through dual enrollment by the time they earn a high school diploma could help students of limited means avoid futures saddled with debt. And St. Andrews graduates will likely arrive on a college campus prepared for the kind of environment where students have to take control of their own learning.
The school, she said, is "definitely leaping ahead towards the future, instead of being dragged into it, kicking and screaming."