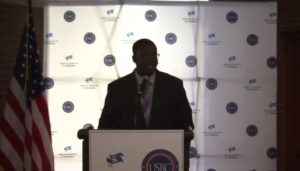 School choice advocates, gathered this week at the Democratic National Convention, said they wanted to keep their movement from getting sucked into partisan politics.
"The politics of education has had a toxic stranglehold on the American psyche," Kevin Chavous, executive counsel of the American Federation for Children, said during a reception Tuesday evening in Philadelphia. A former Democratic member of the Washington D.C. city council, Chavous said supporters should elevate their cause "above the politics of today."
Rather than get bogged down in battles over the particulars of the party platform, he said, they should share the stories of students like scholarship alum Raushaun Williams.
Williams told the gathering that by the time he got to middle school, he was moving from one public school to another in Philadelphia, with languishing grades and discipline issues. He felt like he didn't quite fit in. His trajectory changed when he and his mother found out about they Children's Scholarship Fund of Philadelphia. He received a scholarship through a lottery, allowing him to enroll in a Catholic school — something he said his single mother never could have afforded otherwise.
"Something about the expectations that the school imposed on its students, the faith that they had in my abilities, the stability, and the fact that my mom was paying for my education really helped me to buckle down and do what I needed to do," he said.
Williams is now attending Drexel University on a full scholarship, getting ready to intern at pharmaceutical giant GlaxoSmithKline, and doing research on spinal cord injuries with the hope of becoming a neurosurgeon. If he hadn't received a scholarship, he said, "I would have just been another statistic."
The event was headlined by former basketball stars Jalen Rose and Lisa Leslie.
Rose, who grew up in inner-city Detroit and later helped found a charter school there, said he couldn't believe school choice options for low-income students still have to fight for the right to exist.
"Let's face it: Choice actually exists in America. … It exists for families who can afford to live anywhere," he said. At another point, he added:
"There's no reason, none, every child should not have access to a quality education."