Florida's tax credit scholarship program continues to enroll some of the most disadvantaged students from among the state's lowest-performing public schools, according to the latest evaluation of the Florida Tax Credit Scholarship program. After they receive scholarships and enroll in private schools, they keep academic pace with all students nationally, based on their standardized test results.
The report is the eighth annual evaluation of the test score progress, and the second conducted by researchers at the Learning Systems Institute at Florida State University. Researchers examined the reading and math scores of 34,469 students in 1,285 private schools during the 2014-15 school year. Scholarship students in grades 3-10 have been required to take a state-approved nationally norm-referenced since 2006.
The tax credit scholarship program is administered primarily by Step Up For Students, which co-hosts this blog and employs the author of this post. It is the largest private school choice program in the country. Of the 69,950 students who received scholarships during the 2014-15 school year, 67 percent were black or Hispanic , and 53 percent lived in a single-parent household. The average household income was $24,135, or only 5 percent above poverty.
FSU researchers measure academic growth for students by comparing their national percentile ranking for one year to the next. A difference of zero reflects that the student has experienced the same academic growth as all other test-takers. In a finding that aligns with previous evaluations, researchers determined "the typical [scholarship] student tends to maintain his or her relative position in comparison with others nationwide. It is important to note that these national comparisons pertain to all students nationally, and not just students from low-income families."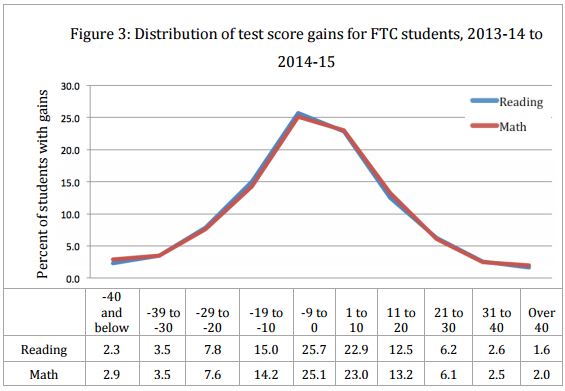 New students could receive scholarships if their families had low enough incomes to qualify for federal school lunch programs, but researchers said scholarship students tended to be even more disadvantaged, both economically and academically, than students who qualified for free or reduced-price lunch and remained in public schools. Scholarship recipients were more likely to qualify for free (as opposed to reduced-price) lunch than students who qualified but did not participate in the program. About 25 percent of scholarship students came from public schools that were rated D or F, compared to 17 percent of students who were eligible but did not participate.
As in past years, the researchers found that public school students who chose the scholarship were among the lowest academic performers in the public schools, and, similarly, that the scholarship students who returned to public schools also had lower test scores than those who remained on scholarship in private schools.
Researchers also published average learning gains for students in 198 schools, 40 more than in the previous year. Individual schools were included if 30 or more of their students also had test scores from the prior school year. The scores for those individual schools can be found in the report's appendix.