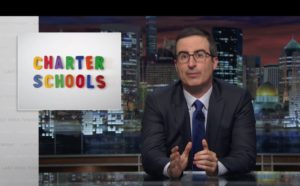 Last night, HBO's John Oliver aired a segment skewering charter school scandals. It's mainly a comedic rehash of talking points and headlines from the past few years. Online reactions from both sides of the charter school debate have been fairly predictable.
But Oliver spends a good deal of time on a subject we've covered quite a bit on this blog: Charter school oversight in Florida, and specifically, the importance of stopping unqualified charter schools that wind up shutting down in the middle of the school year, leaving parents and students in the lurch. The points he raises here deserve attention.
He cites the specific example of Ivy Academies in Broward County, which plagiarized parts of their charter application from a successful network of South Florida schools, shuttered weeks after opening for the 2013-14 school year, and remain mired in legal trouble to this day.
"When schools close that fast, it's shocking, because you would assume someone would rigorously screen a school before it was allowed to open, making sure it was financially and academically sound, but that is not always the case," Oliver says.
That may have rung true a couple years ago, in some parts of Florida more than others. The question is: Does it still?
In the years since the Ivy Academies episode, both the state Department of Education and the National Association of Charter School Authorizers (NACSA) have invested heavily in helping school boards, which oversee all but a handful of the state's more than 650 charter schools, improve their supervision not just of existing charters, but new ones that apply to open. State rules and laws have been updated to strengthen school boards' scrutiny of new charter school applications. 
Of the sundry Oliver responses cropping up in the education blogosphere, NACSA's may be most on point where Florida is concerned:
John Oliver's segment was simply the latest in a string of public calls for stronger charter accountability, and we agree that authorizers and policymakers can and must do better by kids.

But we are frustrated that critics, including Oliver, continue [to] go back years to cherry pick stale anecdotes while ignoring the real progress in charter accountability happening now. For example, Florida recently developed professional standards for charter authorizing, and Ohio passed a strong accountability law last year. In fact, among states with charter schools, nearly half have taken steps to strengthen charter oversight in the last four years.

Good oversight also doesn't just mean good policies. A law is only as good as its execution. Quality authorizing matters, and that's why NACSA will continue to push for smart policies and faithful implementation by dedicated people who will set the bar high.
In other words, Oliver makes some legitimate points. But it's worth thinking about a few questions.
Would the Ivy Academies be able to open today? (It's gotten harder to open a charter school in Florida.)
Would they have been able to open, even in 2013, if they had applied in a district that would have scrutinized them more closely? (There's been a heavy concentration of charter closures in Broward County.)
And how important is it that Ivy Academies were doomed, in part, because parents generally opted to send their children elsewhere? (When the South Florida Sun-Sentinel reported on the school's termination, it noted the school enrolled "more than 40" students.)
School systems across the country are still figuring out the best way to regulate schools under a new definition of public education, in which parents get to decide where they send their children. But in Florida and elsewhere, they've taken Oliver's admonishment to heart: "By the time it's obvious a school is failing, futures may have been ruined." There are lessons left to learn, but outdated anecdotes might not help illuminate them.