Earlier this year, Louise Penta seemed like a clear favorite to win an open spot on the Collier County School Board.
A retired nurse and fixture in the local nonprofit scene, she raised more than $50,000 in campaign donations — one of the highest totals ever raised in a Collier school board race — and lent her campaign another $15,000. She is a longtime Republican running in deep-red Southwest Florida, with backing from the local GOP, with a conservative platform that emphasized curbing the Common Core State Standards and reining in spending in a district whose lucrative property tax base yields some of the highest local revenues in the state. She had logged many hours mentoring local schoolchildren, which she said put her in touch with the needs of students in the school district.
This summer, however, the tenor of her race changed dramatically, as local mailboxes were flooded with messages boosting her opponent, Stephanie Lucarelli.  The Naples Daily News reported three local women had formed a political committee, backed by a $3,000 donation from the local teachers union. But over a two-month period in June and July, two donors lavished the PAC with more than $200,000, a sum unheard of in local school board races and unparalleled even by the most costly campaign in neighboring Miami-Dade County.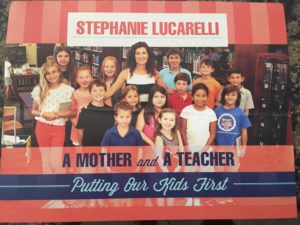 The political committee, called Preserve Our Public Schools, spent thousands of dollars on opposition research, and tens of thousands more on Alexandria, Va.-based media consultants. Then it began a $79,000 deluge of mail pieces, some of which attacked another school board candidate, Lee Dixon, after discovering incendiary social media posts from accounts under his name.
In an interview, Penta said she doesn't have any skeletons in her closet that would make her vulnerable to attacks. But she said she fears an assault is coming ahead of the Aug. 30 election. Early voting is already underway.
The two local donors behind Preserve Our Public Schools are Sheilah Crowley and Karen Clegg. Crowley an active member of the local League of Women Voters, which has been sharply critical of school choice policies. Neither of them returned phone or email messages seeking comment on why they were pouring so much money into a local school board race.
"What is it that they want? That's the question I ask myself every night," Penta said. "What would motivate people to do this?"
While it's not clear what's driving this unparalleled infusion of cash, the dividing lines on the five-member Collier school board offer clues. And while school board politics are driven by local issues, they mirror political tensions elsewhere in the state as rival associations of school board members vie for influence, and district leaders around the state grapple with divisions over school choice, accountability, and ideology.
Two Collier school board members not up for re-election, Erika Donalds and Kelly Lichter, helped found one of the district's five charter schools. They tend to support school choice, seek tougher scrutiny of school district spending, and stake out politically conservative positions on a range of hot-button issues that come before the school board. But they're often out-voted by the remaining three members. If Penta and Dixon win their races, the ideological balance of the board would tip in their favor. If they don't, in Penta's words: "It will be a primarily Democratic school board. It's not supposed to be partisan, but it really is."
Lucarelli didn't return a call seeking comment, but she did address the PAC's role and her own partisan leanings in comments reported by the Daily News.
"When I got involved in this race I had no idea who was going to be behind me," she told the paper. "It was entirely organic. I was not handpicked by any organization to run."
Florida voters approved a constitutional change in 1998 that made all school board races officially non-partisan. And while partisanship may have crept into past races, some recent developments have raised the stakes. In 2014, after the Florida School Boards Association voted to support a lawsuit asking courts to abolish a tax credit scholarship for low-income students, a statewide school choice organization called Florida Federation for Children targeted the re-election of the two key association leaders, and both lost. Then a new rival association, the Florida Coalition of School Board Members, emerged and billed itself as a haven for fiscally conservative district leaders who support school choice. It has since courted Republican legislators and backed reforms in Tallahassee, like new caps on school construction spending and statewide open enrollment for public schools, that were criticized by other Florida school district officials.
In some districts, including Collier, school board elections that once existed outside the political limelight have gotten increased attention from conservative activists opposed to the Common Core State Standards. Dixon said he became one such activist after his children came home vexed by assignments aligned with the new standards. But another, more personal issue helped activate his interest in school board politics. He had tried to enroll one of his sons, who has autism, using the public-school transfer option under the state's McKay Scholarship program for students with special needs. He was stonewalled, and said the district wanted to force him to enroll his son a school where Dixon feared he would be bullied. He fought the district's decision and ultimately forced the school board to lift restrictions on McKay public-school transfers.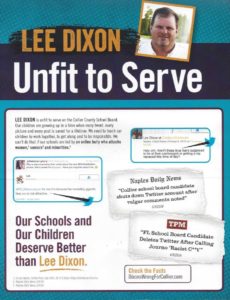 In a telling development, Dixon, who serves as a precinct captain for Collier's Republican Executive Committee, said the local GOP decided to back candidates, including him and Penta, in local non-partisan races for the first time this year. Just about everyone in the county who runs for office registers Republican to conform with the local electorate. The goal of the endorsements, he said, was to identify candidates who were truly committed to conservatism.
While the PAC active in Collier dwarfs the sums flowing into school board races elsewhere, similar battle lines have emerged in other places. Sometimes the divides are ideological. Sometimes they're driven by local political factions. And sometimes charters and choice play a role.
The Collier teachers union is backing Lucarelli, as well as Dixon's opponent, Erick Carter. And it's sent money clear across the state to another deep-red district, Clay County, supporting Mary Bolla, who is challenging incumbent Johnna McKinnon. The Clay teacher's union has returned the favor, contributing to both Carter's and Lucarelli's Collier campaigns.
A PAC has emerged on the scene in Sarasota County, supporting  FSBA leader Caroline Zucker, according to the Sarasota Herald-Tribune. Zucker is being challenged by Teresa Mast, who has the backing of local Republican elected officials.
Charter school supporters have gotten attention in local media for supporting school board candidates in Duval and Hillsborough Counties, but those candidates are running unopposed. Meanwhile, in Palm Beach County, a former charter school principal is running for an open seat and has also received thousands of dollars in donations from charter school interests.
On the whole, Florida's school board races don't seem poised to bring all the high drama that emerged in 2014, when school choice supporters helped oust two leaders of the statewide school boards' association. One reason is that the FSBA has withdrawn from the scholarship court case amid internal political tensions.
Still, the year's races could affect the statewide landscape, where rival school board associations compete on ideological and tactical terms. And they could change the tilt of some local boards on key issues, including charter schools.
Penta, for example, favors charters not just in principle, but because they jibe with another theme of her campaign: Fiscal responsibility. The district's population is growing rapidly, and may need to build a new high school in the coming years. It's possible, she said, that a new charter school could house those students more cost-effectively.