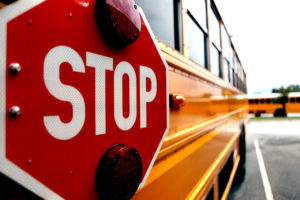 Katisha Rucker works for a school district. She's a member of a labor union. And her daughter attends a private school thanks to a scholarship from the nation's largest private school choice program.
You could be forgiven if you think Rucker's profile is unique. But it's not.
This fall, more than 1,200 low-income and working-class parents whose children benefit from Florida's tax credit scholarship program are employees of school districts, according to data from Step Up For Students, which helps administer the program, hosts this blog and pays my salary.
That's a lot of district employees. And it comes despite the fact Florida's statewide teachers union is so hostile to the program, it's aiming to kill it with a lawsuit.
The lawsuit "would hurt me a lot, it would hurt my child," said Rucker, an 11-year bus driver for the Marion County school district in north central Florida. "As a single parent, I can't afford a private school."
The employer information is available at Step Up because parents list their employers on scholarship applications. This fall, by my count, 1,256 employees in 58 districts are scholarship parents. The program is serving more than 92,000 students total.
We don't know the job titles. But it's a safe bet many of the district employee who are scholarship parents are "support staff" and blue-collar workers: clerks, custodians, bus drivers, receptionists, food service workers, paraprofessionals and so on. Given their incomes, a far greater percentage of workers in these categories would be eligible for tax credit scholarships than teachers.
It's also fair to assume many of them, like Rucker, are represented by unions other than teachers unions, such as SEIU and AFSCME.
This puts a new twist on the lawsuit. If it succeeds, the teachers union will not only be throwing 90,000 economically disadvantaged students under the bus, but 1,200 fellow district employees who, in many cases, are brothers and sisters in the labor movement.
The First District Court of Appeal dismissed the lawsuit last month. The union now has a matter of days to decide whether it will appeal to the Florida Supreme Court.
At this stage in the case, a crucial issue is whether the plaintiffs can show the school choice program harms public schools. A Leon County Circuit Judge and a unanimous panel of three judges on the First District Court of Appeal have all concluded the teachers union and other groups behind the lawsuit have not demonstrated that it does.
Rucker said she's not surprised so many district employees value the scholarship. She said she has recommended it to other bus drivers and fellow union members. They have the same concerns about safety and bullying the general public does, she said, and like all parents, want a school that is the right fit for their child.
Rucker said she sought a scholarship after her eighth-grade daughter, Taliyah, got into a fight and school officials decided to place her in a school for disruptive students. Rucker didn't think the placement was fair, given what she said were no other disciplinary issues on Taliyah's record. She also thought her child would suffer in the unruly atmosphere she feared would be the norm at the other school.
Now "she's doing better grade wise and everything else than she was in public school," Rucker said. "She loves going to school. If I'm late, she has a fit. It's been an amazing turnaround for her."
Rucker also secured a tax credit scholarship for her son, Clyde, who is in sixth grade, but decided for now to leave him in public school. So far, so good. "But if something happens, I know I have that option," she said. "It's very important to have a choice."
Jarrod Willis is a bus driver for another school district, Polk County in central Florida. This year he secured a scholarship for his son Brandon, a ninth grader now attending a Catholic school that Willis wouldn't be able to afford otherwise.
The school offers more one-on-one attention than Brandon's prior school, and is also "more orderly, more watched over," Willis said. His son loves it and he's confident it's will put him on a surer path to college.
Willis said he did not understand why the teachers union opposes a school choice program that "helps parents who don't make as much money." He said he doesn't see how the program hurts the union or public schools.
"I think it's crazy," Willis said. "Kids want to get a better education. Why do something like that (the lawsuit) when it's helping people and doesn't hurt them?"
Other district employees/scholarship parents recently contacted by redefinED did not want to be quoted by name. Two said they were teachers union members and feared repercussions if they spoke publicly against the lawsuit.
One, a special education teacher whose son has learning disabilities, called the scholarship "the biggest blessing."
"Not all kids need to be in the same setting. They're all different," she said. "We don't all eat the same food. We don't all wear the same clothes. We don't all go to the same doctor. We all have individual needs."
The other teacher is the mother of a foster child who went from D's and F's in public school to A's in private school. "Private schools aren't for everyone, but in this particular case, it's better for (my son)," she said.
In the past, we've noted other scholarship parents who are public school teachers, like this one and this one. We also know public school teachers enroll their children in private schools at much higher rates than the general public.
Like Rucker, the bus driver in Marion County, the latest teachers contacted by the blog also said they were not surprised by the number of district employees getting tax credit scholarships.
"We're part of the system so we know what's going on," said one of the teachers, referring to the public school system as "one-size-fits-all." "We see how many students are being affected."