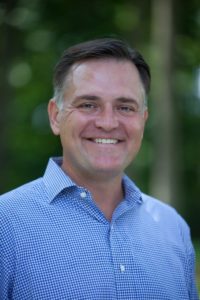 Congressman Luke Messer has been telling his fellow Republicans they can't just be against the federal government's role in education policy. They also need to fight for something.
That's one reason Messer, R-Indiana, helped launch the Congressional School Choice Caucus.
And he recently joined Denisha Merriweather, a Florida tax credit scholarship alum, for a podcast interview, in which he describes an agenda that could advance the cause on Capitol Hill.
He is sponsoring the Enhancing Educational Opportunities for all Students Act. The legislation would give states the option to allow federal Title I dollars to follow low-income students directly to whatever school they attend.
The bill would also extend two federal college savings programs to the K-12 level — a change Messer says might help middle-class families cover the cost of private school tuition.
The goal, he said, is to "help a cross-section of families" pay for schooling options that would otherwise be out of reach.
"We already have school choice in America for families who can afford it," he says. "If you can afford to move, or afford to pay for a private school on your own, you have those options. The only real question is: What are we going to do for everyone else?"
Messer says there's other congressional school choice legislation that might be worth watching over the next few years.
Legislation by Sen. Tim Scott, R-S.C., would expand K-12 scholarship programs for military families and children with special needs.
A bill by Sen. John McCain, R-Ariz., would extend state-based education savings account programs to children who currently attend federally run schools on Indian reservations.
A pilot program in the recently passed Every Student Succeeds Act could encourage states to experiment with school funding systems in which money follows the child.
In the coming months, Congress faces a deadline to reauthorize the D.C. Opportunity Scholarship Program. Messer says allowing the voucher program to lapse would be a major setback for the national school choice movement.
But he also says lawmakers who support vouchers in the nation's capital should be willing to help them grow around the country.
"I believe that this national wave that's come in the world of educational opportunity for every child is coming to Washington in a much bigger way soon," he says.
Podcast: Play in new window | Download