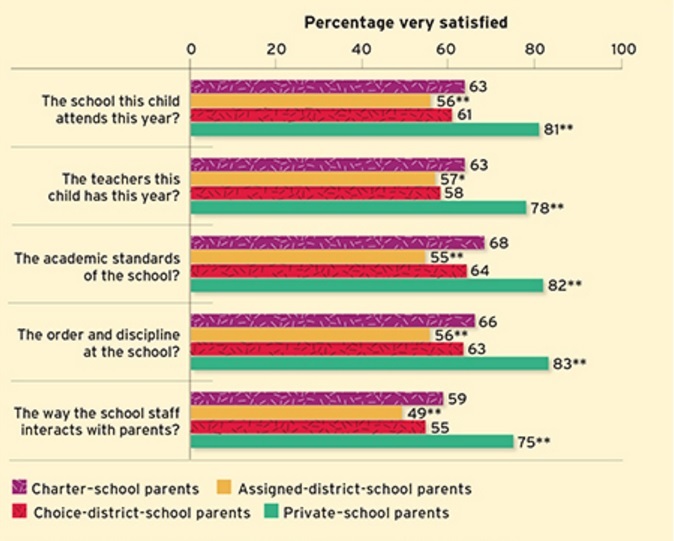 Parents who send their children to magnet, charter or private schools tend to be significantly more satisfied than those whose children attend zoned schools, according to a new look at survey data by the journal Education Next.
The analysis is based on federal government surveys of parent attitudes, which were conducted in 2012 and updated this year.
Private schools enjoy significantly higher ratings than the three public options. That holds true whether families are black or white, rich or poor, urban or rural.
But magnet schools have higher parental satisfaction than assigned district schools, and charter schools receive similar, or perhaps slightly higher, ratings from parents compared to district schools of choice.
During an event discussing the findings, both Chris Cerf, who leads the Newark public school system, and Paul Peterson, the senior editor of Ed Next, said that while the survey didn't directly probe the reasons for parents' preferences, there's likely something about schools of choice that creates a sense of ownership and leads to higher satisfaction.
"I would think it is an ordinary human attribute that when you choose something, you feel some sort of investment in its success," Peterson said.
The findings also suggest that as new public school options proliferate, the school choice landscape could get more competitive.
Private schools are also providing higher levels of satisfaction than either charter schools or district schools of choice. These choice-based schools pose a greater threat to the private sector because the differences in satisfaction level are, roughly speaking, only half as large as between private schools and the assigned-district sector. Yet the high level of satisfaction with private schools provides encouragement for those who support school voucher initiatives, which increase access to the private sector by paying some or all of students' tuition.
Nina Rees, the president of the National Alliance for Public Charter Schools, said charters tend to be more innovative and diverse than private schools. And by and large, that's likely true, though in some places, particularly those with substantial school choice programs, private schools — from microschools housed inside larger institutions to Silicon Valley startups to religious schools that reinvent themselves to stay in business — are starting to change that.
Rees said she would have liked to see how the ratings compare among different types of charter schools. She said parents' attitudes might be different at a no-excuses urban charter network like Success Academy than they are at some other, mom-and-pop operation.
"Charter schools are not a monolith," she said. "If you go to one charter school, you've really just gone to that one school."