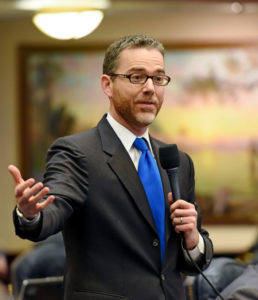 Home education students would have more access to college classes and career education programs under a bill approved this morning by a Florida House panel.
HB 1391 would allow homeschoolers to take career education courses offered by school districts. Public schools would be able to receive state per-pupil funding for courses they take.
The bill, along with a counterpart in the state Senate, would also require school districts to accept parents' home education registrations if they meet the requirements in state law.
Several parents told the committee that some districts have begun asking for information — like birth certificates and proof of residence — that go beyond what the law requires.
"They're taking the mindset, as we've tried to resolve this issue locally, that the law doesn't say they can't ask for additional documentation," said David Bosworth, a Broward County parent who's taught six children at home. As a result, he said, families can get stuck in administrative limbo trying to create home education programs for their children, even if they meet the requirements spelled out in state law.
The House bill also included provisions that would create textbook allowances for home school students who take dual enrollment courses at colleges or universities. Bill sponsor Eric Eisnaugle, R-Orlando, took those portions out of the bill today because they required money from the state budget.
But he said hoped the removal would be temporary. He said he wants to put home school students on equal footing with their counterparts in public schools, who don't have to pay for dual enrollment textbooks.
Alexis Campbell, a high school senior who's been taught at home by her parents, told the House PreK-12 Innovation Subcommittee she's taken multiple courses at Florida State University and Tallahassee Community College.
Textbooks in some classes cost hundreds of dollars, she said. Some professors assign compilations of readings that are tailor-made for courses they teach, which can't be bought at used book stores. The cost of books, combined with transportation, technology and other costs, creates a barrier for home education students.
"It's prevented a lot of my fellow students from taking advantage of this amazing resource that's been provided for us," Campbell said.
Rep. Jennifer Sullivan, R-Eustis, is a product of home education. She said the more than 80,000 Florida students taught at home by their parents save the state more than half a million dollars in public education funding. Setting aside a million dollars to help them afford college textbooks, she said, would still be a good deal for taxpayers.
Sullivan, along with Jason Fischer, R-Jacksonville, pledged to advocate for the textbook allowance as lawmakers craft their budgets in a tight fiscal year.
"If we can get what I think is a relatively small amount of funding, I think it would go a long way," Sullivan said.
Like their public-school peers, home school students can already take dual enrollment courses at colleges and universities without paying tuition. The House bill includes other measures to lower barriers to dual enrollment. It would clarify home school students are exempt from college technology fees.