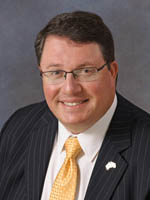 Citing a rash of anti-semitic threats, the Florida House PreK-12 Appropriations Subcommittee unanimously approved a measure setting aside $1.5 million to enhance security at all Jewish day schools in Florida.
Rep. Randy Fine, R-Palm Bay, said since the beginning of the year there has been a dramatic rise in anti-Semitism. He said there had been 154 bomb threats reported at Jewish schools around the country, and 17 reported in Florida.
Appropriations documents show the measure, HB 3653, would benefit students in preschool through high school. Florida has 35 Jewish day schools in nine counties.
Fine mentioned there were no such schools in his district, but he felt the issue had statewide importance.
"We have a situation that Jewish students are very afraid and beginning to drop out of the schools," Fine said. "It would put in security precautions so students and parents will feel safe having students attend these schools."
Rep. Jennifer Sullivan, R-Mount Dora, asked what security measures would be put in place with the funding.
Fine said the appropriations would not be allocated for operating expenses and salaries. He added it would be used for specific one-time uses, such as putting up fences and bullet-proof glass.
Rep. Larry Lee, D-Port St. Lucie, said he would not have a problem if the schools used the funding to hire security guards.
"If some of these schools don't have a security guard and could use the funds to hire a security guard, that is appropriate," he said. "Right now, schools all over the country are under attack."
Under new rules touted by Speaker Richard Corcoran, Florida House budget subcommittees must debate dozens of individual spending items, which members file as standalone legislation and discuss in open meetings.
Another project approved today by the panel, HB 3333, would appropriate $2 million for the expansion of the North Florida School of Special Education in Jacksonville, a private education center for children with special needs.