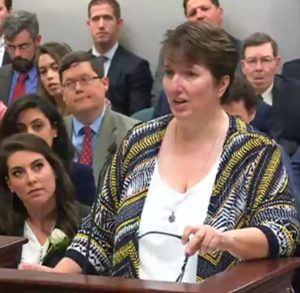 A bill that would expand or enhance three Florida private school choice programs cleared its first legislative hurdle today with bipartisan backing.
The House K-12 Innovation Subcommittee passed HB 15 on a 12-3 vote.
The measure by Rep. Jennifer Sullivan, R-Mount Dora, would triple the size of Florida's Gardiner Scholarship program, which offers education savings accounts to children with special needs.
It would also broaden eligibility for special needs vouchers, known as McKay scholarships, and increase per-student funding for tax credit scholarships, which help low-income and working-class students pay private school tuition.
Step Up For Students, which publishes this blog and pays my salary, administers the Gardiner and tax credit programs.
The panel heard impassioned testimony from parents like Kathleen Dale. She said complications from throat surgery damaged her son's brain, causing epilepsy, paralysis, aphasia and intellectual disability. He suffered from dozens of seizures a day, she said.
The family first received a Gardiner scholarship in 2014, and used it to pay for curriculum, art supplies, science kits and therapy that enabled them to teach him at home. In early 2016, Dale's son gained access to a drug trial that dramatically reduced his seizures. Since then, she said, he's made three years of progress in a year's time.
"You should be aware that you have been part of a miracle," Dale told the panel. "The new medication stopped the seizures, giving him the ability to learn, and through the Gardiner scholarship, you have provided him with the tools to learn," she added.
Opponents of the bill, including Larry Lee, D-Port St. Lucie, said they believed in offering scholarships to special needs children, but had reservations about increasing funding for them in a tight budget year.
"I totally support the program, but I have a little bit of a problem with increasing the funding amount," Lee said.
Supporters of the legislation, including all the panel's Republicans and two Democrats, pointed to benefits of the three scholarship programs.
Rep. Bob Cortes, R-Altamonte Springs, said he hoped expanding education options for children with special needs would allow more of them to become self-sufficient later in life.
He noted that Gov. Rick Scott highlighted efforts to create more jobs for adults with special needs in his State of the State speech this morning.
"We're helping a lot of kids with this," Cortes said.
A bill in the state Senate would match the House's Gardiner scholarship funding proposal, and a separate measure mirrors its tax credit scholarship changes.