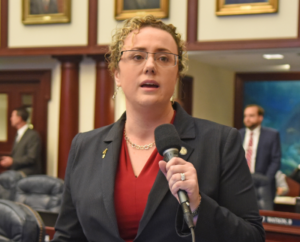 A bill passed last week by the Florida House would free a fifth of the state's public schools from district bureaucracy.
The "Schools of Excellence" plan has avoided the controversy and press attention of other education proposals. But it will be an issue worth watching in the deal-making of the final two weeks of Florida's legislative session.
HB 1331, by Rep. Erin Grall, R-Vero Beach, would give principals at the state's highest-performing 20 percent of public schools the same freedoms schools in a new principal autonomy program receive. Their leaders would have more control over hiring, and they would be exempt from some state education regulations.
Schools of Excellence would also get more flexibility under the class-size restrictions in the state constitution. And they would be allowed to set their own starting and stopping times for the school day.
Rep. Mike Bileca, R-Miami and chair of the committee in charge of education policy, said the plan stems from a promise to "look for areas to level the regulatory playing field with charter schools."
In recent years, he and other pro-charter lawmakers have pushed to scale back regulations for district schools on a variety of fronts, from easing class-size rules and construction requirements to promoting new autonomy-for-accountability arrangements.
Months before the legislative session began, House Speaker Richard Corcoran hinted at Schools of Excellence as a way to reward public schools for strong academic performance.
As Bileca put it during a debate on the House floor: "If they're performing at a high level, there should come more autonomy, more opportunity for freedom, more opportunity for innovation."
Florida's accountability system grades public schools A-F, based on a combination of student learning gains, test scores, improvement among the lowest 25 percent of achievers, and other indicators like high school graduation rates.
To qualify as a School of Excellence, a school would need to rank in the top fifth of its category — elementary, middle, high school or combination — based on the numerical score that determined its letter grade. It could keep the distinction for three years, as long as its school grade remained a B or higher.
Critics of the plan, including Joe Geller, D-Aventura, said it would undermine school district officials.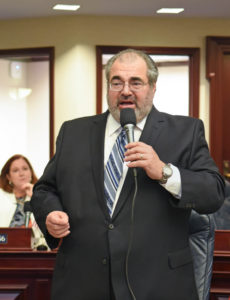 "We have legislation that's taking away the ability of school boards to work with the lower-performing schools, and now here, we're trying to cherry-pick, and take off the highest-performing schools, and put them in a situation where the superintendents and the school boards are no longer in control," he said. "We have to do something for these local elected officials. We consistently are undermining their role."
A branch of the education reform movement has long advocated what Geller decried. Supporters of "relinquishment" believe in transferring power from district officials to educators.
Charter schools, publicly sanctioned but privately run, are often seen as central to the concept. But beyond a few outlier jurisdictions, like New Orleans, where charters now comprise a majority of public schools, relinquishment advocates may have to find other mechanisms.
With its principal autonomy program to turn around low-performing schools, and, potentially, Schools of Excellence, Florida could return greater control to educators in its traditional public schools.
The bill passed the House on an 86-33 vote, with opposition coming from Democrats. Some Democrats backed the bill, including one from Pinellas County and a few from Broward. Superintendents in those districts participate in the principal autonomy program.
Rep. Byron Donalds, R-Naples, helped found a Southwest Florida charter school. He said the deregulation program would allow top principals to showcase their schools to other educators in their districts, who could learn from them.
Lawmakers, he said, should get out of their way.
"If you have leadership in those schools that have demonstrated that they can excel, they should have the flexibility to continue to lead these good schools," he said. "They shouldn't have additional restraints from this body or from school districts."
The measure now faces an uncertain path in the Senate, where a measure by Jeff Brandes, R-St. Petersburg, has coasted through two committee votes but faces a time squeeze as the May 5 end of the legislative session looms.