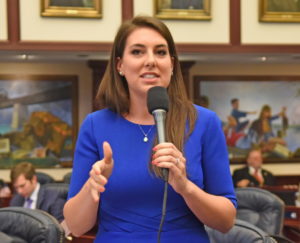 The Florida House this afternoon unanimously passed legislation that would strengthen two private school choice programs.
HB 15 would increase per-student funding for tax credit scholarships. Children would be able to receive larger scholarships in high school, where private school tuition tends to be more expensive.
The bill would also allow military families to apply for the school choice program year-round.
Maximum scholarships in a branch of the program that reimburses transportation expenses for children attending public schools across district lines would increase from $500 per student to $750.
The measure would also expand the list of conditions that allow students to qualify for Gardiner scholarships, which provide education savings accounts for children with special needs. The program would be open to children who are visually or hearing-impaired, those with traumatic brain injuries, and other children whose special needs qualify them for individualized education programs.
Step Up For Students, which publishes this blog, helps administer both programs.
Rep. Shevrin Jones, D-West Park, a leading House Democrat on education issues, supported the bill. He said he had a nephew nicknamed "Mr. Peanut" who had trouble speaking in his early years, but is now getting on track with the help of a Gardiner scholarship.
"It's all for him, and all the students who definitely need that extra boost before they transition into a public school," Jones said.
The bill's sponsor, Rep. Jennifer Sullivan, R-Mount Dora, said the bill would expand opportunities for low-income and special needs students alike.
"We set these students up for success to be able to have a bright future and a good education," she said before the 117-0 vote.
The Senate is advancing separate bills that would expand Gardiner scholarship eligibility and strengthen the tax credit scholarship program.
Lawmakers are also expected to negotiate funding special needs scholarships as they work out the details of their competing spending plans before the legislative session ends May 5.