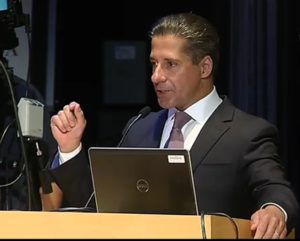 If Gov. Rick Scott vetoes a wide-ranging education bill, as a growing number of Florida school district officials want, the state's charter schools would see their facilities funding plummet to historic lows.
The contentious bill, HB 7069, would steer an estimated $146 million to the state's charter schools. Nearly two-thirds of that money would come from district property taxes. Right now only a handful of districts share that money with charters. All of them would have to share it under the bill. The remaining $50 million would come from the state budget.
Without the bill, the money in the budget would be the only charter facilities funding left, matching the lowest statewide total in a decade. And the smaller pool of money would be spread among more students than ever. Right now, 556, or all but about 100 of Florida's charter schools, qualify for charter school capital outlay funding — a number that's risen every year.
That didn't sit well with Gary Chartrand, a Scott appointee to the state Board of Education and key backer of the effort to bring KIPP charter schools to Jacksonville.
"That's a dismal amount for charter schools that are growing at double digits," he said of the funding in the state budget. "I think it needs to be rectified somehow. I'm not exactly sure how, but the veto (of HB 7069) isn't exactly rectifying the situation for charter schools either."
Chartrand was responding to comments Alberto Carvalho, the superintendent of Miami-Dade County Public Schools.
The leader of the nation's fourth-largest school district called for a veto of the education legislation during the board's meeting in Miami, where he represented the statewide superintendents association. The bill he opposes would give an allowance for revenue districts have already committed to debt service on past construction. But Carvalho argued it would still cripple already-tight construction funding.
During the legislative session, Sen. David Simmons, R-Altamonte Springs, the writer of the Senate's education budget who ultimately voted against the bill, sympathized with school districts on this point.
Carvalho argued in many cases, district schools can represent a better long-term investment for taxpayers, because their buildings (like the Miami Senior High School, where the meeting took place) are owned by the public, and not by private real estate investors.
"For over 100 years the people of the state of Florida owned it, and for the next 100 they will own it," he said. "There's no such guarantee with the investment in less-than-traditional schools."
Chartrand said the status quo is no picnic for charters, either — including those that won't make anyone a profit. KIPP has relied on tens of millions in philanthropic donations, including a vacated dog-racing facility that houses some of its Jacksonville schools. It's received just over $700,000 from the state for its buildings.
"The charter schools, specifically the nonprofit charter schools, are not being funded properly," Chartrand said. "They're not."
"For the sake of equity and equality, I would submit that I agree," Carvalho responded. But he argued lawmakers should look for a way to achieve funding equity "without having losers." To do that, he said, the governor would have to veto not just the bill, but the state education budget, forcing lawmakers back to Tallahassee for a special session.
"I'm not advocating for no funding for charter schools," he said. "I've actually been very adamant: State, fix the problem. State, Generate a long-term sustainable funding revenue stream for the capital outlay needs of charter schools, but not at the expense of the ongoing needs of the traditional public schools."
Lawmakers attempted to craft a solution during this year's legislative session. Require equal per-student sharing of property tax revenue among all public schools in each district, including charters. Then add supplemental funding in the state budget that can help with districts' needs. New sources of revenue did not seem readily available.
Rep. Michael Bileca, R-Miami, who chairs the House Education Committee, told the state board that the lack of stable, predictable facilities funding was a key barrier that KIPP-like charter school organizations — those with national reputations for improving results among low-income students — see when they think about coming to Florida.
That's why the $140 million Schools of Hope program, also part of the contentious bill, would include a revolving loan to help charters pay for buildings.