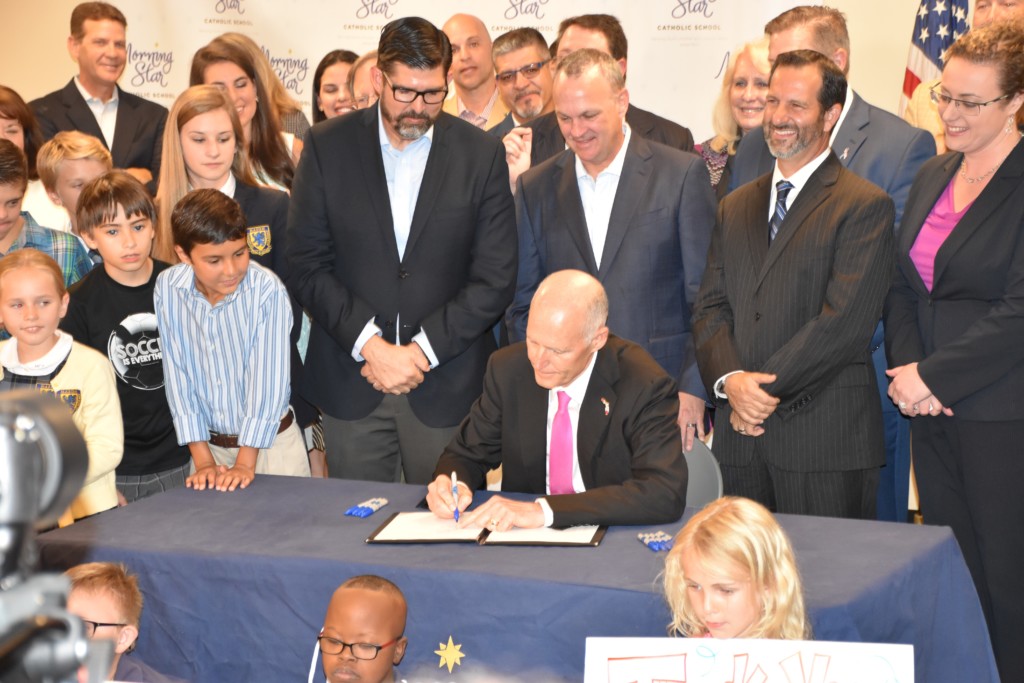 ORLANDO, Fla. – Big changes are coming to Florida's public education system.
Flanked by House Republican leaders and special needs children, Gov. Rick Scott signed legislation that equalizes funding for Florida's charter schools, transforms the state's system for turning around struggling public schools, and boosts funding for special needs scholarships — among dozens of other provisions.
HB 7069 was at the center of a heated public campaign by parents, educators and political activists. The News Service of Florida reported this week that the governor had received 23,440 messages supporting the bill, and 22,734 calling for a veto.
Scott acknowledged the avalanche of "input" he'd received but said he's convinced the massive 274-page package will help students.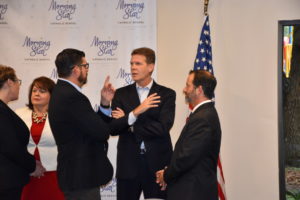 "It addresses lots of key issues in our education system, and paves the way for every Florida student to receive the world-class education that every student deserves," he said.
House Speaker Richard Corcoran and a host of lawmakers who worked on parts of the bill joined the governor at Morning Star Catholic School, which educates children with special needs.
Mike Bileca, R-Miami and chairman of the House Education Committee, said some of the biggest changes would come in areas where public schools have languished with low academic performance.
The new law speeds up the timetable for districts to turn around struggling schools. It also creates a new Schools of Hope grant program aimed at attracting high-performing charter schools to struggling areas. It could also fund traditional public schools that want to provide wraparound services or create charter-like, college-prep, academics-plus-character cultures.
"We're going to see our communities in high-poverty areas flourish, and we're fundamentally going to change the state of Florida for the better," Bileca said.

Florida's school district officials campaigned forcefully against the legislation.
"We're certainly disappointed because we were hoping for a veto and thought there was statewide support for a veto," Barbara Jenkins, the superintendent of Orange County schools, said according to the Orlando Sentinel. "However, we have to acknowledge the political process."
An alternative association of conservative school board members helped fan the flames of support.
"We celebrate today alongside the parents, students, and families of Florida who believe, as we do, that every child deserves the opportunity to succeed academically," the Florida Coalition of School Board Members said in a statement.
Corcoran said with the sweeping new law on the books, top lawmakers will try to address some of districts' concerns.
"We both got a tremendous amount of input, a tremendous amount of concern, from the education field," he told reporters while standing next to the governor. "We're going to work with them, and to the extent these things can get better or be improved, we're absolutely going to go down that path."
Corcoran and Scott came to the Orlando private school in part because the bill provides $30 million in funding for Gardiner Scholarships*, an education savings account program for special needs children. The funding comes in addition to $73 million in the state budget Scott has already signed.
Former Senate President Andy Gardiner said the funding boost would allow the program to keep growing.
"Families that go to school here, and all over the state, will be able to continue with the scholarships," he said.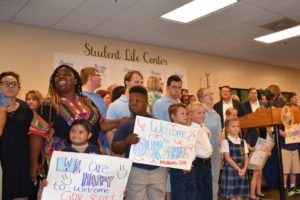 Bonita Moss said she came to the event to hear what the governor had to say. She sends one son to Morning Star with the help of a state-funded McKay Scholarship, and two other children to nearby private schools with the help of Florida's tax credit scholarship program.*
"I've seen the difference in the education that children receive," she said. Students in affluent areas seem to enjoy perks like nicer field trips that aren't available to their low-income peers. "It needs to be equal," she said, adding that she came away "optimistic" that politicians might address systemic inequities.
She said while she isn't a Republican, she has supported Republicans, like Gardiner, who championed educational choice.
Among other things, the new law:
Speeds up the timetable for persistent D- and F-rated public schools to raise their letter grades, and requires them to convert to charters or close if performance doesn't improve. School districts would have the option to keep schools open by creating district-run charters overseen by independent oversight boards.
Creates a new, $140 million Schools of Hope program to draw proven charter school networks to areas where existing public schools struggle and fund wraparound services at up to 25 district-run public schools.
Allows top-performing district schools to become Schools of Excellence with greater autonomy.
Eliminates geographic boundaries for virtual education, creates statewide open enrollment for virtual charter schools and eliminates Florida's last remaining restrictions on virtual education eligibility for elementary school students.
Requires school districts to share a proportionate amount of property tax revenues for facilities with their charter schools.
Shifts control over federal Title I funding for low-income students from districts to individual schools.
Eliminates caps on academically high-performing charter schools that want to expand in areas where existing public schools are low-performing.
Provides $30 million to fund the Gardiner Scholarship program for children with special needs. (Step Up For Students, which publishes this blog, helps administer the scholarship program.)
Sets aside more than $200 million for teacher bonuses.
Moves standardized testing to the end of the school year for public schools.
Mandates 20 minutes of recess for children in district schools.
*Step Up For Students, which publishes this blog, helps administer the Gardiner and tax credit scholarship programs.