The Florida Department of Education this week released its annual evaluation of Florida's tax credit scholarship program.
Florida State University researchers crunched the numbers on test results for 41,372 low-income and working-class students who used the nation's largest private school choice program during the 2015-16 school year.
The report from FSU's Learning Systems Institute largely mirrors results from past years. Scholarship students are disproportionately disadvantaged, both academically and economically. Once they enroll at private schools, they make about a year's worth of academic progress in a year's time — at least compared to their peers nationally.
Here is a breakdown of what the report shows.
Scholarship students are among the most disadvantaged.
Compared to children who qualified for scholarships based on income, but did not participate in the program, children who used scholarships were:
More likely to be black, and less likely to be Hispanic or white.
Less likely to be English-language learners.
More likely to qualify for free-or-reduced price lunch (an indicator of economic disadvantage).
Scholarship participants also had lower average test scores in both English and math when they entered the program.
They make about a year's worth of progress in a year's time.

The report notes, like in previous years:
[T]he typical [scholarship] student tended to maintain his or her relative position in comparison with all students nationally both in math and reading. It is important to note that the FTC students are being compared to all students nationally, and not just students from low-income families.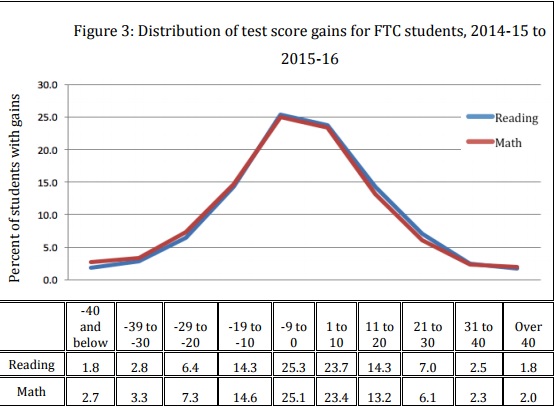 Results for individual schools vary a lot.
The report includes student achievement data for 283 schools. That's up from 198 the year before.
At 32 schools, scholarship children made gains significantly larger than their peers' between the 2014-15 and 2015-16 school years in reading and math combined. Meanwhile, at 53 schools, they lost ground in their combined averages.
American Youth Academy (an Islamic school in Tampa), La Progresiva Presbyterian School (whose story has been featured here) and Fort Lauderdale's Cardinal Gibbons High School posted some of the largest gains.
The response rate was high.
The FSU researchers report schools provided usable test scores for 95.6 percent of scholarship students in grades 3-10. That's the third-highest rate in the scholarship program's history. It rivals the previous year's response rate of 95.9 percent.
Florida typically expects public schools to report test results for at least 95 percent of their students to receive a valid letter grade.
Step Up For Students helps administer the scholarship program and publishes this blog. The Florida Department of Education publishes annual research evaluations here.