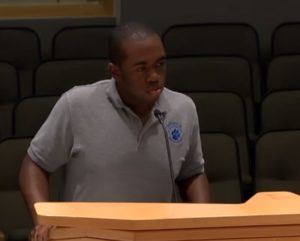 Christian Steen told a Florida House panel about the changes at his school this year.
Students have new uniforms. A new culinary arts program has them thinking about job skills. The new principal, Cory Oliver, has boosted morale.
"He's able to connect with the kids, and now everything is running smoothly," Steen said. "The students are more focused in class, and now there's not much skipping."
"There's still the same knuckleheads," he added with a chuckle. "But everybody else is on-point. They're focused and moving forward."
Steen is a senior at Jefferson County's only high school. Located just a half hour's drive east of the state capital, it has long been one of the highest-poverty, lowest-scoring schools in the state. Steen said, like many of his classmates, he had contemplated moving to a neighboring district or letting his mother teach him at home.
That's changed. The tiny North Florida district is in the first year of an unprecedented takeover by Somerset Academy, a charter management organization based in South Florida.
The new charters include an elementary school, a middle school and a high school. They're on a single campus. They accept all the students who live in the county, and currently enroll nearly 700 students.
Jefferson's first-of-its-kind turnaround effort got attention today from the House Education Committee. It likely won't be unique for long. A new state law overhauled the state's process for school turnarounds. Low-scoring schools have to improve more quickly before consequences kick in. Jefferson-style charter conversions are now more likely. An early batch will likely come before the state Board of Education when it meets next week in Jacksonville.
The Jefferson County School Board approved the Somerset conversion in a unanimous vote this spring. The charter school organization officially took over July 1. It re-hired many district teachers and brought in others from Georgia and Jacksonville. It drew expertise from sister charter organizations that, like Somerset, are tied to the management company Academica: Pinecrest Academy, Doral Academy and Mater Academy.
Doug Rodriguez, the president of Academica's Doral College, is helping guide the turnaround. He told the committee the management company has fulfilled its pledge to offer Florida's most generous teacher salaries in Jefferson County. That's made possible, in part, by the comparatively high per-student funding the district receives through federal programs.
Community members joined Rodriguez to explain how things are going. Rev. Pedro McKelvin of Welaunee Missionary Baptist Church said before the takeover, the district was "on the brink of collapse."
Now, for county residents, "the jury's still out. They are somewhat positive," McKelvin said. So far, Somerset officials have worked with residents who approached them with problems. "We've had some hiccups," he added. "Don't get me wrong."
McKelvin also echoed comments by Jefferson school board member Sandra Saunders. She said she felt she didn't have much choice but to approve Somerset's takeover last spring.
The state Board of Education ordered a charter school conversion after deciding the district, beset by nearly a decade of academic turmoil, years of declining enrollment, and a fiscal emergency, could not cure itself. School district officials heard overtures from multiple charter organizations before choosing Somerset.
School board discretion was important to lawmakers like Rep. Shevrin Jones, D-West Park.
"I just want to make sure that the school districts have a say-so when bringing these entities in," he said. "It's their community. They should have that say-so."
Under the new law, school boards have the authority to select a charter school operator. For persistently struggling schools, they have two other alternatives. They can bring in external operators (including independent boards overseeing a district-run charter), or they can close their school.
But external operators need to have a track record of successful turnarounds. And the smallest districts only have a single high school. So for some rural school systems with troubled academics, a charter operator may be the only viable option.
In July, the state Board of Education rejected a plan by the Hamilton County school district to turn around its high school. That set the stage for a possible charter school conversion. The district responded by, among other things, joining other school boards trying to file suit against the new law. Charter conversion plans are also in the works in other districts with persistently struggling schools, including Gadsden and Madison.
Hershel Lyons, the state's chancellor of public schools, told the committee 38 schools will have to either close, convert to charters or bring in external operators next school year if they don't raise their state letter grades to C's or higher.
All of those schools will have carried D or F letter grades for five or more years. One has languished for 11. On average, roughly a quarter of students in those schools are on grade level in both reading and math.
But Lyons also brought some good news. The majority of D- or F-rated schools raised their grades last year.
Committee members peppered him with questions. Why did some public schools turn around successfully? Why do state officials think outside charter school operators can help the ones that didn't?
Lyons suggested no one knows the exact answers, but officials agree on a key ingredient: Leadership. The district turnaround schools that succeeded typically brought in new principals. Charter school operators change the institutional culture, in ways students like Steen, the Jefferson County senior, recognize.
Committee chairman Mike Bileca said he was "encouraged" by the news from Jefferson County. But he said he wants the committee to get more information. He wants to organize a field trip in the coming weeks.
"This is a long-term effort," he said.