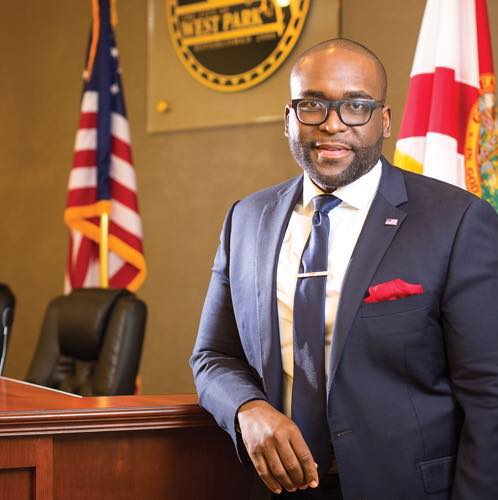 In the final days of this year's Florida legislative session, one massive education bill overshadowed the rest.
The Republican-backed House bill 7069 promised sweeping changes to the state's public education system. Rep. Shevrin Jones, D-West Park, was a leading combatant in what became the session's biggest fight. Drawing on his own classroom experience, he argued charter school conversions wouldn't bring quick fixes to high-poverty schools. He criticized provisions intended to make funding fairer for charters, at districts' expense. At the height of the controversy, he joined labor union leaders and gubernatorial candidate from his party at a press conference denouncing the proposal.
But in a state capital where Democrats often play defense against Republican pushes to expand educational options, from charter schools to scholarship programs, Jones isn't simply a reflexive partisan. During the same legislative session, he supported HB 15, which bolstered two private school choice programs.
Serving his fifth year in the Florida Legislature, Jones has emerged as a leading voice in the Democratic Party on education issues. He's positioned himself as a reformer who believes there is room to provide students more school choice options.  He supports them when he sees them complementing the existing public school system and opposes them when he sees them competing with existing public schools for resources.
He said there is a middle ground where both can coexist.
"Use the disagreement the two sides have to figure out what it is, to move the agenda," he said. "What I consider middle ground is ensuring accountability in our charter schools."
Even at the height of their debate over the landmark legislation, Jones found ways to get along with the Republicans who hold power in the state capital.
"He is trying to balance the concerns of the district, the teachers' union and parents and students and doing that in a kind of compromised solution," Rep. Manny Diaz, R-Hialeah, said at the time. Diaz chairs the education appropriations committee and represents a South Florida district bordering Jones'. "He is a great person and a human being. He is really easy to work with and even if you don't always agree you can have a discussion and neither one can take the issue as personal," Diaz said.
The law ultimately signed by Gov. Rick Scott allows districts to apply for extra resources to transform some of their own schools — an addition made as legislators like Jones argued districts could make meaningful improvements if they received extra resources. That part of the law is already having an impact in the Miami-Dade County school district.
In a chamber where Democrats control just 40 of 120 seats, other members of Jones' party say his unifying approach makes him a more effective legislator. Jones and Rep. Larry Lee, D-Port St. Lucie, are the top Democrats on the main education committee and the education budget committee, respectively.
"If you are in the minority, you need to find ways to reach across the aisle," Lee said in an interview. "And he and I have constantly done that."
Reaching across the aisle
Jones greets everyone with a hug — whether he has just met them or they've been friends for many years.
The affable legislator is often on the receiving end of warm jokes. Such was the case when he sported a new, fuller beard at the beginning of a committee week last month.
"It is a full-time job," he said with a laugh about the work it took to thicken his beard.
But on his Twitter feed, he disclosed a somber inspiration for the new look. He wanted to honor his brother, who died suddenly over the summer.
"Before my brother died, we wanted to see whose beard would grow faster," he wrote. "It was our last competition with each other."
Jones maintains a lively presence on social media, whether he's sparring with Republican colleagues or touting his proposal mandating teacher pay raises. Sometimes the exchanges spill into the real world, as they did during a recent appearance at a South Florida charter school gathering alongside Diaz and Rep. Chris Latvala, R-Clearwater.
Latvala referred to Jones as a "dear friend" and said while the two do not always see eye to eye, he respects him.
Jones said relationships across the aisle are critical.
"If you and I have a relationship, you are more likely to know my heart and prone to respect that," he said. "Even though we might be divided on an issue, there is a way to still respect each other."
When it came to the debate about HB 7069, Jones told the House committee he did not believe anyone was doing any ill to students.
"Every last one of us has children's best interest at heart," he said.
Jones may have public service in his blood. His father is the mayor of West Park, a small South Florida municipality. The 34-year-old legislator describes himself as part of a new generation that eschews traditional political labels, even at a time of growing national polarization.
Asked about the biggest challenge he faces, Jones didn't hesitate.
"Party lines," he said. "It's killing us. If you look at statistics, millennials are moving away from parties."
A 'middle ground'
Jones graduated from Florida A&M University in 2006 with a degree in molecular biology. He taught for seven years in both the Broward and Palm Beach County school systems before deciding to run for office.
His work teaching underprivileged students has shaped his policy views. He said when he stood in front of a classroom he saw firsthand the significant needs of different students from different walks of life.
And he continues to pursue an education career alongside his political one. He recently received his master's degree in educational leadership and is working on his Ph.D. After finishing his degree, he said, he is considering either going back to teaching or taking a leadership position in the educator sector. But he is still undecided.
He cited his classroom experience while passionately debating HB 7069.
"These were students that were coming into this class my first period of the day whose parents weren't home in the evenings," he said during a debate in the House Education Committee. "Students came to the classroom high. Students came the classroom had not eaten breakfast. This is the reality that we are speaking of.'"
Jones questioned whether bringing in charter school operators would improve those things.
"To my colleagues sitting at the table, if you have never been in the classroom with the doors shut with 30 students, and if you think that you, yourself, can change a child because you said another entity can come in and do it, you are sadly mistaken," he said.
But when he saw new options could complement existing public schools, he supported them. He argued in favor of HB 15, which strengthened the state's tax credit scholarship for low-income and working-class students, and the Gardiner Scholarship program for children with special needs. He told the story of his nephew, "Mr. Peanut," who struggled in his early years, but received a Gardiner scholarship, got the support he needed, and ultimately transferred to a public school. (Step Up For Students, which publishes this blog, helps administer the tax credit and Gardiner Scholarship programs).
In past sessions, Jones has proposed legislation that would tighten regulations on charter schools, which have seen their share of troubles in Broward County.
But he said charters still have a place in the broader public education system.
"There is a middle ground in everything," he said. "Everyone might not agree with the middle ground from left to right. We all probably won't get what we want. But we can get something that can get us to the expected end where we need to be. We can't continue to be the person of 'no' because in actuality if you sit down and work out differences there is a happy medium between the two of them."