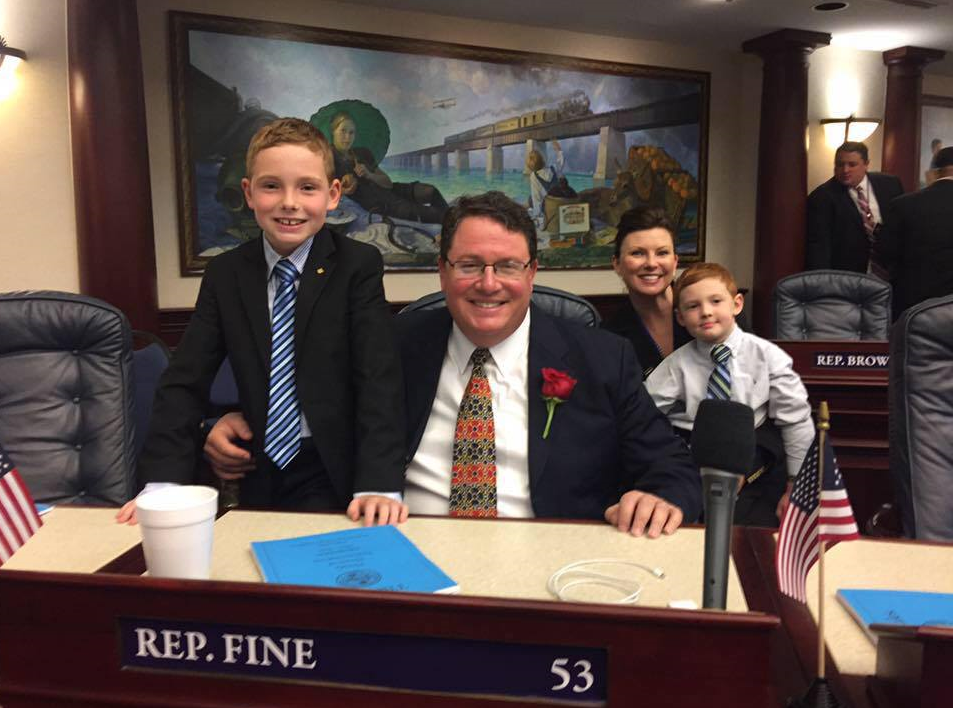 No one would have guessed that a simple math problem, answered correctly by a six-year old but marked wrong by his teacher, would one day help pass one of Florida's largest education reform bills.
But that math problem encouraged one young father to run for office and advance reforms.
Earlier this year, state Rep. Randy Fine, R-Palm Bay, advanced legislation that opened statewide assessments for public review. Lawmakers incorporated that proposal into one of the largest education bills passed in recent years.
Since he was first elected in 2016, he's also advocated for families to have more education options, which he's exercised with his own kids.
Fine recalls how it all started. His son came home from school one day, troubled and frustrated with math. He no longer liked the subject. In fact, he told him he hated it.
The source of the frustration was a simple math problem: What is 9 plus 6? His son had answered 15. But his teacher marked him wrong because he didn't explain how he reached the answer.
"On what planet does nine plus six not equal 15?" Fine asked. He requested to review the test, but school officials refused. Eventually, this battle with the Brevard County school system inspired him to run for state representative in 2015.
Two years later, Fine filed HB 549, the testing transparency legislation. And he's gotten involved in other issues, from school choice to student safety.
A parent's frustrations become motivations
While disagreements with his son's school inspired a career change, they also resulted in a change for Fine's family. He eventually grew so tired of fighting with public schools that he pulled his children out, and enrolled them in a private school.
"We became frustrated with a number of things taking place in school," he said. "We don't have a lot of choice where we live. There aren't close charter schools. We tried homeschooling, but found for us it was difficult."
He's made millions running gaming and consulting companies, so he could easily afford the tuition. But he said all families should have that same option.
"That is why I ran" (for office), he said. "I was frustrated with both Common Core and administrative policies that put bureaucracy over student performance."
After putting his children in private school, he said they have thrived at Holy Trinity Episcopal Academy in Melbourne.
"There is no Common Core," he said, referring to the set of educational standards for teaching and testing for English and mathematics that became a hot-button issue in the years before he ran for office. "It is focused on teaching math, not some ideologically driven method of teaching math. It is an environment where they flourished."
Fine said when his son entered private school in the first grade, he was considered behind in math. Two years later, he's doing middle school math in the third grade.
Let every parent choose
Fine said educational options shouldn't just be limited to parents who can afford them.
"I wish every parent had the ability to choose the right school for their child," he said.
A recent U.S. Supreme Court ruling that questioned the constitutionality of Blaine Amendments emboldened Fine. A widely cited constitutional barrier to universal school choice looked like it might come down. He considered filing legislation that would create universal vouchers, allowing all of Florida's K-12 students to receive public support to attend any school of their choice. Ultimately, however, he decided not to file it this upcoming session.
The state already offers tax credit scholarships to low-income and working-class students. It offers vouchers and education savings accounts for children with special needs. For early learners, the Voluntary Pre-K offers universal vouchers for public and private preschools.  Step Up For Students, which publishes this blog, administers the tax credit and Gardiner Scholarship programs.
Fine wrote on his website that "education is the great 'equalizer' in American society" and that he wants the educational system to produce smart, solid citizens.
Early interest in politics
On his campaign website, Fine says he particularly admired his grandparents, who escaped persecution in Europe to begin life anew in the states without a penny. His grandmother escaped the Russian pogroms, where most of her family was murdered.
Fine has been active as a legislator in combating anti-Semitism.
Responding to 167 bomb threats at Jewish community centers in 38 states, Fine filed HB 3653 to fund added security measures at Jewish day schools during the 2107 legislative session. As a result, the state budget allocated $654,491 to fund security at Jewish day schools.
Gov. Rick Scott has now made the issue a priority in his budget this year. He proposed boosting funding for the program to $1 million.
Fine's interest in politics came early. He served as the state chairman of the Teenage Republicans and on the staff of U.S. Rep. Larry Hopkins, who ran for governor of Kentucky in 1991 when he was a senior in high school.
Even so, he began his life in the private sector and paid his way to Harvard. He graduated as a Baker Scholar, meaning he was near the top of his class at Harvard Business School.
"I understand both the power of education as well as the challenges and benefits of building a business," he said.
At the age of 31 he founded the Fine Point Group, a consulting firm focused on the hospitality industry, which is one of the largest of its kind. He has also served as chief executive officer of two major nine-figure gaming companies: Detroit's Greektown Casino-Hotel and Santa Fe New Mexico's Buffalo Thunder, Inc., and is a member of the board of directors of Tangam Gaming, Inc.
Problem solver
Fine was also one of five Republicans pursuing the role of Speaker of the House this summer. Paul Renner of Palm Coast ultimately prevailed in the contest.
Colleagues describe Fine as a problem solver.
"He always wants to try to understand why things are the way they are and if they can be better," said Rep. Rene Plasencia, R-Orlando, who also represents parts of Brevard County. "He doesn't accept that things are just the way they are."
Plasencia, a former public school teacher, said he and Fine also see eye to eye on education.
"He is a big believer that not every child fits in the same school system or educational system," he said. "We both believe that parents should have options. Those options should fit the needs of their child."
Fine said his biggest challenge as a legislator is spending time away from his family.
He invites his two sons to Tallahassee during their winter and spring breaks.
"The other thing I do is really focus my attention on them when I am home," he said. "But there is no way to fully make up for what is missed when away."
At least he's still able to help with math.