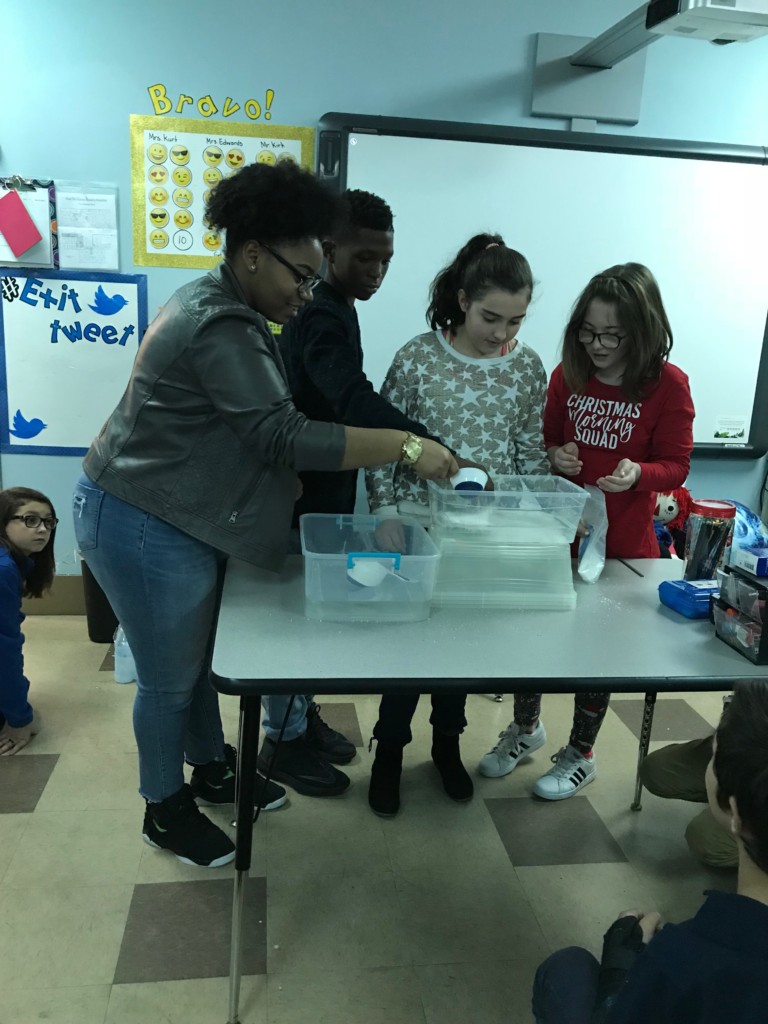 Seventh-grade student Jeremiah Graham thrives on the challenge of solving a math problem.
He enjoys turning numbers in his head and solving a mathematical problem backward by reversing each mathematical operation to get back to the beginning of the problem. That way, he says, he can understand the process much clearer.
Another student, Y'hara Lawrence, spoke fondly of the time her class made slime with Tide and glue.
Students also participated in an experiment in making snow. They constructed their own version of the Mayflower after learning how boats stay afloat when they are filled with cargo. Thye students took part in a competition this past November to gauge which ship could carry the most cargo.
River City Science Academy Innovation in Jacksonville is part of a growing network of schools that cater to students who delight in things like science experiments and robotics competitions.
The Innovation school was the fourth installment of River City Science Academy, a network of four charter schools that caters to students who thrive on lab experiments and robotics competitions. Its network includes the first high-performing charter school in Duval County. The Innovation school adds the arts to the schools' characteristic emphasis on science, technology, engineering and math.
Mesut Erdogan, the school's principal, said it is vital to get students involved in STEM.
"In the U.S. especially, if you look at all the scientists, they are from other countries," he said, referring to several vacancies in STEM fields because there is not enough graduating with such degrees. "Students think it is hard. But if you teach in a good way they will learn science and love it."
The first River City Science school opened in 2007, serving sixth- and seventh-graders. It then added a new grade level each year. In 2009, it opened its second location, followed by RCSA Innovation in 2012. The final school opened in 2014. School officials say they do not intend to add any new schools to their Duval County network.
The school offers robotics, science and math Olympiad programs to its highest-performing students.
Students in the Olympiad programs take part in regional, national and local competitions. The competitions require students to solve a science problem collaboratively. In robotics, students are given the opportunity to build, design and program a robot. From there, they can learn how robots can solve real-world problems. The club requires a significant time commitment for the student: two weekdays after school, plus time on Saturdays.
Erdogan added community service is also a core aspect of the school.
"We believe education should not stay in the school," he said. "We try to partner with other organizations to help them and encourage students to do fundraising for other organizations such as breast cancer awareness and blood donations."
While STEM is an essential focus of the school, celebrating diversity is another important attribute.
State records show 10 percent of the school's students are Hispanic, 31 percent black and 6.8 percent Asian. Their families come from so many different nationalities that when the school holds a World Day celebration, there are students or teachers represented from at least 20 different countries.
Four students took RedefinED on a tour of the school. The students, some social butterflies and others quieter shared something in common: they love the choices they are availed in their learning and the ownership they take at the school.
"I love how we get hands-on activities," said Bella Rose, a sixth-grade student with glasses wearing a holiday shirt that read: Christmas Morning Squad. "My favorite subject is math because my teacher shows me how to things in a fun way. She is interactive with the lessons we are learning."
It's not all STEM, all the time. Juleah Medina, sixth-grade intensive reading and gifted teacher, said she also appreciates the creativity she has in the classroom.
"You are able to differentiate your instruction," she said. "You can individualize the curriculum, according to the student and their gifts and goals."