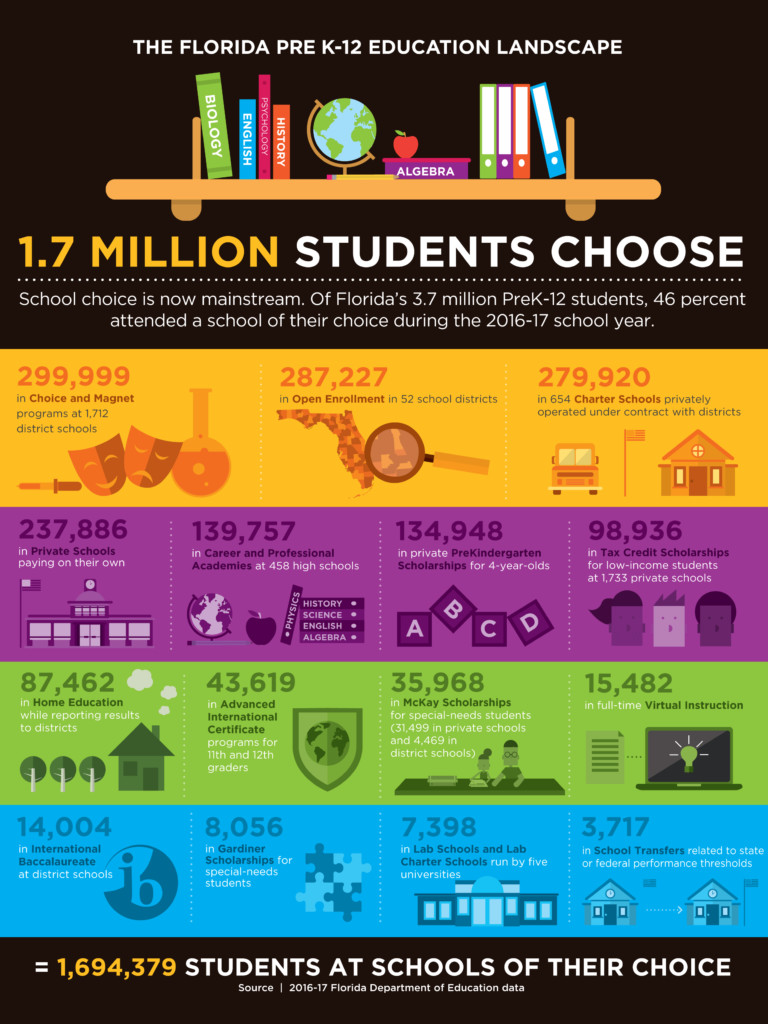 Florida's public schools are growing. And educational options are growing faster.
Public schools added more than 16,000 students in grades PreK-12 in the 2016-17 school year. A new analysis by Step Up For Students, using data from the Florida Department of Education, shows the state's full spectrum of school choice options added 43,000 students that school year.
The annual "Changing Landscape" document shows nearly 1.7 million preK-12 students in Florida enrolled in educational options outside their neighborhood district school. That number has increased more than 207,000 over the last five years and now accounts for 46 percent of PreK-12 students.
Like its predecessors, this year's report shows how choice has rapidly become the norm in Florida. The growth of some options may be spurring school districts to offer more.
The three most widely used school choice options remain public schools. District magnet and specialty programs hold the top spot, with just shy of 300,000 students. Open enrollment policies that let families choose among neighborhood schools are right behind them, with charter schools gaining fast.
Private school choice programs like the Florida Tax Credit Scholarship (FTC) and Gardiner Scholarship program saw the largest enrollment growth. They grew by 26 percent and 64 percent, respectively. The number of private school students not using scholarships or vouchers to pay tuition increased by just 1,927 students, or 0.8 percent.
Step Up For Students, the nonprofit that published this blog, helps administer both the FTC and Gardiner programs. About 99 percent of students on the two programs are enrolled in private schools through Step Up.
There was one methodology change this year: The state also counts 3,835 charter school students among those who attend university lab schools. We elected to count these students counted under Lab Schools, rather than charter schools. This change is reflected in the Changing Landscapes PDF, to note that Florida Atlantic University and Florida State University both enroll charter school students in their lab schools.
The Changing Landscape document is in its 8th year. Data for this report is gathered by the Florida Department of Education and includes statistics provided by local school districts.
Key Findings:
46.4 percent of PreK-12 students in Florida attend a school of choice.
39 percent of all K-12 students receiving public funds or scholarships attend a school of choice.
Total PreK-12 public school enrollment increased by 16,049, or 0.5 percent.
Total PreK-12 school choice enrollment increased by 43,690, or 1.3 percent.
Largest growth rates: Gardiner Scholarships (64 percent), tax credit scholarships (26 percent) and Advanced International Certificate of Education (25 percent)
Programs with declines: Full-time virtual school (-5.5 percent), Voluntary Pre-K (-1.3 percent), and International Baccalaureate programs (-0.3 percent)