Even before a gunman killed 17 people at Marjory Stoneham Douglas High School, Cynthia Aversa had been looking for ways to hire a school resource officer at the charter school she runs on Florida's Treasure Coast.
After the shooting in Parkland, Fla., Aversa promptly decided to contract with the local Sheriff's office to place a full-time deputy at Indian River Charter High School, where she is principal.
But she is still not sure how she is going to pay for it.
"The actual nuts and bolts of the finances of the program have not come to the forefront," she said. "The most important issue is student safety and beyond. That is going to be our responsibility to see where we are able to pull the funds to pay for this resource officer."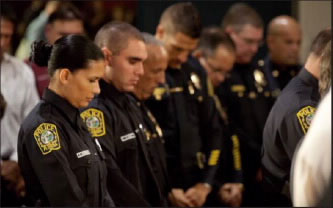 Like other public school officials across the state, Aversa acted quickly to respond to concerns about school safety in the wake of the massacre. Like her counterparts in school districts, she's still trying to figure out how to make the funding work.
A little over three weeks after the shooting, Gov. Rick Scott signed SB 7026 to enhance safety and security. Every public school in the state will receive proportionate funding to hire a school resource officer or participate in a program to train and arm school employees.
The bill gave public schools an additional $97.5 million for resource officers. School districts across the state have said that while the money will help them hire officers, it won't cover the full cost of adding an officer at every school campus.
This week, the Tampa Bay Times reported one charter school management company, Charter Schools USA, has asked districts to place a resource officer in every school it runs.School officials and lawmakers say the bill gives charters and traditional public schools the option of hiring a resource officer. It gives them alternatives, like assigning dedicated security officers or giving school employees with law enforcement training the ability to provide armed security on their campuses.
But details, such as how charter schools and districts will work together, and whether local law enforcement agencies will help with the costs, are still being worked out. And the specifics vary among, and even within, districts.
A Washington Post analysis shows more than 150,000 students attending at least 170 primary or secondary schools have experienced a shooting on campus since the Columbine massacre in 1999.
Aversa said when she began researching funding mechanisms for resource officers years ago. She said she learned that if her charter school could cover half the costs and the Indian River County Sheriff's Office would cover the rest.
Shawn Frost, a charter school parent and Indian River County School Board member, said funding arrangements may look different elsewhere in the state.
"It is a system in need of standardization," Frost said. "The safety of our children should fall to law enforcement."
In the meantime, Frost said, the situation is going to create a financial burden for many charter schools.
Lisa Wolf, the spokeswoman for Pinellas County Schools, said the county will receive an additional $2.9 million for traditional public schools to fund security measures under the new law. Of that, $200,000 will be given to charter schools — a proportionate share based on charter school enrollment in the district.
Wolf added the district's public schools face a multi-million deficit to fund security. The Pinellas County Sheriff's Office told county commissioners it would have to come up with an additional $23.6 million to fulfill the state mandate to fund school resource officers in every school, according to the Tampa Bay Times.
Rep. Byron Donalds, R-Naples, said the law gives public schools flexibility to decide how to meet its requirements.
"The language doesn't say explicitly that you have to have a 1:1 — you just have to have an officer assigned to each school," he said in a text message.
However, Donalds, who helped start a charter school in Collier County, noted that individual charters may have fewer resources than districts when it comes to assigning an officer to each campus.
Ralph Arza, director of governmental relations for the Florida Charter School Alliance, said it helps that the law gives each charter school flexibility to develop its own safety plan. At the same time, he said, it's important for charters to collaborate with local school boards.
"Whatever the plan should be, it should be done with their school district," he said. "No one should be acting independently when it comes to school safety."
Wesley Locke, principal at Spring Creek Charter School in Lake County, Fla., said his school has employed a school resource officer for several years.
He explained that Spring Creek used to serve kindergarten through fifth grade. When the school expanded into the middle grades four years ago, it hired a resource officer.
The school is in Paisley, a rural area. In an emergency, it would take officers 10 to 15 minutes to get to the scene, Locke said.
Locke said he used dollars allocated for school safety to help pay for the officer. But the school formed a partnership with the Sheriff's office to help lower its cost.
"They really want someone out there," he said.
Locke hopes to continue to beef up security with funding from SB 7026. In addition to the funding for officers, the law includes nearly $99 million for a competitive grant program that will allow public schools, including charters, to apply for grants to help harden their facilities.
Senior Commander Dale Tharp, spokesman for the Florida Association of School Resource Officers, said there is a shortage of officers for traditional public schools, as well as charters.
For example, in Escambia County, where he works, he is short 40 officers. Tharp has reached out to officers who are retired to ask them to come work in schools.
"I would love to have one officer at every school," he said. (Students) are our babies. They are our future."