Kelly Perkins was in a full-blown panic when she woke up at 5:15 a.m. and her son Ross wasn't there. For three days he wasn't at school, which was nothing new, but he wasn't answering his phone. She drove the streets of Cape Coral looking for him day and night.
"I come home on the third day and he was sitting on the porch," Kelly said. "He was hiding with his friends in a golf country club bathroom."
Kelly was at the end of her rope. Ross, 15, had gone off the rails, and his therapist suggested an out-of-home placement – Gator Wilderness Camp School, an hour north in rural Punta Gorda. That's what spurred Ross to run away.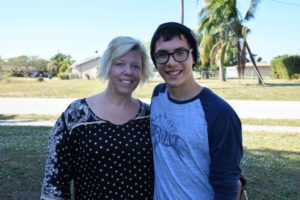 Kelly didn't want to send Ross away, but now Ross needed help.
Problem was, even if Ross agreed to camp, Kelly had to figure out how to pay for it.
Luckily, she learned, there was a school choice scholarship that made tuition manageable.
"Without it, I don't know where we'd be," she said. "Probably in much more trouble."Ross was a good student when he was younger. Kelly spoiled him. He had every game system he ever wanted, always had name-brand clothes and shoes.
His hair was a playground. Kelly, a cosmetology teacher with short blond hair and kind eyes, loved to help Ross change his look – hair spikes in preschool, a mohawk in kindergarten. He got his ear pierced on his 10th birthday.
"I went with the mohawk forever," Ross said with the same Chicago accent as his mother. "I'd wear it up or down in my eyes. I'd dye it crazy colors and shave the sides and wear skinny jeans. I had really great grades, A's and B's. So I could do whatever I wanted."
Things changed dramatically, though, after Ross finished eighth grade. His zoned high school had such a bad rep, Kelly decided to move to Florida, thinking she was giving Ross a better life.
But the move upset Ross deeply. Friends meant a lot to him, and he left them all behind. He wasn't too discerning about the new ones he made at his neighborhood school in Cape Coral.
"They were just the bad kids," he said. "I always liked being the leader, and I'm kind of an entertainer, so I would do whatever I could to up the game."
The game was skipping school, hanging out, stealing. One day, Kelly's brother-in-law found thousands of dollars' worth of stolen clothes, shoes and electronics in Ross' closet.
In the spring, he was caught stealing at the mall, kicked out of school and sent to a youth shelter he described as more of a detention center. They shaved his head. He ran away. He was placed in a public alternative school, but he didn't show.
When confronted, Ross wouldn't make eye contact. "I dunno" was his answer for everything.
At the end of his freshman year, he had a grand total of a half credit.
That's when Gator Camp emerged as the answer. Ross eventually agreed to go. They shaved his head when he arrived.
The camp sits on 250 wooded acres surrounded by citrus farms and ranches. There are horses, cows, a lake – and an overwhelming feeling of tranquility. There are no cell phones or video games.
The camp serves boys ages 10-15. They typically come from troubled backgrounds, most with special needs or disabilities, and agree to attend 15 to 18 months. They live, work and learn outdoors, 24-7.
Camp director Greg Kanagy, a short, powerfully built man with sky blue eyes, remembers Ross was loud and obnoxious early on. He made friends easily, but they were disruptive. He was a leader, but sometimes led his group literally in the wrong direction.
"He didn't take responsibility very seriously," Kanagy said. "And he was pretty distrustful in relationships."
At first, Ross didn't see the point of being there. He didn't like the chores and structure, didn't participate in his group's daily talks and plans. When a conflict arose, the group would talk it out until it was handled. But Ross made everything into a joke.
"I just had no hope," he said.
In time, though, with help from his counselors and peers, something happened. He participated. He opened up to his group. He stopped thinking he was better than them.
After the fourth month, he could feel his life turning around. Kelly saw the difference. He talked more, made eye contact. Even his posture changed.
At camp, Ross became a positive force. The trust that formed allowed the campers to share their worst experiences. Their bonds become impenetrable.
"Once you get that out, you just feel so much more secure," he said. "It's a big focus to talk about how you're feeling instead of acting things out."
After he graduated camp, Ross went home and to a non-traditional public high school where he set his own pace doing courses on a computer. A school official asked if he'd like to do afternoon or evening sessions. He asked if he could do both. No one had ever done that.
Kelly felt like she was looking at a different person, but just in case, she moved while Ross was away to make sure he didn't fall back in with his old friends. He never did.
He missed camp and planned trips with his camp friends.
During a canoe trip in the Everglades, a former counselor offered him a job at camp – assistant maintenance and grounds crew. He jumped at it and decided to finish school even faster. He earned his diploma in less than a year and a half.
"I just binged high school," he said.
There was a ceremony, but Ross didn't go and never picked up his diploma. Instead, he joined a celebration for him and two other high school graduates at Gator Camp.
Soon after, he was living there again. Ross became the first camper to become a staff member. He keeps his hair closely cropped. And today, at 19, he's a year from meeting the minimum age to become a chief. From there, he could become a supervisor, maybe take over for Kanagy someday.
Kelly couldn't be happier. Once, it was her and Ross against the world, but now he's a confident young man with an extended family.
"I thought when my kid turned 18, I'd always be worried. But I'm not," she said. "He did this. He chose to fully engage every day, and he found purpose. He found himself."
About Gator Wilderness Camp School
Located in Punta Gorda, the non-profit serves boys with significant struggles adjusting to family, school and community life. The school is part of the Florida Association of Christian Child Caring Agencies and the Wilderness Road Therapeutic Camping Association. It's recognized as a Title I private school by the Charlotte County School District. It serves 22 boys, including 20 with McKay Scholarships and two with Step Up For Students scholarships. The curriculum is experiential, as campers learn natural science, local and state history, reading, composition, mathematics, health, physical education, environmental science, and home economics in block units. The school administers the Basic Achievement Skills Inventory (BASI) comprehensive test at enrollment, annually, and prior to program completion. Tuition is $1,000 a month. Financial assistance is available through grants and donations.
Step Up For Students, which publishes this blog, helps administer Florida's tax credit scholarship program.