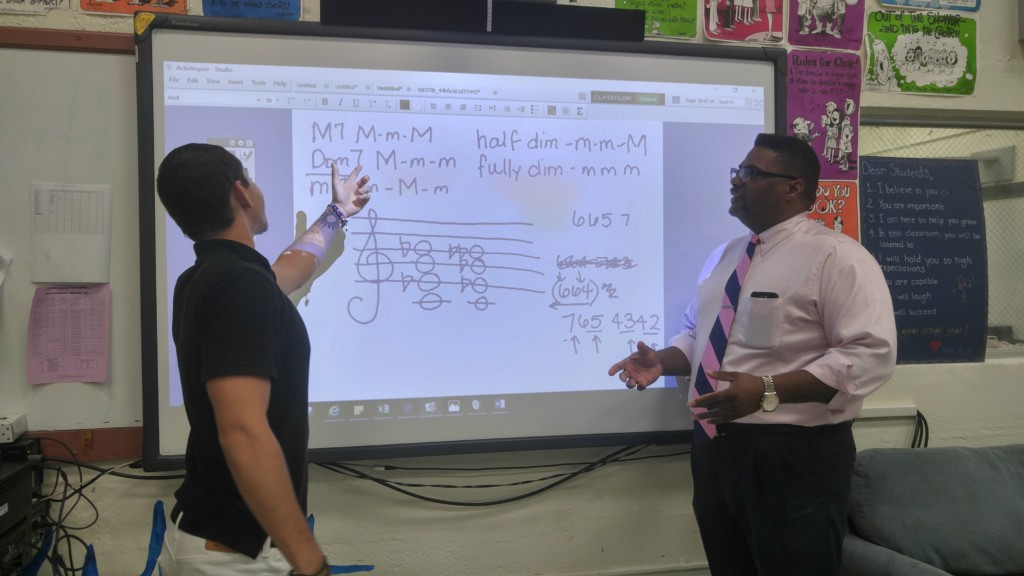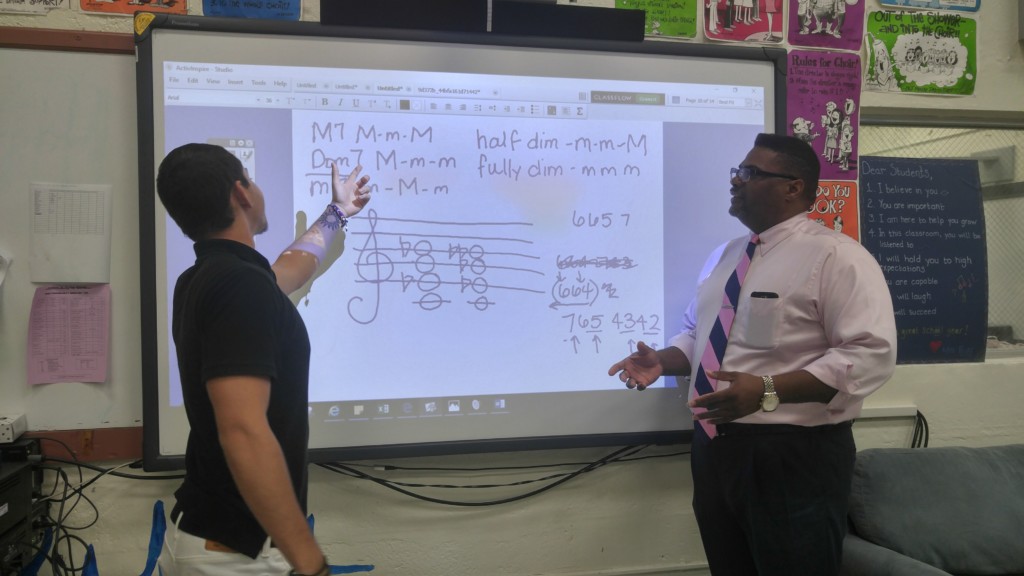 Sitting in the back of the classroom, Hermes Velasquez was a quiet student.
He had stage fright and was embarrassed to stand up in front of other students at an award-winning magnet school for the performing arts south of Miami.
But slowly, with the help of his teacher, Adalberto Acevedo, and the school's family-like culture, Velasquez overcame his stage fright. To get over his fear, he familiarized himself with the stage by helping to put props out. Then he started acting in supporting roles.
Indeed, he competed in the 2018 Florida State Thespians Festival — a theater competition with 6,000 students across the state — earning excellent marks for his sketch of a comic play, the Complete Works of William Shakespeare Abridged.
Arthur & Polly Mays Conservatory of the Arts, a visual arts magnet program, focuses on reaching students like Velasquez and helping them grow academically and in the world of the arts. Martin Reid, the school's principal, has transformed it from a low-performing small magnet program with a sour reputation and student disciplinary problems to a school with large parental involvement and a high graduation rate surpassing the state average.  School officials say they expect in the least the school's grade will rise from a C to a B this year.
Its improvement tracks a broader trend in Miami-Dade County Public Schools, which has eliminated F-rated schools and expanded district-run school choice programs.
Reid said the school's mission is to prepare students for college and for work in the arts industry or a hybrid of both.
"They are goal-driven and they are motivated in their careers," he said of the students. "We are able to give a lot of attention and support to the kids. We are able to drill down to their strengths and weaknesses to motivate them."
Since Reid took over the reins at the school in 2009, it has been awarded Magnet Schools of America's Merit Award of Excellence in 2014 and 2017. It also received the Merit Award of Distinction.
In 2016, the magnet school association named Reid its Principal of the Year.
"When Martin Reid took over the school, he really revamped the performing-arts program there and really changed the culture of the school," said John Laughner, legislative communication manager for Magnet Schools of America.
School officials say Reid is a hands-on administrator who knows all the 604 students by name and has an open-door policy to reach them.
"I always try to inspire and motivate the students whenever I talk to them," Reid said, explaining his door is literally open most of the day. "When I have a grade level assembly I don't use a microphone. So much mutual respect is given, we are able to have conversations."
Reid explained that when students understand why their education is important, they tend to take ownership.
Victor Ferguson, a senior, has known Reid since the sixth grade. The 17-year-old, who plans to attend Clark Atlanta University, said Reid always makes sure he is focused and is on top of his studies.
He will give him advice on what he needs to do to be successful, Ferguson said.
Acevedo said Reid puts on his stomping boots and leads pep rallies.
"He knows everything going on in the classroom," he said. "He goes in and observes."
Kristina Beard, the school's magnet lead teacher, said Reid encourages teachers to run with their ideas. At every faculty meeting, he reviews data and offers positive feedback for teachers.
Reid also remembers students who are struggling and inspires them to keep going, Beard said.
Transformations
When Reid arrived at the school in Goulds, Fla., 29 miles south of Miami, it was vastly different than it is today. The school was a middle school serving students up to eighth grade. Its small arts magnet program was dying.
Reid, who has a master's degree from Nova Southeastern University, a bachelor's from Florida A&M University and a special education degree from the University of Miami, commended the staff at the school he took over. He said they were excellent. But he knew he had to tweak some things.
He created a culture of literacy by connecting everything the school did with the number of books students read. For example, to attend a dance, students had to read five books.
Further, he instituted a teacher-of-the-month program and changed the instructional model. He instituted an approach, known as gradual release, that shifts instructional responsibility to the ownership of the child. While the teacher remains the facilitator, students are taught to think critically and how to focus on the cognitive demands by working in groups and by themselves.
"When teachers just stand and lecture, the kids are not even engaged," he said. "This forces engagement."
To tackle discipline issues, Reid implemented conflict meditation and hired a dedicated counselor.
What he found is that often students need to just talk to a counselor. This, he said, has helped reduce disciplinary issues.
He wanted to shift the school's mission from an urban middle school to a magnet school conservatory.
"We had to rebrand our school," he said.
Now the school serves students from sixth to 12th grade and is a visual arts school focusing on band, chorus, theater, media production and all disciplines of literature.
Nearly half of the students are Hispanic and the other half black.
"We have been able to diversify our school by doing two things: focusing on providing a world quality education in a safe, clean, creative and inspiring learning environment and aggressively marketing our program to as many schools as we possibly can during the recruitment season," Reid said.
Reid formed a partnership with the University of Miami's Frost School of Music, which allowed the school to become an official conservatory.
He also engaged parents.
"We were able to get an active PTSA," he said. "We had kids with parents who had a long-term vested interest in the success of the school and they were committed to working and making sure they had a voice in the region with the school board members."
The curriculum is also different from a traditional public school.
"What separates us is we have an eight-period day, which allows kids to do more with their education and have more of a voice in their education," he said.
For example, if a student is struggling in math, he may have to take remedial courses, but there is still enough flexibility in his schedule that he won't have to sacrifice art class.
The school has improved in its Florida Standard Assessment scores. For example, in 2014, 36.2 percent of 10th grade students scored a 3 or higher on the English Language Arts assessment. In 2017, 62 percent of students scored a 3 or higher, surpassing the state average of 50 percent.
At the same time, the graduation rate continues to climb. In 2014, 83 percent of students graduated from the school. That number grew nine percentage points to 92 percent in 2016-17, surpassing the state average of 80 percent.
Education remains Reid's lifelong passion.
"I chose education because I truly wanted to make a difference in the world," he said. "No other profession allows one to have such a positive impact on society. As an educator you have the opportunity to shape society in the image of 'Decency.'"