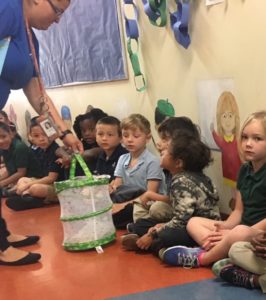 It was entomology day at a charter school campus in Orlando, Fla. Kindergarten and first-grade students lined the hallways, pointing and shouting as they passed around cages of bouncing crickets and other critters.
Down the hall, there were rooms with physical therapy equipment. Out the back door, on the playground, there was a swing specially designed for students in wheelchairs. Looking closely, it was possible to spot children with hearing aids or assistive physical devices.
But watching the students, as they took their turns with insect encounters and then filed into their classrooms, it was possible to miss the fact that their school has a unique mission, and serves a unique cross-section of students.
UCP of Central Florida's Bailes Campus sits nestled among the aerospace contractor offices and student housing complexes that abut the University of Central Florida. It's the flagship of seven charter school campuses created by the Orlando-area affiliate of United Cerebral Palsy, an organization created to improve the lives of people with disabilities.
It's unique among Florida charter schools not just because it caters to children with special needs, a niche a growing number of charters have started to fill, but because it aims for a 50/50 mix of students with special needs and those without. With some creative staffing, it works to include all its students in the same learning environment, from the classroom to the playground to the cafeteria.
"Kids, at a very young age, don't see each other as different," said school CEO Ilene Wilkins. "If we get them at a young age, that changes how we see the world."
Each class at the school combines two grades. In the classroom, there will be a dedicated teacher for each grade and a classroom aide, plus a complement of in-house therapists. That mix of adults allows the school to support diverse students with diverse needs in the same learning environment.
"You take your classroom, and you put the level of support where it needs to be," said Doris Lawson, who teaches second and third grades.
Students in Lawson's class were putting the finishing touches on end-of-year capstone projects. Students were applying writing skills they honed during English lessons to assemble books describing the fish and reptiles they learned about in their science lessons.
Publishing the knowledge they'd picked up over the school year would help students retain it, Lawson said. "It takes the standards and applies them, so that's a higher level on Bloom's taxonomy," she said. "You've got to apply it, you've got to synthesize it, you've got to create something new."
Wilkins said approaches like Lawson's help UCP schools attract parents who recognize the value of project-based learning.
"It's a very hands-on program, which benefits all kinds of kids," she said.
UCP's approach to inclusion recently got a boost from a new state law that allows more charter school organizations to form their own local education agencies. That designation allows charter school networks to receive federal education funding directly, and decide for themselves how to spend it. In exchange, charter networks that become LEAs have to shoulder responsibility for making sure children with special needs receive the support federal law requires.
Before the law change, federal funding that supported UCP's schools — including, notably, funds generated through the Individuals with Disabilities Education Act — had to flow through the Orange County School Board. Now that they receive the funding directly, Wilkins said the schools receive more funding overall. And the schools have more flexibility. They can use the money to pay for aides in inclusive classrooms, where the school board preferred a model that gave students with profound special needs one-on-one assistance.
The school is a partner with UCF, and one of its alums participates in a new initiative at the university, which seeks to make college accessible to students with special needs. UCP's in-house early-learning and infant-care facilities provide an additional perk for its teachers: free childcare.
The school's mission helps attract other forms of support. It's gotten lucrative grants from companies like ABC Fine Wine and Spirits. An architect with a child who is disabled helped design UCP's buildings free of charge, and created a layout with high ceilings, tall windows and lots of natural light, giving the school a not-so-institutional feel.
Wilkins said the schools' unique niche also helps relations with the Orange County Public Schools. The charter schools complement the district's own offerings for children with learning differences.
"There's good standing between UCP of Central Florida and Orange County Public Schools," she said.