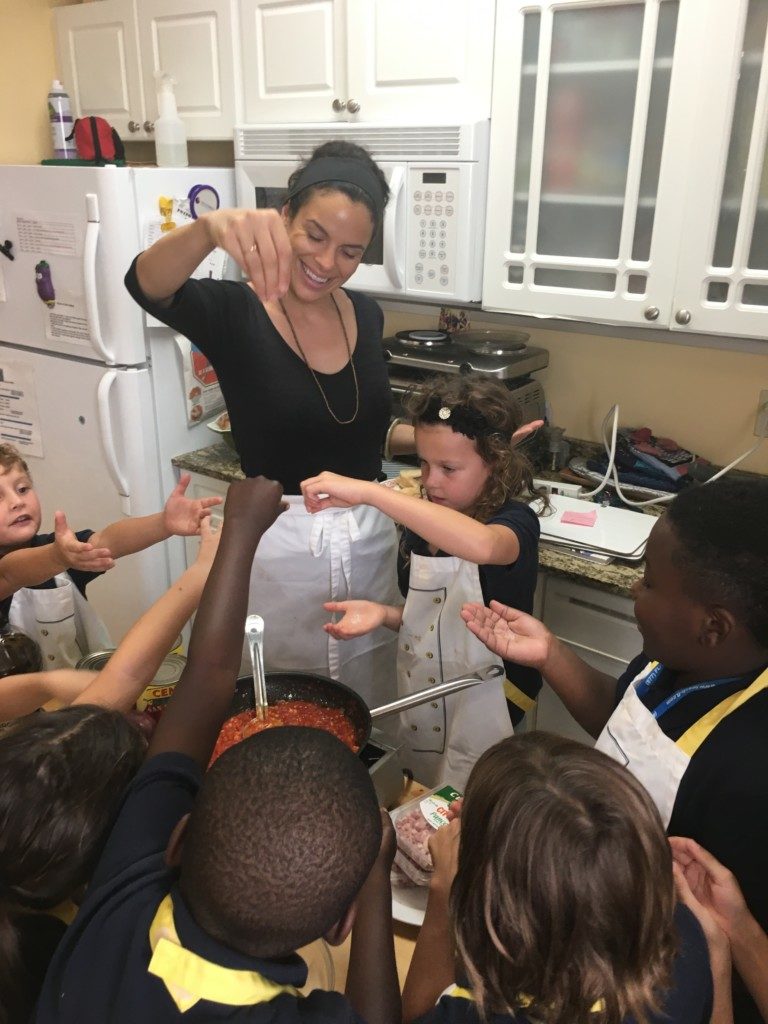 POMPANO BEACH, Fla. – With a little help from their culinary instructor, the multi-ethnic group of first- and second-graders at BB International School chop, grate, dice, squeeze, season, stir and serve. They tong noodles into bubbling red sauce. They sprinkle in chili flakes. And along the way, they learn far more than how to rock an impressive bucatini with amatriciana.
The instructor, Alexa Altamura, adds a dash of math (slice the onion into cubes), a drop of geography (the pink salt is from the Himalayas), a pinch of global trade (tomatoes are originally from Mexico). She folds in a smidgen of anatomy (the role of muscles in chopping), a morsel of chemistry (steam, reduction, the Maillard reaction), a hint of marketing (that stamp in the cheese wax isn't there by accident). There's a little history scattered in (the recipe calls for pancetta because ancient Italians used cows for work, not food). And, incredibly, a lick of biology (a pivot into pasta varieties yields mention of black pasta, colored by the ink that squid disperse to escape predators.)
"There are more than 100 types of pasta," Altamura tells her students, noses inhaling hot-plate heaven. "In America, we're stifled."
The cooking lesson at BBI is so fun, it's easy to miss something even more fantastic: a peek into the future of public education.
BBI is a micro-school. In K-5, it has 50 students. (Its pre-school has another 80). The public school district around it has 271,000 students.
It's wild to think of BBI as representative of tiny, new species emerging where Big and Standard have ruled for so long. But expansion of educational choice is shifting the terrain. The little ones, in all their nimble glory – from micro schools, to home school co-ops, to in between things that don't even have names yet – have more ability than ever to adapt, evolve, expand. More educators can create options. More parents can choose them. And the potential niches where the twain shall meet are infinitely diverse.
"We could be a tony private school," said Julia Musella, BBI's founder and head of school. "But we make a deliberate effort to keep it affordable. This is a community school."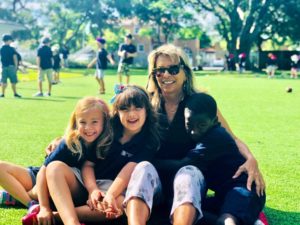 The child of a grocery store executive is enrolled here. So is the child of a cashier at Lester's Diner. Trying to further describe BBI is like trying to describe a new color. Julia Musella and her son Luciano don't have traditional educator backgrounds. Their vision, though, is an intentional blend of educational approaches they combined to spur curiosity and creativity. BBI, Julia Musella says, is "a world school with a Renaissance curriculum."
School choice is key.
Sixteen of BBI's K-5 students use educational choice scholarships. Ten use the Florida Tax Credit Scholarship for lower-income students. Five use McKay Scholarships for students with exceptionalities. One uses a Gardiner Scholarship, an education savings account for students with special needs such as autism. (Step Up For Students, which publishes this blog, administers the tax credit and Gardiner programs.) For some students, the Musella family foundation helps bridge the gap between scholarship and tuition.
The Musellas see choice as vital to advancing equity and diversity. Without it, BBI could not be the Renaissance-for-all they want it to be.
"In my area, there isn't enough representation of what America is in our schools," Julia Musella said, referring to diversity in schools, public and private. "You have to learn as a human being to work with everybody who lives on our planet. You have to understand them, and understand cultural differences, and find out what you have in common, and work from there."
***
As fate would have it, BBI's one-acre campus bloomed in the iguana-happy sprawl of Broward County. The centerpiece is the restored home of Pompano Beach's founding family. Yellow brick, lush vegetation, rows of tricycles. The first impression, elegant and whimsical, is not by accident.
The Musellas' approach is based on 20 years of combing through educational philosophies and practices to cull the pieces they deem best. Some Montessori. Some Malagucci. Some Bruner. Some Vygotsky. BBl is big on project-based learning. It embraces science, technology, engineering and math. At the same time, there's cooking, art, film, music, foreign language immersion – even yoga and tennis.
Everything happening in that cooking class reflects BBI design. Diversity by age and grade. Diversity by ethnicity and income. Multicultural awareness. Hands-on learning. Instruction that weaves in threads from multiple disciplines. Collaboration.
The students created together, learned together, cleaned up together.
"We feel strongly that as the world continues to evolve, it's all going to be about how you can work in teams," Luciano Musella said. "One socioeconomic or racial grouping is not the reality anymore. So we feel strongly that they should be the reality in school. With special needs, the same thing. That's the reality of the world. Inclusion is the reality of the world."
Every student at BBI has a customized learning plan. Not every student with an exceptionality, like in public school. Every student, period.
Tuition is $11,400.
Let that sink in.
For 10 percent more than average per-pupil spending in Florida public schools – one of the lowest in America – students at BBI get all this.
***
Julia Musella protested the Vietnam War, waited in line for hours to vote for Barack Obama, supported Bernie Sanders in 2016. Along the way, she became a fan of former Florida Gov. Jeb Bush because of his education policies. "There's a huge difference in education between the haves and have nots," she said. "Let's go back to being the land of opportunity."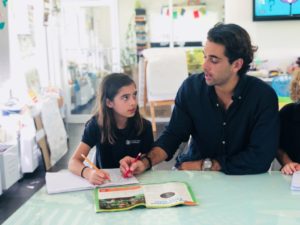 After earning a bachelor's in child psychology, Musella opened a learning center for infants and toddlers in New Jersey. A second incarnation followed when the family moved to Broward. A few years later, the Musellas were in Italy, Luciano was in pre-school, and Julia became fascinated with an approach to education that didn't emphasize what to learn. It emphasized how.
Luciano is a product of this approach. He's 29. He speaks four languages. He was a highly ranked tennis player in Italy. He earned his degree from Brown University, double majoring in Renaissance literature and international political economy. He doesn't mention these accomplishments; he's modest when asked. If you like humility in Renaissance men, Luciano's your guy.
After university, Luciano did a brief stint at Microsoft, then went to a start-up called Spoon, where he worked in business development and recruitment. He returned to Florida in 2013 when his father became ill. The school beckoned.
At the time, BBI was PreK-1. Luciano pushed it to PreK-5.
BBI parents wish it would keep expanding.
***
Faustina Osawe Jean-Juste is a stay-at-home mom. She and her husband, a delivery driver, use tax credit scholarships to send their sons to BBI: Eloi, a fourth grader, and Ethan, a first grader.
Jean-Juste said she feared public schools were too big and full of distractions, so she shopped around for a private school. BBI has been especially good for once-shy Eloi. Activities like acting in a film production – a recreation of the Italian classic "Aida" – helped him shed his shell.
"Before, if you asked him a question, he would just shut down," Jean-Juste said. "Now he's not afraid to participate in a conversation."
Louseline Noel, a single mom who manages a sports bar, fell in love with BBI the first time she visited. The kids in cooking class were on their feet. Another teacher was holding class under the trees. Noel said she knew her son Michael, hyper and sometimes misunderstood in pre-school, could be himself. She enrolled him with help from a tax credit scholarship.
Now a second-grader, Michael says he's "discombobulated" if he's frazzled. He'll ask to "negotiate" if he disagrees with bed time. If mom's friends are over, he'll share what he learned about planets. Or precipitation. Or drop some of the latest French and Spanish he's mastered.
"My friends are shocked," Noel said. "They said they wished they had a school like this."
Why can't they?