"Pacific Rim" is without a doubt the greatest "giant robots smashing giant monsters" movie in the long and storied history of cinema. Okay, so the only real competition was the wretched "Pacific Rim 2" and maybe a few Japanese movies with people wearing rubber suits stomping on model buildings. Honest Trailers described "Pacific Rim" as either "The Most Awesome Dumb Movie of All Time" or "the Dumbest Awesome Movie of All Time." "Pacific Rim" did indeed have everything your inner 9-year-old craves, including the above "Today we are cancelling the Apocalypse!" speech from the great Idris Elba.
So anyhoo – when do we get to cancel the apocalypse talk with regards to Florida schools?
I first started following the K-12 debate in Florida back in the late 1990s. Then, sadly as now, the air was filled with claims about the "destruction of the Florida public school system." Among the many problems with this fevered story is the fact that the Florida Constitution guarantees public school funding and the public supports that guarantee. A quick perusal of the National Assessment of Educational Progress (NAEP) – the most highly respected source of apples-to-apples K-12 data available, shows consistent improvement in outcomes over time. The below chart shows the percentage of Florida students scoring "Basic or Better" (top four lines) and "Proficient or Better" (bottom four lines) from the earliest available results (1990) to the most recent (2017). Note that all the lines are trending up – which in this case is what you want.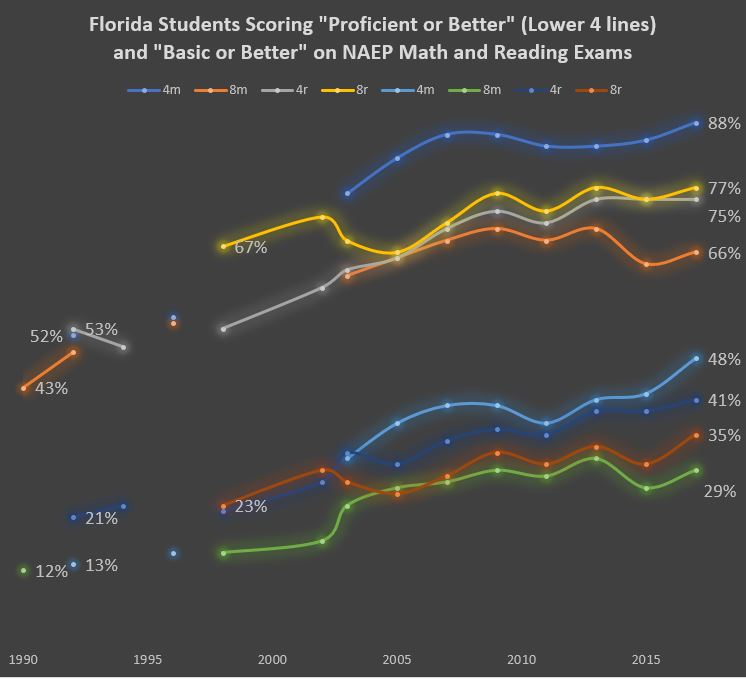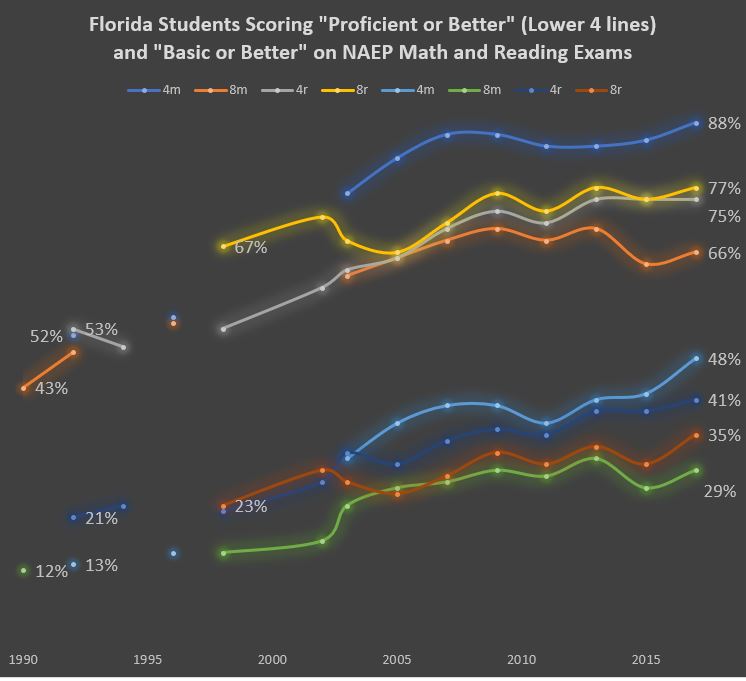 The trend in Florida students scoring "Below Basic" is easier to follow. "Below Basic" is the lowest achievement level on NAEP, so what you want to see in this next graph is the numbers trending down. Sure enough: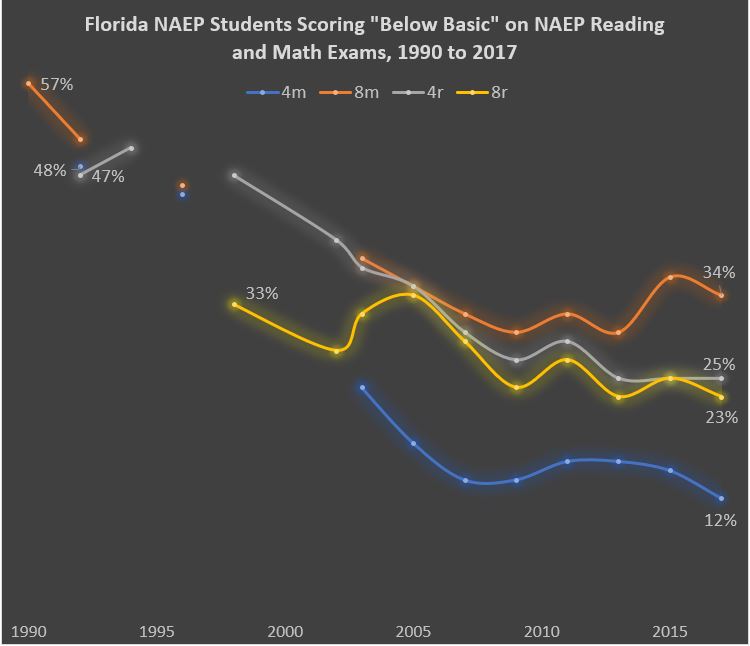 There are of course things to disagree over and debate, but for those liberally pushing Florida K-12 apocalypse narratives, I simply want to pose the following questions: How do you square this obvious evidence of academic improvement among Florida students with impending predictions of doom? Is there a nefarious plot to improve public schools to death? The comment section awaits. I'll hang up and listen.