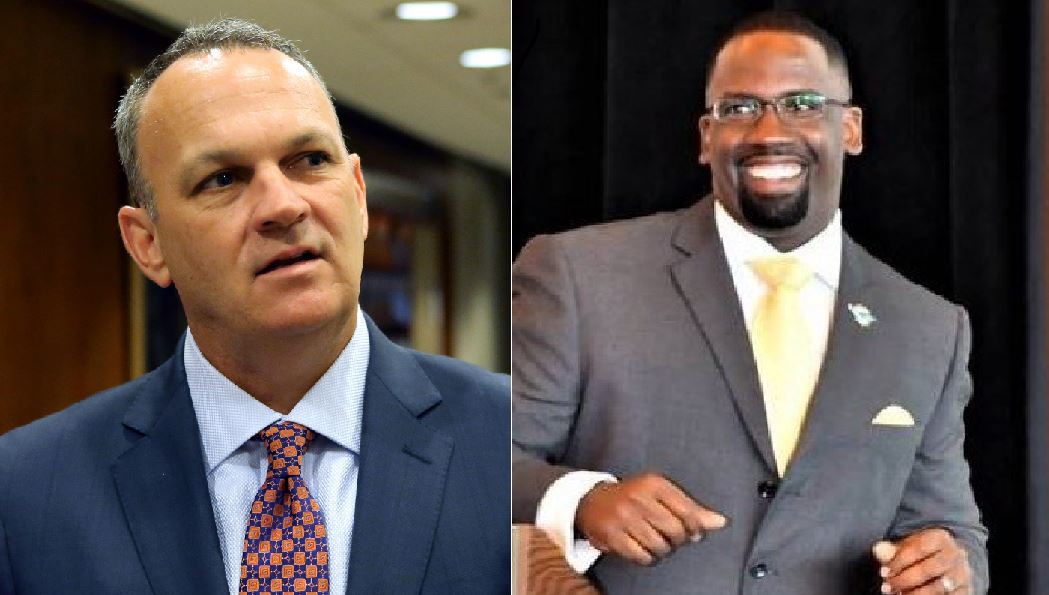 A day after the Florida Board of Education unanimously approved former House Speaker Richard Corcoran to be Florida's new Commissioner of Education, the new president of Florida's state teachers union extended an olive branch.
Florida Education Association (FEA) President Fedrick Ingram told the Tampa Bay Times: "We want to work with anyone who wants to empower our public schools…If we have to consult, work with and possibly collaborate with Mr. Corcoran, we will certainly do that to the extent possible, if Mr. Corcoran wants to do that…What I want is genuine conversation, policy talk about what can empower the classroom, what can empower student success…We teach our kids, if you have differences, you sit down, you talk it out…We will not agree on everything. But there has got to be some common ground."
Commissioner Corcoran quickly embraced Ingram's invitation: "I've always had an open mind. I've always had an open door…The focus needs to be on providing our school children … the best world-class education possible. Anybody whose motivation is that, I'll sit down and meet with them."
I hope Ingram and Corcoran find time to talk. If they do, a dialogue I facilitated over a decade ago on behalf of the Collins Center for Public Policy might inform their discussions.
From 2006-08, John Kirtley, the founder and board chair of Step Up For Students (SUFS), met periodically with the FEA leadership, which at the time included President Andy Ford, Executive Director Aaron Wallace, and Public Policy Director Jeff Wright.
They began by getting to know each other. John talked about the great experiences he had in district schools growing up, Andy talked about how important attending Catholic schools was for him, and Jeff jokingly asked John where his horns were since everyone in FEA assumed he was the devil.
By their Jan. 25, 2007 meeting in Orlando, the group had agreed to a list of shared beliefs:
"We share a passion for all students being successful in school and being properly prepared to be successful in life, especially those urban, low income and minority students who may have fewer resources and opportunities available to them.
"Blaming individuals or institutions does not help educate students, nor does a public versus private school debate.  Choice programs based on blaming 'failing public schools' only serve to divide us.
"We need sufficient diversity in our learning environments to ensure the needs of all children can be met. All parents should have the right and ability to match their children with the learning environments that best meet their needs.  A school or program that works for one student may not work for another student.
"All schools receiving public funds should serve the public good and be fiscally and academically accountable for how those funds are spent."
On Feb. 9, 2007, the group met again in Washington, D.C., at a National Education Association gala fundraiser. The FEA leaders took John around and introduced him to several key NEA national and state leaders. Although more than a few eyebrows were raised, the NEA leaders were classy. John received a warm welcome.
On March 7, 2007, FEA's Communications Director Mark Pudlow issued the following public statement on behalf of Andy Ford and John Kirtley:
"After years of stereotyping and talking past each other, we recently sat down and started talking to each other.  Turns out we have many common values and aspirations, most notably our passion for insuring all children — especially low-income children — receive the high quality education they need and deserve.
"While our talks are still in the early stages, we have made good progress in a short time.  We are not naïve about the challenges ahead, but we are determined to resolve our previous disagreements and reach consensus on short and long-term initiatives that will help all students.  Reducing Florida's achievement gap is a moral imperative that we are committed to tackling together.
"We know we can accomplish more for children together than we can separately. These are hopeful times."
By this point, the sense of hope and possibility within the group was high. They decided it was time to turn their words into actions. They agreed on a win-win compromise and asked Marshall Ogletree, a member of Wright's legislative team, to turn their compromise into legislative language.
FEA would support Florida's tax credit scholarship program, which enables low-income children to attend private schools or public schools in another school district. In exchange, Kirtley and the education choice community would support a pilot program allowing district choice schools to operate under the same regulatory accountability as private schools serving scholarship students. The group thought the balance between regulations and consumer choice in the accountability system for scholarship schools might work well in district choice schools.  Kirtley also agreed to support a provision that redirected all the cost savings from the tax credit scholarship program to these district choice schools.
Soon after the 2007 legislative session opened in March, Ford, Wright, and Kirtley met with Senate President Ken Pruitt to present their legislative proposal. Sen. Pruitt opened the meeting by joking that he assumed there was a scheduling error when he first reviewed that day's meetings. That Kirtley and the FEA leadership would be in his office at the same time presenting a joint proposal didn't seem possible. And yet, here they were.
Sen. Pruitt listened politely, encouraged the group to keep at it, but was noncommittal. My sense watching the discussion was that he was somewhat intrigued, but skeptical the group could pull this off.
Kirtley next began sharing the proposal with other key political leaders. A few were hostile since the proposal rolled back some of the increased regulations on district schools that had only recently been enacted. But most had the same response as Sen. Pruitt. They were intrigued but skeptical the group could follow through.
A common theme Kirtley heard was that leaders wanted a more public commitment, especially from the FEA leadership. The FEA had developed a reputation in Tallahassee for making private commitments that they later back away from in public.
John was talking to the FEA about Andy Ford speaking at an April 12 education choice rally at the capital. If Ford made a public statement supporting the group's proposal, key political leaders said they would publicly support the proposal.
Kirtley formally invited Ford to speak at the April 12 education choice rally, a draft speech was circulated, and then we waited to see how the internal discussions within the FEA would unfold.  Ford eventually declined to speak at the rally or make any public statements supporting the proposal. Jeff Wright did come to the rally and stood in the back with me. The group's legislative compromise was now dead.
When I accepted Kirtley's invitation to become SUFS's president in August 2008, my role changed from group facilitator to being SUFS's primary point of contact with the FEA. Jeff and I continued to have occasional discussions about possible areas of collaboration. In his Sept. 20, 2007 testimony to the Florida Tax and Budget Reform Commission in Jacksonville, Ron Meyer, FEA's lead attorney, laid out his reasons for why the FEA had no intention of challenging the constitutionality of the McKay or tax credit scholarship programs. For the next two years, we settled into a state of peaceful détente.
Leading into the 2009 legislative session, we made several changes to SUFS's legislative agenda at Jeff's request. He said if we made those changes the FEA would not oppose our items. A month later the FEA stood up in committee and opposed the bill containing these provisions. Jeff told the House Democratic Caucus that the FEA opposed the bill because of internal political pressures. We pretty much stopped talking after that. The FEA filed a lawsuit to shut down the tax credit scholarship program in 2014. They lost.
Fed Ingram's election represents a sea change in the FEA's internal politics that bodes well for his ability to follow through on any commitments he makes.
From 1974 until 2000, Florida's district teachers were divided between two competing statewide unions with diverse histories and cultures. When Andy Ford became president in 2003, these cultural differences were still dividing the organization and undermining Andy's ability to make bold moves. In addition, Andy was from a mid-size local, Duval County, which also limited his internal political clout.
For over 40 years, Pat Tornillo ran the state's largest local teachers union in Dade County, and one of the two state teacher unions. Tornillo was the stereotypical strongman union leader. He was also a crook who betrayed his members. Tornillo pleaded guilty in federal court to tax evasion and mail fraud in 2003 and went to prison. Tornillo's political demise created a crisis within the Dade union that took over a decade to clean up.
Fed Ingram's election means Dade County is now ready to resume its historical role as the controller of the state teachers union. The cultural divide within the FEA has also largely been resolved with the American Federation of Teachers' more top-down, autocratic leadership style becoming the norm. This all means Ingram probably has more organizational power than any previous state union president, including Tornillo. Ingram should have the internal political power to follow through on any commitments he makes.
Any systemic, sustainable improvements that Ingram and Corcoran agree to will probably be based on the same concerns about overregulation and insufficient access to education choice that informed the 2007 agreement between Kirtley and the FEA. District schools are overregulated, and low-income and working-class parents don't have the same access to diverse learning options as more affluent parents. To have a lasting positive impact, any grand bargain will have to include less regulation of district choice schools and more choice for less-affluent families.
Ingram's ability to embrace progressive improvements in public education is hindered by his union's business model, which assumes a top-down, command-and-control management system that disempowers teachers, parents, principals, and students. One-size-fits-all union contracts require a one-size-fits-all public education system. Corcoran is going to push for a more flexible, customized system that empowers educators, students, and parents to meet the unique developmental needs of each student. This is the core tension that undergirds most disagreements today surrounding how best to improve public education. Ingram's ability to navigate this tension within his union will be important.
New faces in old positions often provide the opportunity for progress. I hope Corcoran and Ingram seize the moment.