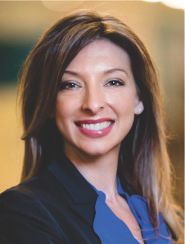 TALLAHASSEE, Fla. – A new organization aimed at ensuring families can choose the best education environment for their children launched today with an announcement from the group's founder and chairwoman.
Former Collier County School Board member Erika Donalds said the School Choice Movement will focus on improving and expanding school choice in all its forms, adding that she became aware as a parent and a school board member that many families have insufficient options for school choice.
"Children are either on a waiting list for a scholarship or a charter school or they don't qualify for one of the scholarships that are available, and they can't afford a private school," Donalds said. "Our goal is to give parents multiple high-quality options for their students."
Joining Donalds in the effort are former Indian River School Board member Shawn Frost and former Duval County School Board member Scott Shine. Frost, who is a co-founder with Donalds and past president of the Florida Coalition of School Board Members, will serve as the organization's advocacy director. Shine, who has served as a member of the Jacksonville Ethics Commission, will be a member of the executive board.
The group plans to advocate for school choice and the expansion of school choice options during the upcoming legislative session.
"We now have a governor who is very supportive of school choice and an education commissioner who is a tireless school choice advocate," said Donalds, whose husband, Rep. Byron Donalds, R-Naples, serves on the Florida House Education Committee and is vice chair of the PreK-12 Appropriations Committee. "We want to make sure the expansion of school choice is No. 1 on the agenda."
The group also plans to sponsor a speakers' bureau and appoint regional directors who will fan out across the state in a grassroots effort to talk directly with families.
"We need to find a different way to reach parents with information about their options," said Donalds, who helped establish Mason Classical Academy, a public charter school in Naples. "We also need to correct misinformation that's out there about choice schools.
Among the myths Donalds plans to combat: the narrative that choice schools divert money from the public school system; the idea that charter schools underperform traditional public schools; and the notion that charter schools are not held to the same accountability standards as traditional public schools.
"For me, this is a moral issue our society needs to solve," Donalds said. "Hoping students can play catch-up later in life is not an option."
Watch the School Choice Movement launch video here for more information.
redefinED also spoke to Donalds after the James Madison Institute luncheon about her new organization. You can listen to that audio below.