WEST PALM BEACH – A pair of Step Up For Students Florida tax credit scholars took the journey of their young lives recently when they traveled to Italy with the choir from St. Ann Catholic School and participated in the Epiphany Mass, led by Pope Francis at St. Peter's Basilica in Vatican City.
Seventh-grader Adriana Augustine and sixth-grader Amy Vu described an adventure they won't soon forget. The St. Ann's Parish Youth Choir performed six times around Italy during an eight-day pilgrimage that began Dec. 29.
"It was a once-in-a-lifetime trip," Amy said. "It was fun being around all of the other choir members and performing with them in beautiful churches and basilicas. I learned a lot about my religion through all of the tours and visiting the tombs of saints and popes.
"The best experience of all was the chance to get so close to the pope during the papal audience."
The trip wouldn't have been possible without the efforts of Chris Hogan, the school's music director, Principal Susan Demes and a dedicated team of volunteers who helped raise over $125,000 for the trip, Amy said. The choir includes 30 students.
"I had a wonderful time singing in some of the most beautiful basilicas in Rome and Assisi," Adriana said. "I attended the Epiphany Papal Mass, toured ancient Rome and experienced so much."
The talented choir was selected to perform after submitting a CD recording of a 2016 performance.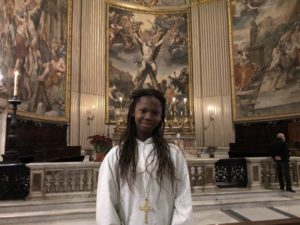 Hogan, the music director, started the choir just over four years ago. He said it grew quickly, and the group was soon singing "quite complex, sacred music."
"We started performing concerts and eventually recorded a CD," Hogan said. "Feedback was very positive, and many people both connected and not connected with the group encouraged me to seek out larger opportunities. We looked into an opportunity in Chicago, but eventually determined that the cost with travel was not much cheaper than a more substantial trip, and Rome seemed like a viable possibility.
"Each year at Epiphany, choirs travel to perform concerts and take part in the papal Mass."
The choir was invited to perform in Italy after Hogan sent a recording and details about the group to the proper Vatican parties. The St. Ann's choir – with students between ages 9 and 16 – was the youngest of four choirs from the U.S. to perform at the Epiphany Mass.
After the choir was invited, a nine-month fundraising campaign began. There were bake sales and car washes, but the majority of the money was raised through performances at various parishes and Catholic institutions.
"We collected thousands of dollars from regular parishioners around the diocese and individuals who heard and read about our group," Hogan said. "After these performances, a number of donors stepped in to offer large-scale support to help us achieve this reality. The fundraising was planned and administrated by Jennifer Loyless, an incredibly devoted parent of two choir members."
Many choir members got to meet Pope Francis.
"That experience was incredibly moving for all of us," Hogan said. "He was incredibly pleasant, taking his time to hold some of our kids' hands and even wore a zucchetto – the pope's cap.  We also witnessed him leading the Angelus prayer from one of the windows in St. Peter's Square.
"The experience was simply remarkable. The kids had an incredible time and parents were in awe of the lifelong memories that were created."