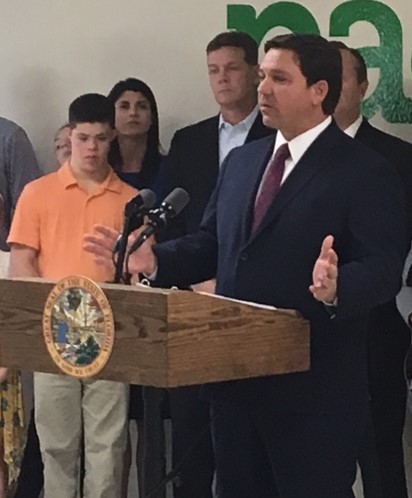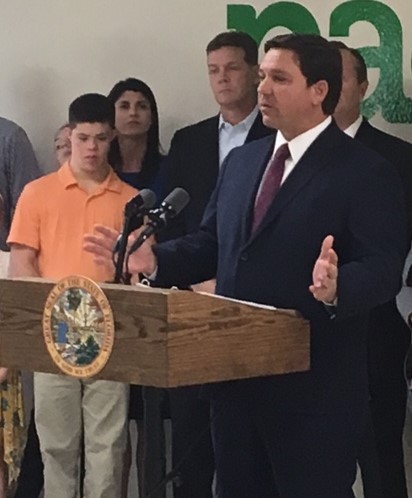 ORLANDO – Florida Gov. Ron DeSantis reiterated his pledge to end the waitlist for special needs children who have qualified for a state-funded scholarship at a second school visit Monday.
Following a morning stop at North Florida School of Special Education in Jacksonville, DeSantis traveled to Pace Brantley School in Longwood, outside Orlando.
Pace Brantley, a private school situated on a sprawling, 9-acre campus, specializes in educating children with a variety of special needs including attention deficit disorder, dyslexia and other learning disabilities.
"As long as I'm governor, don't worry about the Gardiner scholarship," DeSantis told a group of more than 50 parents, students and educators. "We're going to be here and support it. We'll stand behind the parents and students, because we believe in you. You have a lot to offer this state."
The governor was accompanied by former Florida Senate President Andy Gardiner, Gardiner's wife, Camille, and their son, Andrew. Gardiner led the legislative effort to establish the program to honor Andrew, who has Down syndrome.
"What's special about the scholarship is that it allows parents to (steer) their child's education," Gardiner said. "Whenever they're told that their child has a unique ability, they can know the governor and First Lady supports them."
Nearly 1,900 Florida students are on the waiting list for the scholarship in the wake of a demand that has outpaced state funding. Administered by the nonprofit Step Up For Students, which hosts this blog, the scholarship serves nearly 12,000 special needs students.
Karen Revels, whose 6-year-old son Chancellor is on the waitlist, was among those who attended the event. Revels is paying about $12,000 a year out of pocket for Chancellor, who is on the autism spectrum, to attend Walden Community School in Winter Park.
She described Walden's environment as calming, praising the smaller class sizes and Chancellor's opportunities to "play and wiggle" and eat lunch outdoors.
"It is not chaotic at all, and his behavior issues at home have almost been eliminated," Revels said. "He is happy to go to school, there isn't pent-up anxiety and anger anymore, and it is all because of his daily environment."
Revels said the family is depending on the Gardiner Scholarship to keep Chancellor in the setting that works best for him – a small private school.
"Academically, he is at the top of his class, and now he is also there emotionally," she said. "Our other two children have thrived in a public-school setting, but it is not a one-size-fits-all model by any means."
Another attendee, Ashley VanHees of Longwood, said she is grateful for the scholarship. Her son, Camden, 8, was developing normally until he was bitten by a tick at age 2. Within hours, he suffered a seizure and brain swelling. He eventually was diagnosed with a traumatic brain injury due to Lyme encephalitis.
VanHees said Camden is still fighting Lyme disease but has made exceptional strides, thanks in part to the Gardiner Scholarship. He is now a second-grader at Advance Learning Academy in Fern Park.
"We were able to enroll Camden in a private school where he has thrived and shown remarkable improvement," she said. "His IQ scores have increased by 20 points and that is just the beginning. We know that we have a long road ahead, but we feel confident in our journey knowing that we have the support from the scholarship to assist along the way."
VanHees said she can't imagine how the family would manage without the scholarship.
"I do know that this great education he is currently receiving would be out of reach," she said. "My hope is that all of the families and children that remain on the scholarship waitlist are able to receive the opportunities that we have benefited from."