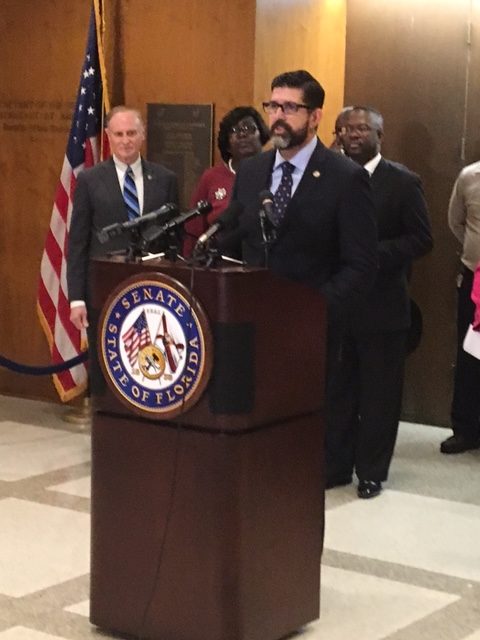 TALLAHASSEE – Florida state Sen. Manny Diaz Jr. on Thursday said Senate leaders hope to implement a "Family Empowerment Scholarship" to eliminate a waiting list for the Florida Tax Credit Scholarship for lower-income families.
Gov. Ron DeSantis made a similar pledge last week, saying he wanted to create an "Equal Opportunity Scholarship" to eliminate the FTC waitlist of about 13,000 families.
Diaz (R-Hialeah), who chairs the Senate Committee on Education, said there were "some similarities" in the two plans.
"We will continue to support families' decisions to choose what's best for their children's education – whether it's public or private school," Diaz said, adding that over 100,000 students are currently on the FTC scholarship. (The scholarship is administered by nonprofits such as Step Up For Students, which hosts this blog.)
The new scholarship would be funded through the Florida Education Finance Program (FEFP) and would be capped at 15,000 students in its first year.
Flanked by lawmakers, parents on the FTC waiting list and faith leaders, Diaz said the "Family Empowerment Scholarship" is separate from DeSantis' proposed plan. He said eligibility requirements of the two proposed scholarships are "very similar," but did not offer specifics.
Under DeSantis's plan, funding for the scholarship program would come from the FEFP. The scholarship award amount would be a slight discount of the district average per-student funding in the FEFP, allowing funding to follow the student. The maximum number of students eligible to receive a scholarship would be equivalent to 0.5 percent of statewide public school enrollment for the first year, providing opportunities for approximately 14,000 students. Each year thereafter, the number of eligible students would increase by an additional 1 percent of statewide public school enrollment.
Asked by media if the separate scholarships would confuse parents, Diaz said the proposed scholarship simply gives parents even more choices.
"I think we've done a good job of educating parents in Florida" about school choice, he said. "They're interested in finding the best educational settings for their children. Every child is different. What works for one, may not work for another."
The FTC program helps lower-income families pay for private school tuition or transportation costs to an out-of-district public school. A recent study by the Urban Institute showed students on the program are enrolling and completing college at higher rates than their public school peers.
In 2018-19, enrollment in the FTC program dropped for the first time in 14 years. In the preceding 13 years, the average annual enrollment increase was 20 percent. The enrollment dip was due to slower growth in corporate contributions, according to the state Department of Revenue.
Demand for the program remains strong. Parents for more than 170,000 students had started applications by the time Step Up For Students halted the application process in June. Step Up has already awarded more than 79,000 scholarships for 2019-20, approximately 20,000 students ahead of last year. New students are starting applications at a rate of more than 1,000 a day.
The proposed "Family Empowerment Scholarship" put a smile on the face of Giselle Gomez, who was among the parents who stood behind Diaz at Thursday's event. Gomez is the mother of Arturo Gomez III, 6, who is on the waiting list for the FTC scholarship. A Realtor, Gomez currently pays out-of-pocket for Arturo to attend Redeemer Christian Academy in Ocala, which costs about $7,250 per year.
She did not want her son in a public school because of her own negative experiences attending public schools in Miami and Ocala. Gomez said she applied for an FTC scholarship this year for Arturo, but by the time Arturo's application was approved, money to fund the program had run out.
While Arturo has thrived at Redeemer Academy – his behavior has improved and teachers often work with him one on one – she has been behind in payments.
Gomez said she is going through a divorce, making the situation even more tense.
"(Arturo's) going through a lot of changes right now," she said. "I want him to have stability and stay in the same school. His behavior used to be erratic, but the teachers have worked with him so much. His focus is better and his grades are amazing. I don't want to take that away from him."
Diaz was joined at Thursday's press conference by Sen. Kelli Stargel (R-Lakeland), chair of the Senate Appropriations Subcommittee on Education, and Senate President Pro Tempore David Simmons (R-Altamonte Springs), each of whom unveiled other Senate K-12 education initiatives.