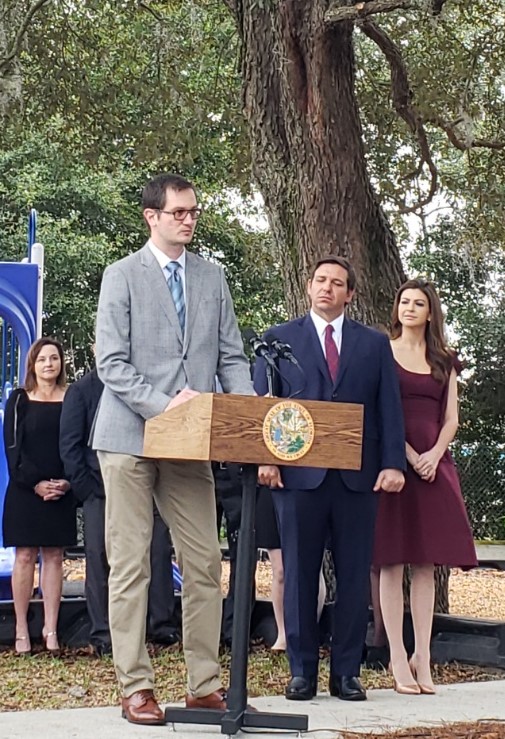 JACKSONVILLE – Florida Gov. Ron DeSantis on Monday promised to eliminate the wait list for children who have qualified for a state-funded scholarship for students with special needs.
DeSantis, flanked by First Lady Casey DeSantis and Florida Education Commissioner Richard Corcoran, visited the North Florida School of Special Education where he addressed parents of students awaiting a Gardiner Scholarship, the nation's largest education savings account program, as well as those families who have benefited from it.
"In the budget just released, I've allocated enough money to get rid of the waitlist for the Gardiner Scholarship entirely," DeSantis told the crowd of roughly 150. "The Gardiner program has been a proven success, and parents need to find the right environment for their kids."
DeSantis said he looks forward to welcoming in the next school year the nearly 1,900 Florida students currently on the list in the wake of a demand that has outpaced state funding. Administered by the nonprofit Step Up For Students, which hosts this blog, the scholarship serves nearly 12,000 special needs students.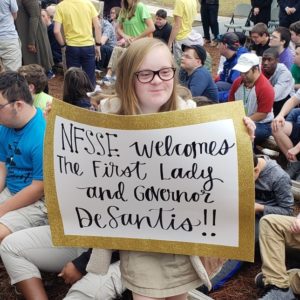 Families can use the funds to pay for a variety of educational services, including private school tuition, tutoring and therapies, in addition to contributions to the Florida Prepaid College Program. The scholarship has enjoyed broad bipartisan support since its inception in 2014 and was expanded in 2015 to include students on the autism spectrum, who now account for 66 percent of scholarship recipients.
Corcoran praised all who champion education opportunities for Florida's youth.
"Human dignity comes from a great education, and everyone deserves that," he said.
Adam Blaszkiewicz, whose son Robert is a second-grader at North Florida School of Education, was one of several parents who spoke at the event. Blaszkiewicz recently moved to Florida from North Carolina and is paying out of pocket – about $7,000 for half a year – while his son remains on the waiting list.
"This program provides parents with both means and flexibility to address their children's needs," Blaszkiewicz said. "More importantly, it ensures that parents do not have to face a gut-wrenching decision of foregoing or delaying an intervention that could change their child's life for the better."
Like many parents of special needs students, Blaszkiewicz is aware that timing is critical for children like Robert.
"Those funds (would) not only allow us to place our children in an educational setting where they are most likely to succeed as early as possible, but they also free up our personal budgets to provide additional therapy services, as well as help us plan and save for the future," he said.
Tim Crass, whose son Drew has attended North Florida School of Education for three years on the scholarship, said it has been instrumental in helping Drew, who has Down Syndrome, stay "up to speed" in school. The roughly $10,000 scholarship pays for about two-thirds of Drew's tuition.
"The Gardiner Scholarship is a win-win for both the families who want to send their children to North Florida and the school itself, as it has been able to grow and accommodate even more students," Crass said. "Without the Gardiner Scholarship, families who need schools like North Florida wouldn't be able to get the education for their children that they truly deserve, and schools like North Florida wouldn't be able to continue providing the amazing educational experience they are providing today."
The Rev. Jose Suarez, founder and director of Hope Youth Ranch in Hudson, said after the event that the governor's announcement "was like a breath of fresh air."
"It just brings hope," Suarez said. "Our parents have to make decisions on whether to use their own money. This opens up a lot of doors for possibility and relief, not just schooling but therapies as well — the total needs of their child."
UPDATE: Gov. DeSantis continued his Gardiner Scholarship tour in the afternoon, speaking at Pace Brantley School in Orlando. You can read our coverage of that event HERE.