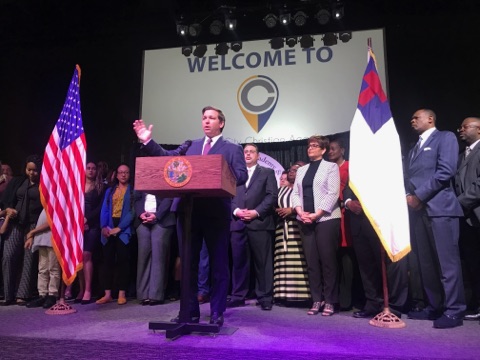 ORLANDO — Florida Gov. Ron DeSantis on Friday called on the Legislature to create a new state-funded program that would reduce the number of families on a waiting list to receive the Florida Tax Credit Scholarship (FTC) for lower-income families.
Speaking at Calvary City Christian Academy & Preschool, DeSantis proposed establishing an "equal opportunity scholarship" funded in the state budget to ensure that demand from lower-income and working class parents for educational choice can be met. It would provide scholarships in the same amount as the Florida Tax Credit Scholarship, and the program's enrollment would be capped at 14,000 students in the first year.
There are currently about 13,000 families on the waiting list for the FTC, the nation's largest school choice program.
"I'm asking the Legislature to send that bill to my desk," DeSantis said. "Let's build off this and continue to make Florida an innovation center for education."
In a press release later Friday, the governor's office provided more detail to the proposal. It said funding for the scholarship program would come from the Florida Education Finance Program (FEFP), and that the scholarship award amount would be a slight discount of the district average per-student funding in the FEFP, allowing funding to follow the student. The maximum number of students eligible to receive a scholarship would be equivalent to 0.5 percent of statewide public school enrollment for the first year, providing opportunities for approximately 14,000 students. Each year thereafter, the number of eligible students would increase by an additional 1 percent of statewide public school enrollment.
The announcement was met with applause from the audience of 400, which included Calvary City students and faculty, as well as policymakers, media and local black and Hispanic faith leaders; two-thirds of FTC students are black or Hispanic.
The FTC program (administered by nonprofits like Step Up For Students, which hosts this blog) currently serves nearly 100,000 lower-income K-12 students around the state, helping families pay for private school tuition or transportation costs to an out-of-district public school. A recently released study by the Urban Institute showed that students on the program are enrolling and completing college at higher rates than their public school peers.
In 2018-19, enrollment in the FTC program dropped for the first time in 14 years. In the preceding 13 years, the average annual enrollment increase was 20 percent. The enrollment dip was due to slower growth in corporate contributions, according to the state Department of Revenue.
Demand for the program remains strong. Parents for more than 170,000 students had started applications by the time Step Up halted the application process in June.
Step Up has already awarded 76,980 scholarships for 2019-20, approximately 20,000 students ahead of last year. Another 12,505 new students have started applications since the process opened Feb. 8. Since Monday new students are starting applications at a rate of more than 1,000 a day.
"Parents vote with their feet, and we have parents who are lining up for a tax credit scholarship," DeSantis said. "They would not do that if the program was not succeeding.
"The question for us now is, should we be satisfied there is a growing wait list, or should we build off the successes?"
The governor's words gave hope to wait list parent Shareka Wright, single mother of Zion and Jadyn, who struggles to pay for tuition at Miracle Grace Academy, a private school in Orlando. Wright often works 60 hours a week driving a garbage truck for the city.
"We live paycheck to paycheck, and sometimes I have to choose between buying food and paying tuition," she said, adding that she chose the school because both boys struggled academically and that Jadyn was bullied in kindergarten by older students.
Wright noted that her sons are among roughly 1,200 students on the waiting list in Orange County.
"Miracle Grace is wonderful," she said. "Zion and Jadyn have shown so much improvement. They're getting A's and B's now. They get along with everyone, learn discipline and spirituality. But I don't have the money to keep up with tuition, and the school's patience can't last forever.
"I am calling on lawmakers to work with Gov. Ron DeSantis to fund the scholarship program so that families like mine won't have to wait and suffer."
Llanel Newman, a U.S. Army veteran and single mother of Hasaan, 5, and Amelia, 7, who is on the autism spectrum, agreed. Hasaan, a kindergartener at St. Charles Borromeo Catholic School in Orlando, is on the FTC scholarship.
"When it was time to choose a school for Hasaan, I toured and researched for weeks to find the best options for my son," Newman said. "The school needed to be safe. It needed to reflect the values he was learning at home. It needed to feel like a family."
After one visit to St. Charles Borromeo, Newman knew it would be the right fit.
"Thanks to this scholarship, I was able to enroll Hasan in St. Charles and have watched with great pride as he improves in reading, writing and social skills," she said. "As someone who proudly served our country, and is at the ready to fight for my children, it's a comfort – a blessing – to know that I'm no longer alone. I have teachers, administrators, my son's school and a governor by my side.
Friday morning's audience included a number of prominent guests, including Florida Education Commissioner Richard Corcoran, state Rep. Kim Daniels, D-Jacksonville, Glen Gilzean, president and CEO of the Central Florida Urban League, and the Rev. Manuel Sykes, pastor of Bethel Community Baptist Church and director of Bethel Community Christian School in St. Petersburg.
DeSantis's stop at Calvary City, located in one of Orlando's most hardscrabble communities, was the first of two scheduled media conferences Friday. Scheduled for a 2:30 p.m. is a speech at Greater Miami Adventist Academy.