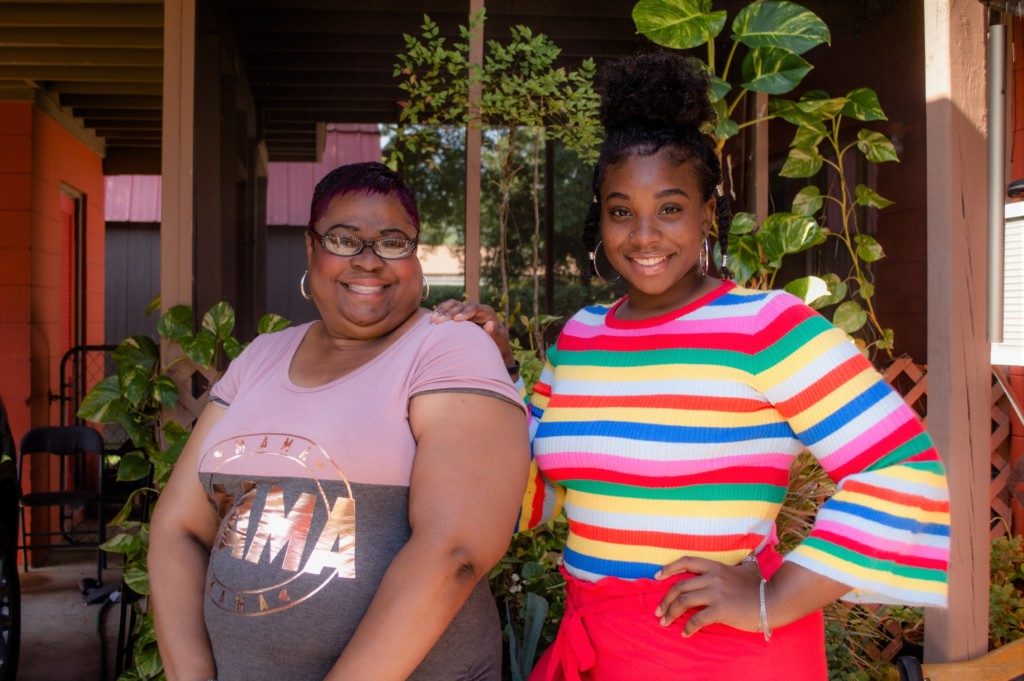 When Kayla Fudge was a newborn, her mother struggled to take care of her. In swooped Kayla's great aunt Glendora like a guardian angel. She loved. She nurtured. And she taught.
A public school teacher for 14 years, Glendora Jackson-Fudge raised three children of her own before adopting Kayla when she was 2. Glendora and husband Michael Fudge, a landscaper for 30 years, didn't have much money. But as parents they were full of fun, wisdom, and old-school values.
"They're mom and dad to me," said Kayla, who was born and raised in Jacksonville. "They didn't have to take me, they wanted to. That makes me feel special. I know they believe in me if no one else does."
That belief propelled the 19-year-old to college. She still lives under their roof, but those old-school sensibilities mean she pays for room and board, does chores, and worked part time to buy her own car.
As a mother and educator, Glendora knew best. After Kayla attended her neighborhood elementary school, Glendora switched her to private school. Kayla was always a bright student with grades to match. Glendora was watching over her and knew she would do even better with an education customized for her.
Through online research, Glendora found Step Up For Students, which administers the Florida Tax Credit Scholarship (and hosts this blog).
A native of Jacksonville's southside, Glendora was a working mom who put in enough nights and weekends to earn two master's degrees in education. She taught social science in district schools. One day she fell coming out of her classroom and tore cartilage in her knee. She endured unbearable pain for three years before retiring in 2010.
"We lost a big chunk of my teaching income, like 60 percent, when I had to retire and go on disability," Glendora said. "So, the scholarship really helped. And my husband's work is seasonal. We were able to survive. If we didn't have that scholarship, we wouldn't have been able to pay for private school."
It took just two weeks at Kayla's neighborhood middle school for Glendora to make the decision.
"Kayla couldn't take it there," Glendora said. "I couldn't even take being a substitute teacher there, so I couldn't imagine her staying there. All the fights, the drama, the disruption in the classrooms.
"And Kayla wasn't being challenged, either. She was bored. I thought she would do better with more individualized attention."
Glendora and Kayla say the scholarship was like a ladder to fulfilling her potential. The neighborhood schools were swelling with students, and Kayla felt like she didn't belong and couldn't stand out.
"In public school, my mom said I would dumb myself down to blend in. I didn't think she was right," Kayla said. "But when I got to different schools with more people on the same academic level as me, I really felt what she was talking about."
She longed for classroom challenges, but just as important was a brightly lit stage and her desire to explore performance art.
Glendora knew Kayla had talent when she was in fourth grade. She sang a Celine Dion song and won first place in a summer camp talent show.
Kayla has a strong, soulful voice and graceful movements. Her almond eyes convey myriad emotions. Her personality sparkles in conversation, but on the stage she really comes alive.
Bishop Kenny High School was Kayla's third private school, and when she arrived for 11th grade, she quickly found it was worth the wait.
"It really made me more excited about academics," Kayla said. "I wasn't just remembering information for a test, I was actually learning skills. But the biggest thing was I had a lot more opportunity to show my personality than at other schools."
Kayla's guidance counselor, Scott Sberna, pushed her to get better grades, but more importantly, he pushed her to enter the school pageant. She wasn't going to do it, but he wouldn't let it go. When he saw the spark of Kayla's passion, he motivated and encouraged her to go for it.
"The pageant is a very big deal to a lot of families and young ladies in our school," Sberna said. "Tryouts start before the Christmas holiday. Practices run three days a week or more until dress rehearsal. Many families hire private pageant coaches."
Kayla had scant experience doing plays at her previous high school. This was a solo shot, and a pressure cooker at that.
"Typically, we have six to 10 visiting queens and members of their court (from nearby high schools) who come for the show and support their BKHS friends competing," Sberna said.
For her performance, Kayla danced while singing "Almost There" from Disney's "Princess and the Frog." The applause was thunderous. She was the pageant runner-up and won the award for most talented. She created a YouTube page to share a video of the performance.
Her confidence soared.
That led to an audition for a performing arts college in Los Angeles. She was accepted, but tuition was about $22,000 a year even with the school granting a scholarship. It was out of reach, but not out of her heart.
Kayla went on to graduate magna cum laude with a 3.89 grade point average. She attends Florida State College in Jacksonville, where she has a 3.2 grade point average studying physical therapy and has never gotten a C. She's thinking about transferring to the University of Central Florida for a seven-year physical therapy program. She's also considering the University of North Florida to switch her focus to animal care.
She sings at church and still dreams of performing.
"It would not surprise me if she does all three," Sberna said. "She has the intelligence, grit, and chops to do it all. She deserves all the credit for pushing herself to where she is today."
About Bishop Kenny High School
Founded in 1952 by the Diocese of St. Augustine, the school is situated on 55 acres alongside the St. Johns River that once was the site of a Spanish fortress and later a World War I shipyard. BKHS is a Catholic school fully accredited by the Southern Association of Colleges and Schools. The faculty's average teaching experience is 16 years with nearly half of the 84-person staff holding advanced degrees. There are 1,200 students, including 214 on Florida Tax Credit scholarships. The college preparatory curriculum features honors and Advanced Placement classes in each discipline. Typically, 98-99 percent of the students attend college. The school places a strong emphasis on community service, requiring all students to fulfill at least 20 hours a year. The PSAT is administered for grades 9-11. Tuition is $8,826 for Catholic students and $12,015 for non-Catholic students with financial assistance for students who qualify.