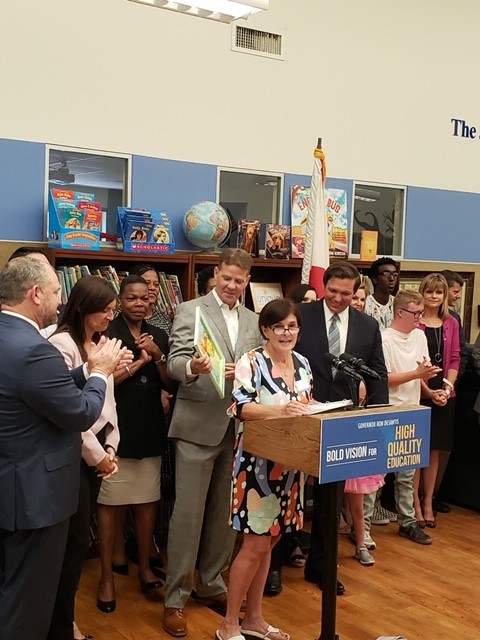 JACKSONVILLE – Returning to the school where he first pledged to eliminate a waiting list for the Gardiner Scholarship, Gov. Ron DeSantis on Wednesday celebrated a boost in state funding for the program for students with special needs.
DeSantis spoke at North Florida School of Special Education, where in February he requested additional dollars in the 2019-20 state budget to provide scholarships to the more than 1,800 students on the Gardiner waiting list. Wednesday, he said that the new budget increases Gardiner funding by $23 million, to $147.9 million, which will allow the program to serve at least 2,000 more students. The scholarship served nearly 12,000 students this year.
"I campaigned to keep thousands of families off the waiting list because there just wasn't enough money," DeSantis told an audience of approximately 250 that included former Senate President Andy Gardiner, who led the legislative effort to establish the program in 2014 to honor his son Andrew, who has Down syndrome. "We've been successful. The Gardiner waiting list is no more."
The Gardiner Scholarship, the nation's largest education savings account program, serves students with certain special needs, such as Down syndrome, spina bifida and autism. Students on the autism spectrum make up about 63 percent of the Gardiner student population. (The program is managed by non-profits such as Step Up For Students, which hosts this blog.)
Step Up already has awarded more than 8,600 students Gardiner scholarships for next year. Scholarships average about $10,400 and can be used to pay for private school tuition, fees, textbooks, tutoring, school supplies, computers, therapies and more. Unspent money can roll over from year to year, and students may save for higher education endeavors.
Andy Gardiner told the audience at Wednesday's event that his 15-year-old son was unable to attend because he was driving to a job interview – proof that special needs should not be an obstacle in life.
"When he was born, we made a commitment to help him and other families (with children with special needs)," Gardiner said. "Our son doesn't have a disability. He has a unique ability. And our job is to help children find their unique abilities. To see where (the scholarship) has come and to have met the many families, we are completely humbled."
Parent Brittney Wilson, who also spoke at the governor's February event, thanked DeSantis Wednesday for delivering on his promise to end the current waiting list. She homeschools her three sons, two of whom are on the waiting list.
"The additional funding for the Gardiner program will open doors that previously had been closed," she said. "I'm eager and excited to have more opportunities for my sons to learn. I'm already looking into enrichment classes they can take, such as a zoo academy that provides hands-on learning with peers their own age. … It's like a floodgate has opened right now."
Tamara Blankinchip said she would not be able to send her daughter Hannah to North Florida School for Special Education without the Gardiner Scholarship. Hannah has Down syndrome and autism; five years ago, she also suffered an infection that spread to her brain, compromising her immune system and forcing her out of a traditional school. Her family uses the scholarship for curriculum, speech therapy and a tutor, among other things.
"When we pulled Hannah out of school, I was so afraid she would lose everything she learned and fall way behind," said Blankinchip, whose voice trembled as she teared up. "But she is still right on target with her age group.  She reads beautifully, she writes, she spells. I tease my husband that she spells better than he does. She can count money and tell time.  She is a thinker and a problem-solver. This would not have happened without the Gardiner Scholarship. …
"Thank you so much, Gov. DeSantis, for expanding this amazing scholarship for so many kids like Hannah. I am humbled to speak for countless other parents and say that we are forever grateful you have made our children so important in your work for our state."