Critics denying the achievement gains of Florida's K-12 students often do so after comparing state achievement with a whiter and wealthier national average. Only one critic has been bold enough to actually single out a whiter and wealthier state for comparison with the Sunshine State.
Lauren Ritchie, a columnist at the Orlando Sentinel, recently picked Connecticut, a state that spends more than $17,283 per pupil.  She has a family friend in Norwalk whose daughter attends an IB program for 290 students, where they learn Arabic, Japanese or Mandarin Chinese. (Orange County, where Ritchie lives, has three high schools with IB programs and a total of 32 magnet schools. Students can also learn Mandarin Chinese, Arabic, Japanese, Portuguese and more.)
Ritchie said she chose Connecticut because it produces "some of the highest-performing students…because they genuinely care about education."
To compare the two states, we must first understand their differences. According to the U.S. Department of Education, 54 percent of students in Connecticut are white compared to just 38 percent in Florida. Only six states have fewer white students than Florida.
Connecticut spends $17,283 per pupil, according to Education Week. Florida spent $9,737. Only four states spend more than Connecticut.
Connecticut's median household income in 2017 was $74,168, whereas Florida's was only $52,594. Only three states had higher incomes than Connecticut, while only nine states had lower incomes than Florida.
So what does Connecticut get with that $17,000 per-pupil? Not much, unless you're one of the rich white kids learning Arabic in Norwalk.
In 2003, Connecticut was ahead of Florida on every math and reading metric. By 2017, Florida tied or beat Connecticut on reading and fourth-grade math. When examining achievement by subgroups, Connecticut can beat Florida only on white student achievement in eighth-grade reading and math.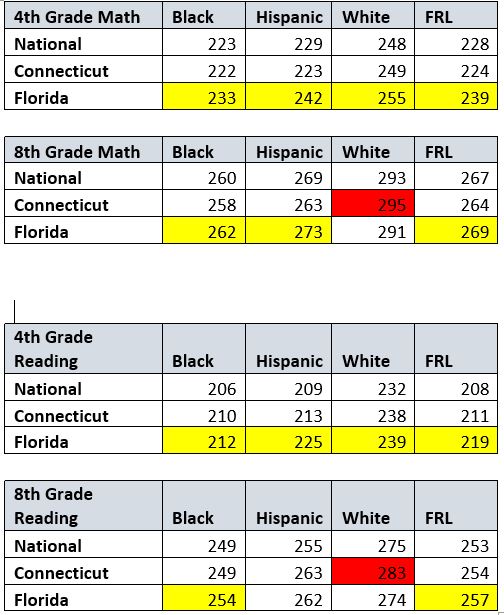 Black students are a full grade level ahead of black students in Connecticut on fourth-grade math. Hispanic students are two grade levels ahead. The difference shrinks to half a grade level ahead by eighth grade, but Florida remains ahead.
Fifty-six percent of low-income students in Florida score at grade level or higher on the NAEP eighth grade math test. Only 52 percent of low-income students in Connecticut do.
On eighth-grade reading, 69 percent of Florida's low-income students score at grade level or better, while just 64 percent of low-income students in Connecticut do.
When adjusting for student race and income, the Urban Institute ranks Florida eighth on NAEP math. Connecticut ranks 29th.
Florida ranks third in the nation on eighth-grade reading, behind big spenders New Jersey and Massachusetts, but still ahead of ninth-ranked Connecticut.
Despite outspending every state in the Urban Institute's Top Ten list on both tests, Connecticut just doesn't have a lot to show for its extravagant spending.