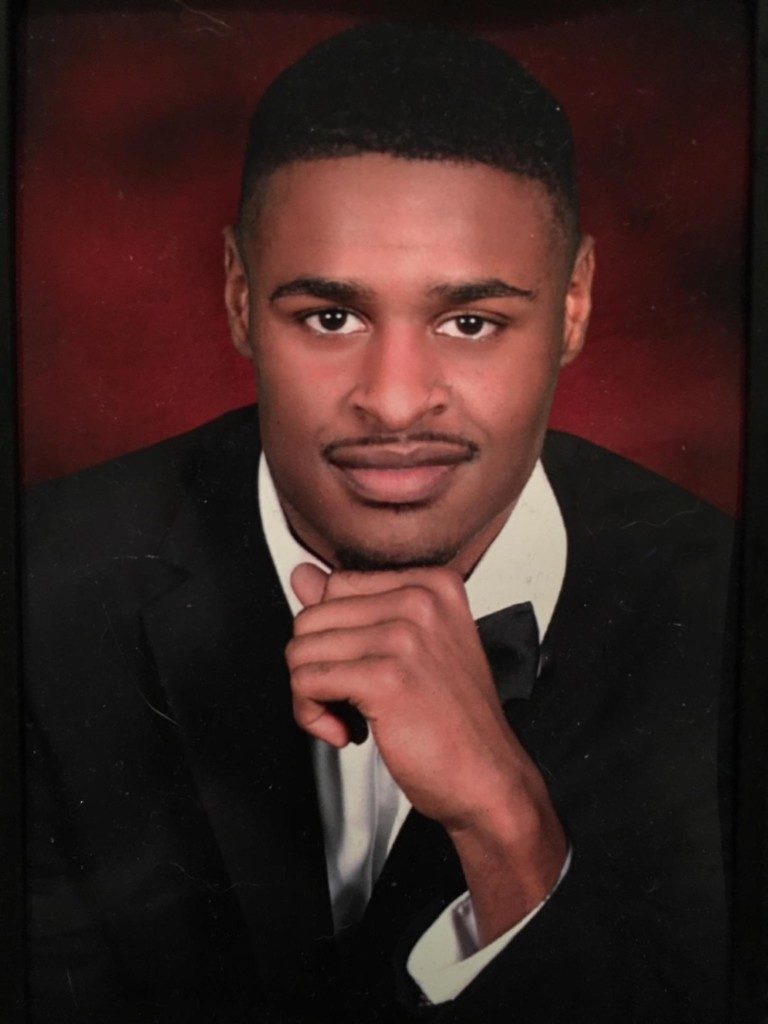 Editor's note: This month, redefinED is revisiting stories that shine a light on extraordinary students. Today's spotlight, first published in March 2017, tells the story of a Jacksonville youth who overcame great obstacles to get his life on track.
Lost.
That's where Pamela Howard feared her son, Malik Ferrell, would end up after years of struggles at different schools in Jacksonville.
She couldn't afford to let that happen. Malik needed a caring environment, especially after he and his family were rocked by the murder of his older brother, Derrell Baker.
Pamela had been searching for the right fit for Malik – four different schools in four years.
Finally a friend told her about the Florida Tax Credit Scholarship, which allowed her to send him to The Potter's House Christian Academy.
(Step Up For Students publishes this blog, and helps administer the tax credit scholarship program in Florida.)
That's where Malik's life unraveled – and where he ultimately put it all back together.
"Having the opportunity to go to a private school helped get him on track," Pamela said. "I cannot even tell you the difference it made in his life."
At his neighborhood school, Malik made mostly D's in second grade, then mostly F's in third grade, which he had to repeat.
Three years and three schools later, at the age of 11, he got a fresh start at The Potter's House.
Then the unthinkable happened.
Just weeks after Malik enrolled, Derrell, 17, was killed in a drive-by shooting. Police had no suspects. There were no arrests.
Pamela was working full-time at Blue Cross Blue Shield, taking complaints in the executive department. The grief and stress overwhelmed her, and the mother of five went on disability. She now works part-time doing billing at McKesson.
"Seeing my momma cry and my sisters cry, it was … it was just a lot to deal with," Malik said. "That was my only big brother, so there was nothing for me to look up to."
Derrell was everything to Malik – best friend, football hero, protector, disciplinarian, role model.
When he was killed "I really didn't care about anything," Malik said. "It messed me up in school. I was getting in trouble almost every day. I was getting in fights for no reason."
"He would keep a lot of stuff in," said Lela Johnson, now principal at The Potter's House. "He wouldn't talk to people, and I think what he was doing was trying to see who he could trust."
With great patience, teachers and administrators taught Malik life skills and self-awareness in addition to academics. It took time, but Malik came to trust mentors like the dean, the guidance counselor, the assistant principal (Mrs. Johnson) and the football coach.
With his grades stabilizing to a C average, Malik began playing varsity football in eighth grade. He had natural talent, just like his brother.
Small, quick and athletic, they both played defensive back and played it well. Derrell was nicknamed "Hype," and after his death, people began calling Malik "Lil' Hype."
By the end of 10th grade, Malik was starting to draw offers for college scholarships. He met with Mrs. Johnson, who charted a course for improved grades, test scores, and behavior.
For the first time in his life, Malik had purpose.
"That summer after 10th grade he had it all together," Pamela said. "I didn't have to say a word. He just grew up. The child was in his room, he was constantly doing homework, online classes, volunteering … I mean, I didn't know who he was! He made a huge, huge turnaround."
Football helped heal Malik's wounded heart, and in his final two years of high school he maintained a solid B-average with no behavior issues. His senior year became an extended celebration. First, he turned 18. Then came football signing day, when he announced in front of teammates, classmates and family that he was going to Tusculum College in Tennessee. Then came graduation.
Derrell wasn't able to do any of those things, but he was with Malik the whole time. He was the inspiration.
"Malik was graduating for himself and he was graduating for his big brother," Pamela said. When he walked across the stage, he said, "Ma, I did it. I did it for both of us."
Malik didn't play in his first season at Tusculum, but now halfway through his freshman year he is proud of his grades – some A's, some B's and one C. He's looking forward to spring football and pursuing a career in sports broadcasting.
Pamela said her Malik's accomplishments would not have been possible without The Potter's House and the Step Up scholarship.
"It was amazing," she said. "I felt completely blessed to even have the scholarship. I don't know what I would have done without it. I was just thankful, because I honestly knew that I could not afford to send my children to private school and have the opportunity to have someone invest in them. These people go above and beyond. They pour themselves into these students and give of themselves off the clock."
"To see my son just completely turn around, there aren't even words. That he overcame these struggles and turned out to become the young man that he is, there are no words to even explain how proud I am of him."
About The Potter's House Christian Academy
The school opened in Jacksonville in 1996 with five teachers under the direction of Lady Narlene McLaughlin, wife of Bishop Vaughn McLaughlin. It now has two locations – an elementary and a high school – with 45 full-time staffers and 436 K-12 students, including 348 on the Step Up For Students scholarship. The non-denominational school uses a combination of curricula, including A Beka and Bob Jones University Press. It uses the Stanford 10 as its annual assessment test and the Otis-Lennon School Ability Test. Tuition is $3,900 for K3 and K4, $4,650 for K5, $4,910 for grades 1-5, and $5,000 for grades 6-12.