Private school enrollment in Florida, along with the number of private schools operating in the state, increased over the past year according to the Florida Department of Education's new annual report.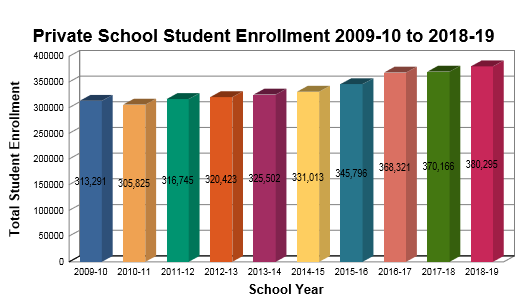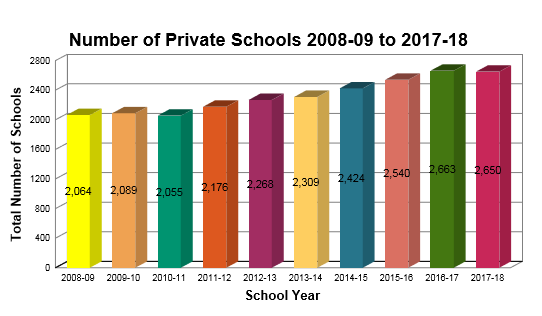 Compared with the 2017-18 school year, prekindergarten through 12th-grade enrollment grew by 10,129 students, from 370,166 to 380,129, while the number of private schools increased by 39, from 2,650 to 2,689.
The uptick followed a decade-long trend that saw an increase of 67,004 students and 600 schools since 2009-10.
Private school enrollment now tops 15 percent of total school enrollment in five Florida districts: Jefferson and Martin, each with 31.7 percent; Escambia with 19.2 percent; Dade with 17.5 percent; and Duval with 16.3 percent.
While private school enrollment was constant across grade levels, varying from 6.2 percent at 11th grade to 7.3 percent at kindergarten, prekindergarten enrollment in 2018-19 stood at 11.8 percent for a total of 44,801 students.
Private school enrollment has been on the upswing each year since 2011-12, with the most dramatic increase – 22,525 students – occurring between the 2015-16 and 2016-17.
This year's report is available at http://www.fldoe.org/core/fileparse.php/7562/urlt/PS-AnnualReport1819.pdf. Links to private school annual reports dating back to 2000-01 are available at http://www.fldoe.org/schools/school-choice/private-schools/annual-reports.stml.