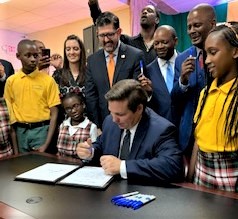 Editor's note: The Gainesville Sun editorial board, in an opinion posted July 28, called for greater oversight for private schools that will receive about $130 million this year from the state budget for a new voucher program. The editorial alleges these private schools lack accountability to ensure academic quality, a highly-trained teacher force and policies that prevent discrimination against students. Executive director of Florida Voices For Choices Catherine Durkin Robinson responded in a column the Sun published Tuesday, arguing that school accountability should be a balance between regulations and family choice.   
In a recent editorial, The Sun equated regulation of education with quality academic outcomes. It ignores the fact that parental choice is an effective form of accountability — and a vital tool to equalizing opportunity.
For too long, district schools had a monopoly on teaching most of the students within their jurisdiction, and parents had no choice but to send their children to whatever school that district assigned. Since parents had no options, the theory went, schools needed tight regulatory and accountability standards. That's the only way we'd know how they were working.
Those standards showed us that for millions of low-income, minority children, that system was not working.
School accountability should be a balance between regulations and family choice. And the evidence suggests Florida's tax scholarship program has found a good balance. Even with far less funding, the lower-income students using the scholarships are generating better academic results.
To read more, click here.