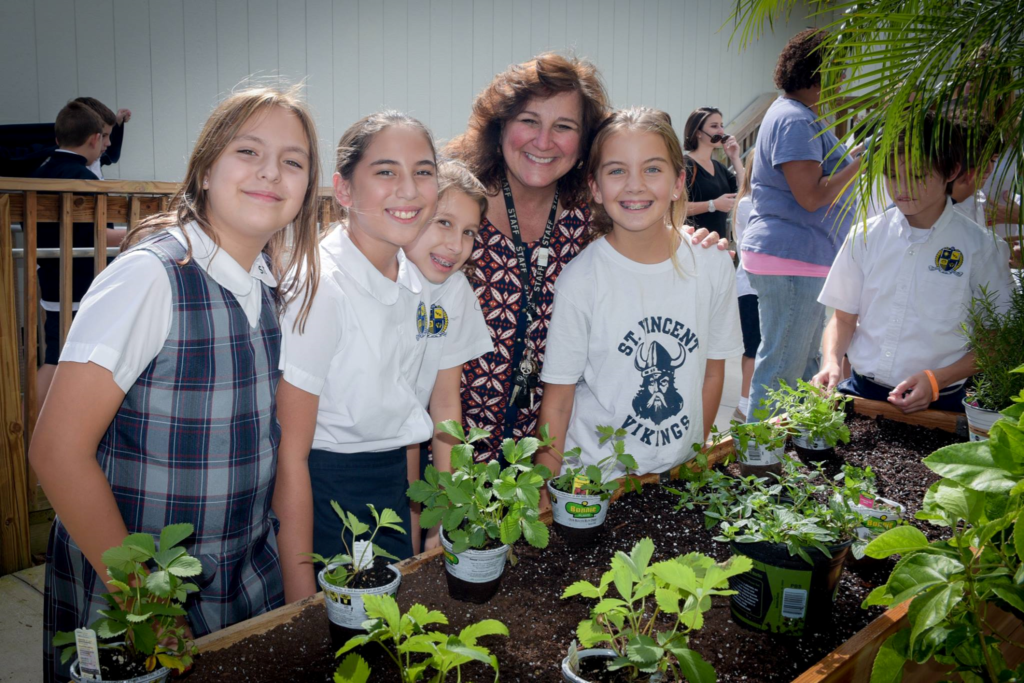 Editor's note: Throughout August, redefinED is revisiting stories that shine a light on extraordinary educators. Today's post, first published in June 2018, relates how a Cuban immigrant rose to become principal of a Catholic school in south Florida that is becoming increasingly diverse under her leadership.
DELRAY BEACH, Fla. – Vikki Delgado remembers the difficulty her father experienced when he settled the family of six in America.
Living as a Cuban immigrant, he faced backlash. But he sought to bring his family out of Cuba in 1959 just as Fidel Castro was coming to power.
"There was pushback," Delgado said.  People thought "my dad was coming to take jobs away. That somehow opening doors to others is going to take something away from them."
"You would see signs against Cubans," she added. "I saw how polarizing that can be."
The family of six settled in Miami in 1968 after spending a few years in Ohio. He left his home of Cuba right as Fidel Castro emerged in power in 1959.
Arriving in the United States at the age of 3, Delgado did not know a word of English. She began to learn the language at the age of 5 through TV programs such as Captain Kangaroo.
In her 20s, she saw the nativist backlash against the Mariel Boatlift and race riots in Liberty City. Such events affected her deeply.
Delgado is now the leader of St. Vincent Ferrer Catholic School in Delray Beach, Fla. The strife she witnessed in her youth fuels her drive to create a school where all are welcome. Like in Florida Catholic schools as a whole, the student population at her school has grown increasingly diverse.
When she first became principal at St. Vincent Ferrer Catholic School in 2008 there were few minority students at the school.
"Everybody looked the same," said Desiree Alaniz, a fourth- and fifth-grade teaching assistant at the school. "Everybody spoke the same. You would see one minority child in every three classes."
When Delgado first took the helm, the school had approximately 318 students, and more than four out of five were white. In the decade since, enrollment has increased by 46 students, and children of color comprise nearly a third of its student population. In other words, the school's demographics are coming more closely in line with those of the community it serves, and students of color are driving enrollment growth.
This shift at St. Vincent embodies a statewide trend. Data from the Florida Conference of Catholic Bishops show the percentage of black and Hispanic students attending Catholic schools has risen steadily since 2011.
Delgado says the desire to welcome all types of children embodies the Catholic faith.
"We are the universal church," she said. "The same mass is celebrated daily around the world. The traditions may be different. The culture differences are there but that only adds to the richness of the Catholic church and school."
Delgado said she was able to help diversify the school by offering tax credit scholarships to low-income students and working-class students, and the state's voucher program for children with special needs, the McKay Scholarship Program. More than a fifth of the school's students now use one of those two programs. (Step Up For Students, which publishes this blog, helps administer the tax credit scholarship program.)
"It is wanting all families to have choice," she said. "I think me having a second language, I wanted families seeking a Catholic education to feel at home."
Delgado is "open with different people from different backgrounds," Alaniz said. "I think she brought to the school more of a sense of accepting people with their differences: Not only among the students but the culture of the faculty and staff."
A love of teaching
Growing up, Delgado remembers teaching her siblings at a young age. She discovered she loved helping others learn. Her mother also was a kindergarten teacher at the time, which inspired her toward a career in education.
"I think I was a teacher my whole life," Delgado said laughing.
At first, she fought the urge to go into teaching, as the arts were calling her. At the same time, her father urged her to stray from the role because he worried about the low salary of a teacher.
But she couldn't stay away for long.
Delgado studied music and education at the University of Miami, graduating with degrees in both subjects. She then earned a master's in educational leadership at Nova Southeastern University in 1990. From there, she then taught five years in Miami-Dade public schools.
From 1995 to 2004 she taught Pre-K at St. Vincent Ferrer and then returned in 2008, encouraged by her mother.
Room to grow
Parents have been drawn to St. Vincent's strong academics and versatile arts programs. The school is planning to expand and renovate thanks to a $6 million dollar fundraising project to create additional space. This will allow the school to double its capacity and put in a science lab, expand the media center and allow space for an early childhood program.
"We are building a new building because I think people in the community trust Delgado a lot," Alaniz said. "She also brought in all the technology and iPads."
Dean Charles said his daughter, Angelica, loves dance class at St. Vincent.
Delgado has made an investment in her students and families, Charles said. When he first enrolled his daughter for first grade, Delgado had already become familiar with Angelica's previous school and its principal.
"She makes it her business to know all of her students," Dean said. "She always gets back to me. I don't have to wait until Monday to get an answer."
Delgado said she learned her work ethic from her father, who never gave up and worked in numerous jobs, from counting money at football games to serving as a bank teller to working as a payroll clerk for the city of Miami, where he retired.
Indeed, Alaniz said it is not uncommon for her to receive an email from Delgado at 3 a.m. She is constantly thinking about ways to improve things at the school.
Eric Keiper, music teacher at the school, said there's a close-knit, community atmosphere.
"When my wife was in the hospital, every single day Delgado called me as soon as the meeting was over," he said. "Every single teacher in school asked, how is your wife? The priest went to visit her at 10 o clock at night. It is magical."
Character counts
Each year students are invited to come up with a character-based theme the school will emphasize throughout the year.
In previous years, students chose the Oscar Wilde quote: "Be yourself because everyone else is taken." This past year's was: "Your life is God's gift to you. What you do with it is your gift to God."
"It is living life with a purpose," Delgado said. "What are you going to do with your life?"
Delgado continues to teach the importance of tolerance and respect for everyone.
When she visited Milwaukee recently and attended a baseball game she heard individuals making fun of the baseball players last names' because they were Hispanic.
She took the opportunity to let the individuals know kindly that she and her husband were from Cuba.
The two men responded with a surprised look.
"I know God is going to give me an opportunity to teach them a lesson," she said. "We want to open people's minds not shut down the mind because we are attacking."
It is a lesson she teaches students.
"When you are given a choice, choose kindness," she said. "No one can come back at you with kindness. I see that openness of mind occurring in our children, which gives me hope."